Maturity is crucial in love. It's not just a matter of age, but a matter of willingness to grow and change. Without maturity, love can fizzle out quickly or become an unhealthy obsession. But when both partners are mature, they can weather the ups and downs of life together and build a strong, lasting bond. Here are some inspiring maturity in love quotes for you.
Maturity in Love Quotes
01
"Real, sane, mature love—the kind that pays the mortgage year after year and picks up the kids after school—is not based on infatuation but on affection and respect." – Elizabeth Gilbert
02
Falling in love you remain a child; rising in love you mature. By and by love becomes not a relationship, it becomes a state of your being. Not that you are in love – now you are love." – Osho
"Love is like a friendship caught on fire. In the beginning a flame, very pretty, often hot and fierce, but still only light and flickering. As love grows older, our hearts mature and our love becomes as coals, deep-burning and unquenchable." – Bruce Lee
03
"Mature love is loving, not being loved." – Irvin D. Yalom
04
"Mature love is union under the condition of preserving one's integrity, one's individuality. Love is an active power in man; a power which breaks through the walls which separate man from his fellow men, which unites him with others; love makes him overcome the sense of isolation and separateness, yet it permits him to be himself, to retain his integrity. In love the paradox occurs that two beings become one and yet remain two." – Erich Fromm
05
"Love can't mature in one room. It has to come out of the full sharing of everything: joys, aspirations, downfalls, all of it. That's the only real path to love." – Leon Uris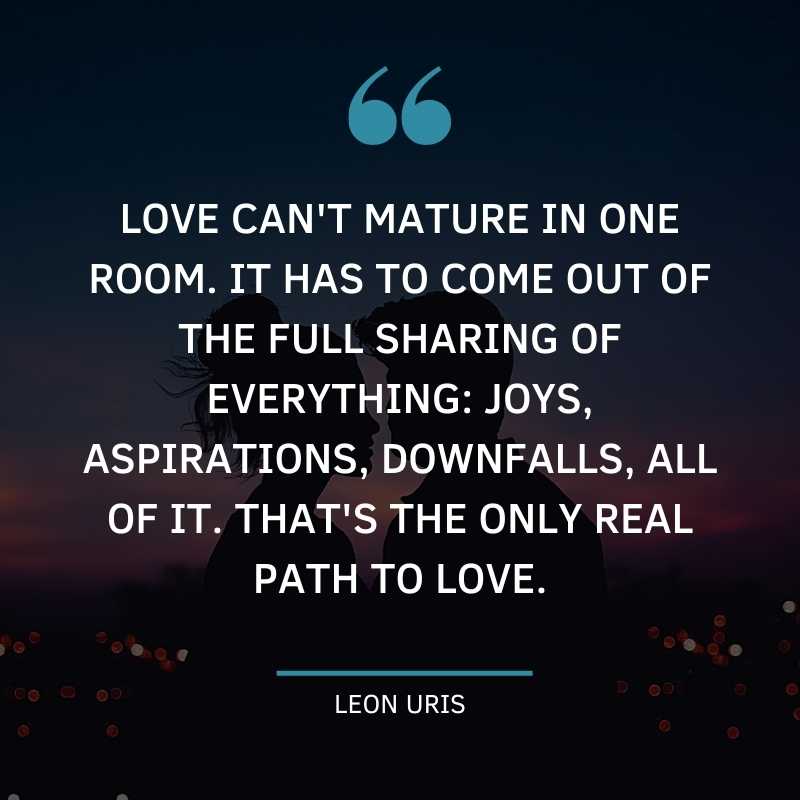 06
"Even love matures. It's like a flower. Cherish it while it blooms." – Hisaya Nakajo
07
"The most important thing in a relationship is not what you get out of it, but what you put into it."
08
"A strong relationship requires choosing to love each other even in those moments when you struggle to like each other."
09
"If you want something to last forever, you treat it differently. You shield it and protect it. You never abuse it. You don't expose it to the elements. You don't make it common or ordinary. If it ever becomes tarnished, you lovingly polish it until it gleams like new. It becomes special because you have made it so, and it grows more beautiful and precious as time goes by." – F. Scott Fitzgerald
10
"There is no more lovely, friendly, and charming relationship, communion or company than a good marriage." – Martin Luther
11
"A happy marriage is the union of two good forgivers." – Ruth Bell Graham
12
"The greatest marriages are built on teamwork. A mutual respect, a healthy dose of admiration, and a never-ending portion of love and grace." – Fawn Weaver
13
"When you look for the good in others, you discover the best in yourself." – Martin Luther King Jr.
14
"It is not a lack of love, but a lack of friendship that makes unhappy marriages." – Friedrich Nietzsche
15
"In every decision we make, we're really deciding not to do a thousand other things." – Paul Graham
16
"Love is like the lightning, and your maturity is signaled by the extent to which you can accept the dangers and the power and the beauty of love."
– James Baldwin
17
Soulmates may be opposites, but they have similar levels of: spirituality, core values, maturity and complementary needs. – Linda Alfiori
Mature love vs immature love Quotes
18
"Immature love says: 'I love you because I need you.' Mature love says 'I need you because I love you." – Erich Fromm
19
"So often, the discarded love of youth is desperately yearned for in maturity." – Wayne Gerard Trotman
20
"Real love ought to be more like a tree and less like a flower" – Mya Robarts
21
"Immature people falling in love destroy each other's freedom, create a bondage, make a prison. Mature persons in love help each other to be free; they help each other to destroy all sorts of bondages. And when love flows with freedom there is beauty. When love flows with dependence there is ugliness." – Osho
22
"Mature love has a bliss not even imagined by newlyweds." – Boyd K Packer
23
"We loved each other with a premature love, marked by a fierceness that so often destroys adult lives." – Vladimir Nabokov
24
Mature love is composed and sustaining; a celebration of commitment, companionship, and trust. – H. Jackson Brown, Jr.
Immature Love Quotes
25
"Like some wines our love could neither mature nor travel." – Graham Greene
26
Jealousy is a disease, love is a healthy condition. The immature mind often mistakes one for the other, or assumes that the greater the love, the greater the jealousy – in fact, they are almost incompatible; one emotion hardly leaves room for the other." – Robert A. Heinlein
27
"The less you know about love, the more likely you are to fall in love with someone who doesn't deserve your love."
28
"Love is not love which alters when it alteration finds." – William Shakespeare
29
"Love is blind, but marriage is an eye-opener." – Pauline Thomason
30
"An immature relationship is one where people are constantly fighting and making up, with no real resolution in sight."
31
"It's not about who's right or wrong, it's about growing up and learning how to love each other."
32
"A relationship is only as strong as the people involved. If one person isn't willing to work on it, then it'll never be healthy."
33
You can't keep arguing with someone and expect things to get better. That's just immaturity."
34
"If you're not ready to grow up and be in a mature relationship, then you shouldn't be in one."
35
"If you want a mature relationship, you have to be willing to work on it."
36
"You can't just expect things to fall into place, you have to put in the effort."
Mature Love Quotes for Her
37
"The greatest thing you'll ever learn is just to love and be loved in return." – Edith Piaf
38
"Love is not a matter of counting the days. It's making the days count." – Muhammad Ali
39
" Love isn't something you find. Love is something that finds you." – Loretta Young
40
"Nobody has ever measured, not even poets, how much a heart can hold." – Zelda Fitzgerald
41
"I have found the one whom my soul loves." – Song of Solomon 3:4
42
"When you realize you want to spend the rest of your life with somebody, you want the rest of your life to start as soon as possible." – Nora Ephron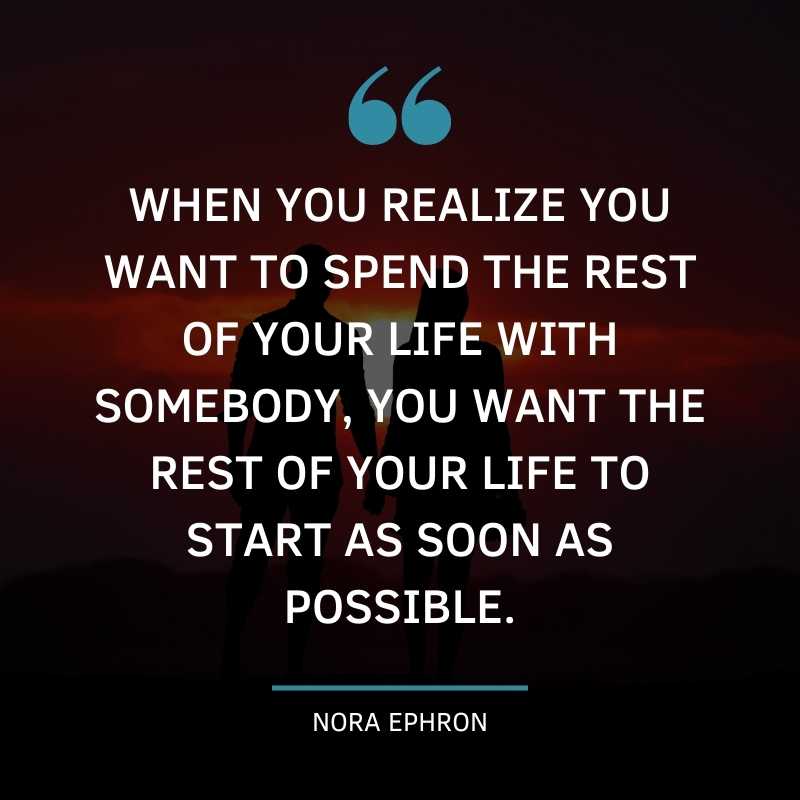 43
"I love you not only for what you are, but for what I am when I am with you." – Roy Croft
44
"I think we dream so we don't have to be apart for so long. If we're in each other's dreams, we can be together all the time." – A.A. Milne
45
"You are my best friend as well as my lover, and I do not know which side of you I enjoy the most. I treasure both equally." – Nicholas Sparks
46
"Being deeply loved by someone gives you strength, while loving someone deeply gives you courage." – Lao Tzu
Maturity in Love Instagram Captions
Love is when you're comfortable being yourself – scars, flaws and all. ❤
Love isn't always easy, but it's worth it 💕 #maturelove
Falling in love is just the beginning. Staying in love is what takes work. #maturelove
Love is not about finding the perfect person, it's about learning to love imperfectly.
Love doesn't mean always agreeing, but compromise and renegotiation are always possible. At the end of the day, mutual respect is key.
Related Posts
30+ Love isn't Perfect Quotes And Instagram Captions
45+ Second Love Quotes to Help You Move on From Your First