Though some may see second love as a difficult endeavour, the reality is that it can be one of the most beautiful and fulfilling experiences life has to offer. Often our first love is an impulse, something we feel when we are often young, naive and stupid. Lucky you are if your first love works. But you are even luckier if you recover from a heartbreak and find love the second time. Here are some beautiful quotes about second love that makes you believe in love again.
Second Love Quotes
01
"One's first love is always perfect until one meets one's second love." – Elizabeth Aston
02
"What is first love worth, except to prepare for a second? What does second love bring? Only regret for the first." – John Hay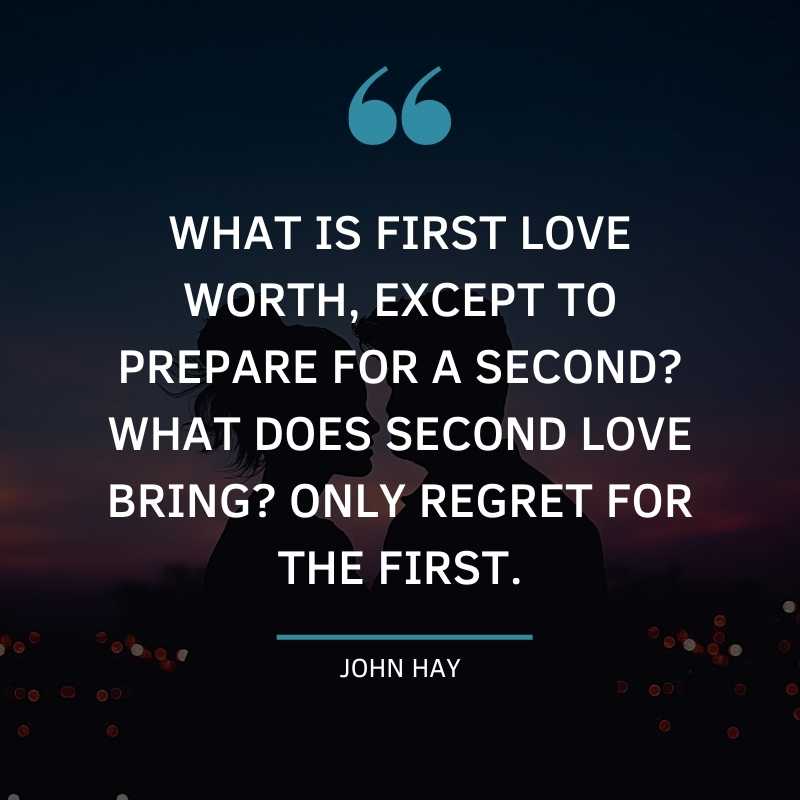 03
"If you love two people at the same time, choose the second. Because if you really loved the first one, you wouldn't have fallen for the second." – Johnny Depp
04
"First best is falling in love. Second best is being in love. Least best is falling out of love. But any of it is better than never having been in love." – Maya Angelou
05
"First love is a kind of vaccination which saves a man from catching the complaint a second time." – Honoré de Balzac
06
"Loving for the second time isn't sweet; it's bitter, and hurt more than the first." – Jessica Larsen
07
"If you love two people, pick the second, because if you truly loved the first, you wouldn't have fallen for the second." – Johnny Depp
08
"You find three types of love in your lifetime. The first will show you all that you did wrong. The second will show you how you should be loved, but the third will show you what it feels like to die while still being alive." – Amo Jones
09
"You've just got to accept that your first love is your greatest, and everything else is going to be second-best. But second-best is better than nothing at all." – Amy Plum
10
"Love happens only once, and the second time is always a compromise made to forget the first love." – Ayan khan
11
"I think if you're committed to somebody, you don't allow yourself to find perfection in someone else." – Nick Vaughan (Before We Go)
12
"Everyone's always concentrating on first love. No one seems to care much about second love. or third. Or Fourth love. First love, that's the one that's always celebrated and documented like it never happened before to anyone, anywhere." – Jill Davis
13
"I don't care to be someone's first love, I care to be their second or third; after every heartbreak they had experienced, I was worthy enough for them to move forward and this to me is greater than any first's of someone's heart." – Nikki Rowe
14
"I know you are afraid; you are afraid to get hurt again. But I also know that you are not meant to grieve forever." – Christina Rasmussen
15
"Nonetheless, love is a funny thing. More specifically, second loves are a funny thing. For no matter how special that second or third or even fourth love is, no matter how much you can't live without him, the first one always creeps in." – Lindsay Detwiler
16
"You've been given a second chance at true love. Few of us are rarely given even a first chance. If you ruin this, you will be a bigger fool than I could ever imagine. This time when he leaves you, it really will be your fault." – Kathryn Smith
17
"I had no first love,' he said at last; 'I began with the second." – Ivan Turgenev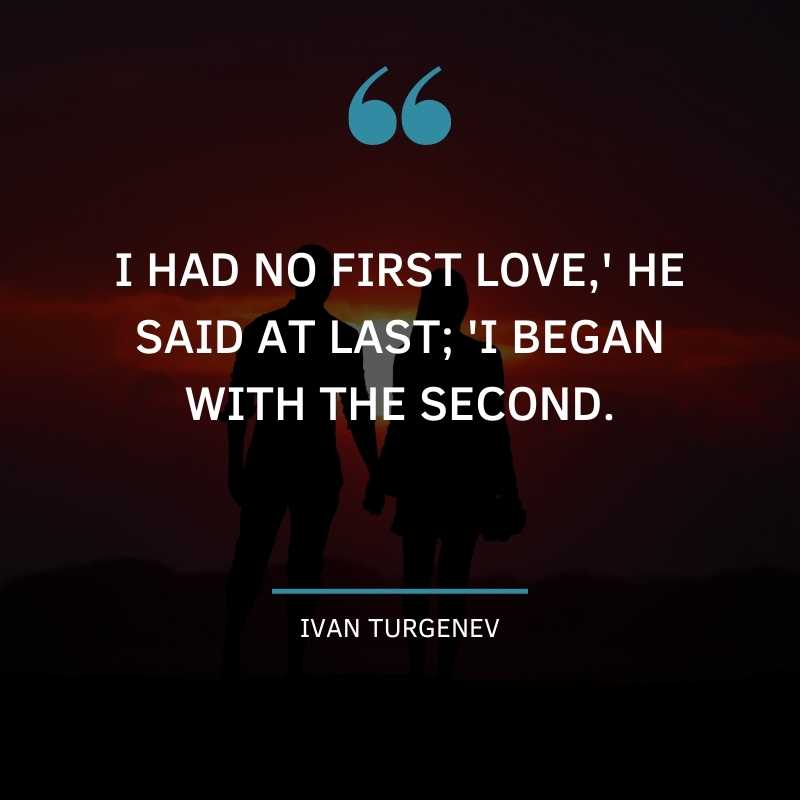 18
"It is neutral if you go under spell in your first love; but if it happens for a second time you have mistaken love with something else." – M.F. Moonzajer
19
"When you fall in Love with someone, you can never imagine being without them. But when you fall in Love a second time, you can never imagine you were with them in the first place. Though Love continues on in the heart, the brain often forgets." – Jeremy Tarr
20
"Let the first impulse pass, wait for the second." – Baltasar Gracian
21
"The second time you fall in love, it's with someone who loves you back."
22
"When you trip over love, it is easy to get up. But when you fall in love, it is impossible to stand again." – Albert Einstein
23
"The first time you fall in love, it changes your life forever… and the second time, it destroys everything you know about yourself."
24
"Falling in love the second time around is like having your first kiss all over again."
25
"My second love is as pure as my first… I just don't make the same mistakes."
26
"The hardest part about falling in love the second time around, is accepting that you're not the only one with scars." – Unknown
27
"Second love is twice the blessing, but half the obsession."
28
"You never forget your first love. But after that, it's so much better."
29
"I'm glad I fell in love for the second time because if not, I'd still be alone, waiting for my first love to come back."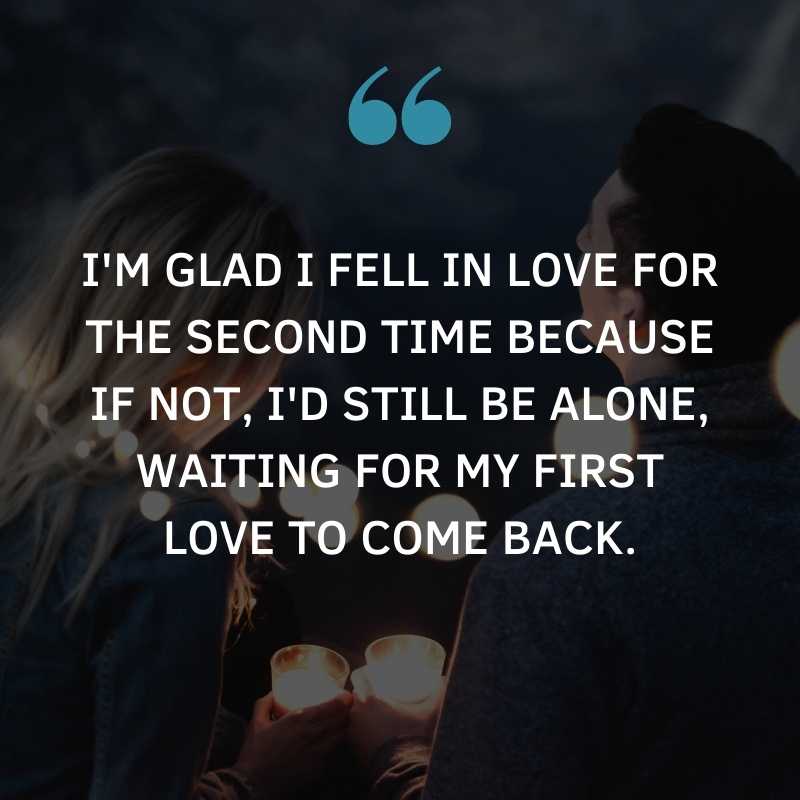 30
"The beauty of second love is that you learn from your mistakes and you don't make them again."
31
"Falling in love the second time around is just as exciting and scary as the first time… but with a lot less naivete."
32
"Second loves are like rainbows; they often appear after a storm."
33
"Second love is like a bottle of wine… it gets better with age."
34
"I think that second love is often the truest love. And I also think that it's worth the wait."
35
"Love is sweeter the second time around."
36
"When you find your second love, you know it's real."
37
"Sometimes, the second love is the one that ends up being the best."
38
"It's always thrilling to fall in love for the very first time, but coming back around and finding that second (and maybe even third…) love is pretty great, too."
39
"Though my first love left me brokenhearted, I'm so grateful for my second love who picked up the pieces and helped me put them back together again."
40
"First love: the butterflies, the excitement, the newness. Second love: the comfort, the stability, the feeling of being home."
41
"Sometimes, your second love comes into your life and shows you what real love is supposed to feel like."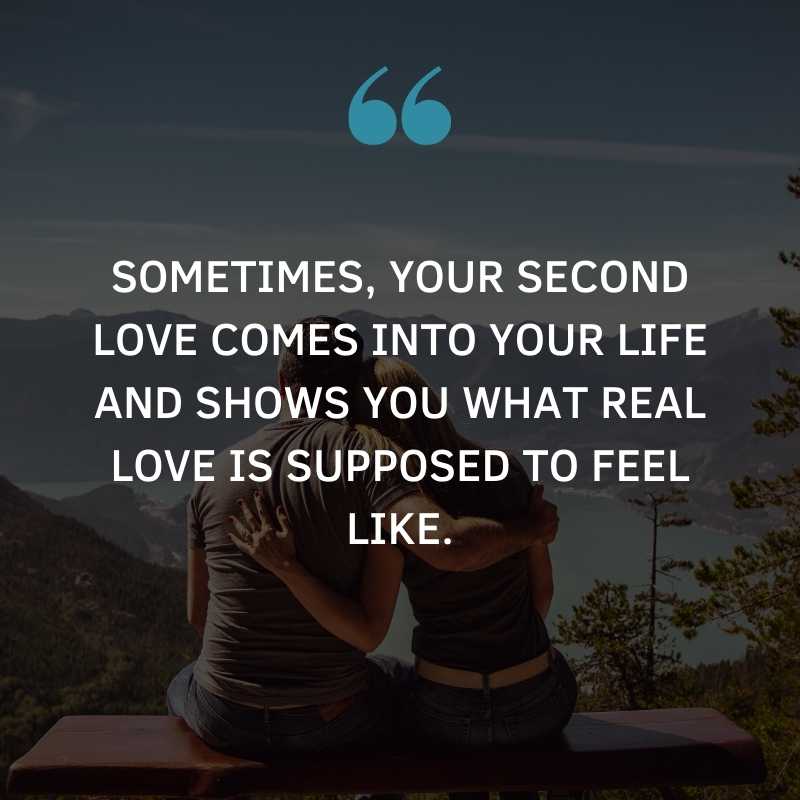 42
"It's always different with your first love. You're young and in love and it feels like everything will work out. But then you realize that… life happened. People grow apart and hearts change. Few years later you're stronger, happier, and more in love than ever. And this time, you know it'll last."
43
"People always say that your first love is the hardest to forget. But I️ think my second love is harder to remember."
44
"The first love made my heart sing, but the second love taught me how to fly."
45
"The best thing about second love is that it makes you believe in fate." – Unknown
46
"The hardest thing about falling in love the second time around is realizing how much you wasted the first time." – Unknown
47
"Second love exists because some people are just too stubborn to give up after their first heartbreak." – Unknown
48
"You never forget your first love. But when you finally find your second, you realize it was worth the wait."
We hope you liked our compilation about second love quotes.
Recent Posts
60+ Quotes About the Single Life [Quotes & Instagram Captions]
99+ Forever Love Quotes & Sayings That Will Touch Your Soul