Love isn't perfect, but it's worth fighting for. You're not always going to agree, but if you're willing to work through the tough times, you'll be stronger for it. Love is patient and kind, and it should be something you strive for in your own life. Don't settle for anything less. Fight for what you believe in, and never give up on the ones you love. They're worth it. In this post, we have collected some great quotes which tells love isn't perfect & it doesn't have to be.
Love isn't Perfect Quotes
01
"Love isn't perfect. It's hard work and sometimes it's more effort to be in love than it is to just run away. If you keep looking for perfect, the real thing is going to pass right by you." – Jay Crownover
02
"Love isn't perfect. It just have to be real."
03
"Great love isn't two people finding the perfect match in one another. Great love is two people making the choice to be a match." – Lysa TerKeurst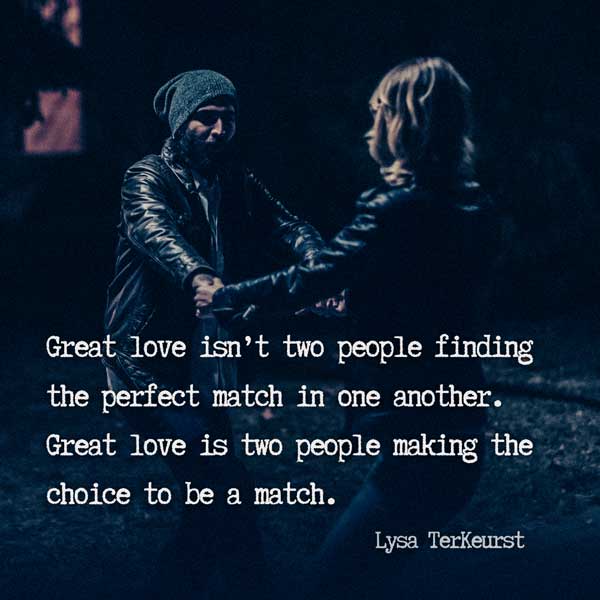 04
"Perfection isn't human. Human beings are not perfect. What evokes our love–and I mean love, not lust–is the imperfection of the human being. So, when the imperfection of the real person peaks through, say, 'This is a challenge to my compassion.' Then make a try, and something might begin to get going." – Joseph Campbell
05
"True love doesn't have a happy ending, because true love never ends." – Unknown
06
"Love isn't finding a perfect person. It's seeing an imperfect person perfectly." – Sam Keen
07
"Love isn't a state of perfect caring. It is an active noun like struggle. To love someone is to strive to accept that person exactly the way he or she is, right here and now." – Fred Rogers
08
"Love is not a bed of roses. It has thorns too." -Unknown
09
"There's no such thing as a perfect relationship. Real love means working through the bad times, as well as enjoying the good." – Unknown
10
"Love doesn't make the world go round. Love is what makes the ride worthwhile." – Franklin P. Jones
11
"Perfect love casts out fear." – 1 John 4:18
12
"Even though you may not be perfect, you are perfect to me." – Unknown
13
"Nobody is perfect until you fall in love with them." – Unknown
14
"To love and be loved is the greatest happiness of all."- Unknown
15
"A perfect relationship is not always about having a perfect partner. It is also about taking care of each other's imperfections and flaws."- Unknown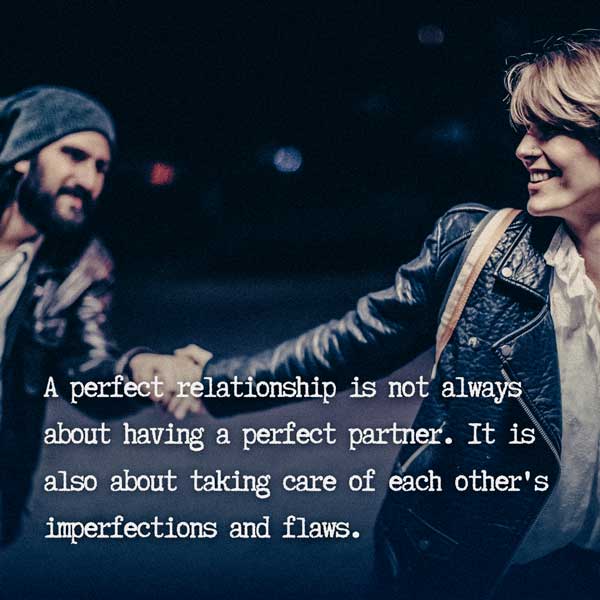 16
"There are no perfect men or women. There are only perfect intentions." – Mandy Hale
17
"No relationship is perfect, ever. There are always some ways you have to bend, to compromise, to give something up in order to gain something greater…" – Sarah Dessen
18
"There is no such thing as a perfect person or a perfect relationship. But the one I have with you is the closest thing to perfect I have ever known."- Unknown
19
"Nobody is perfect until you fall in love with them." – Unknown
20
"I'm far from perfect, but I'm thankful for having someone who loves me for who I am and not what I look like on the outside."- Unknow
21
"You don't love someone for their looks, or their clothes, or for their fancy car, but because they sing a song only you can hear." – Oscar Wilde
22
"I'm not perfect. I'll annoy you, make fun of you, say stupid things, but you'll never find someone who loves you as much as I do."- Unknown
23
"If he can make you laugh at least once a day; take the time to listen to what he has to say and let him know that his opinions matter to you – cherish him…and never let him forget how much he means to you."- Bobbi Palmer
24
"Love doesn't have to be perfect, it just has to be true." – Beauty and The Beast.
Love Isn't Perfect Instagram Captions
25
Love is watching your partner do something completely stupid and still thinking they're beautiful. #relationships
26
True love means accepting each other's flaws and imperfections. #relationships #love
27
Living, laughing, and loving through the imperfections ❤️ #LoveIsntPerfect
28
Love isn't perfect, but it's worth fighting for. ❤️
29
Just because love isn't perfect, doesn't mean it isn't worth fighting for. #LoveWins
30
Love is perfectly imperfect 💕
31
Love doesn't always seem perfect, but it's always worth it ❤️
We hope you enjoyed our compilation of 'Love isn't Perfect' quotes and Instagram captions.
Related Posts
35+ Meant to be Together Quotes & Instagram Captions
99+ Forever Love Quotes & Sayings That Will Touch Your Soul