Love is something that is given to be felt.  Whenever someone loves another person, it feels like something in them bursts into existence with the intensity of a supernova.  The feelings are so intense that they can make the individual go crazy for this amazing feeling.  This feeling is something that cannot be explained in words.  When the individual loves another, they become one with their partner and understand what it feels like to feel complete. Here's a list of forever love quotes that'll touch you deeply.
1. "The half-life of love is forever." – Junot Díaz
2. "That he would love her no matter what she told him, and that he was the kind of man who loved her already and would love her forever." – Nicholas Sparks
3. "Love is like a friendship caught on fire. In the beginning a flame, very pretty, often hot and fierce, but still only light and flickering. As love grows older, our hearts mature and our love becomes as coals, deep-burning and unquenchable." – Bruce Lee
4. "I'll love you forever ,I'll like you for always, As long as I'm living, my baby you'll be." – Robert N. Munsch
5. "I love you, and I will love you until I die and if there's life after that, I'll love you then."
6. "I'll love you forever. Even when I can't." – Colleen Hoover
7. "Our time together is just never quite enough."
8. "I fell for you unexpectedly, but now, I plan to be with you forever."
9. "He was my North, my South, my East and West,My working week and my Sunday rest,My noon, my midnight, my talk, my song;I thought that love would last forever: I was wrong." – W. H. Auden
10. "I wonder if it's possible to have a love affair that lasts forever." – Andy Warhol
11. "He's dozed off again, but I kiss him awake, which seems to startle him. Then he smiles as if he'd be happy to lie there gazing at me forever." – Suzanne Collins
12. "I'm here not because I am supposed to be here, or because I'm trapped here, but because I'd rather be with you than anywhere else in the world." – Richard Bach
13. "Forever is a long time. But I wouldn't mind spending it by your side."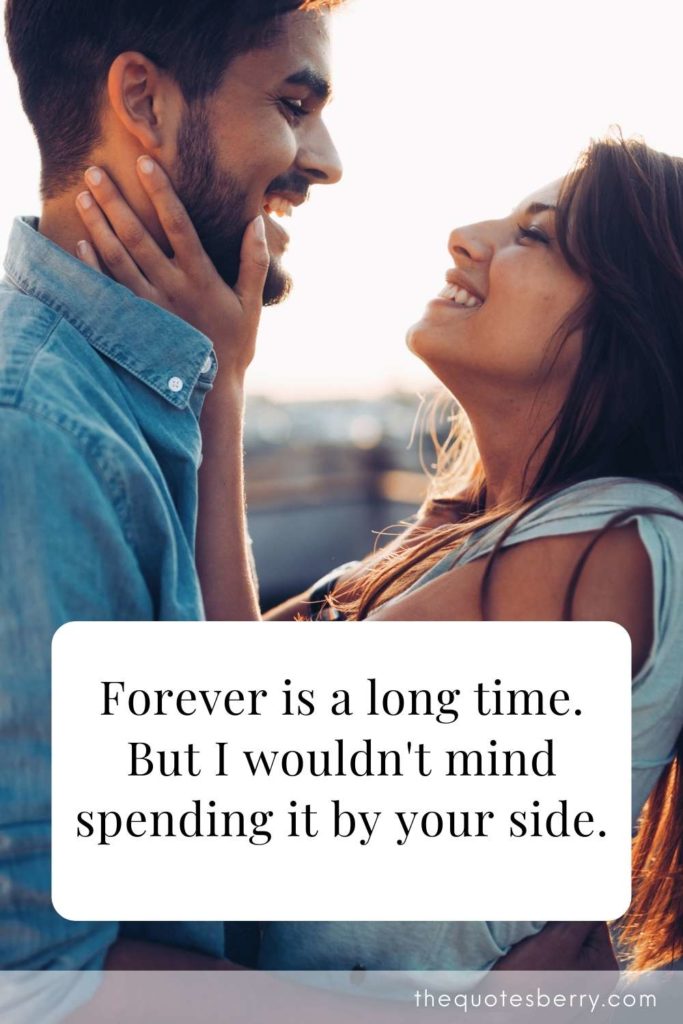 14. "I promise to love you forever – every single day of forever." – Stephenie Meyer
15. "A million times over, I will always choose you."
16. "Love is a decision, it is a judgment, it is a promise. If love were only a feeling, there would be no basis for the promise to love each other forever. A feeling comes and it may go. How can I judge that it will stay forever, when my act does not involve judgment and decision." – Erich Fromm
17. "I want you forever, not just for tonight." – Sylvain Reynard
18. "When I fall in love, it will be forever." – Jane Austen
19. "My friend, when you love, let it be a woman whom you can love forever." – Honore de Balzac
20. "Love means holding on to someone just as hard as you can because if you don't, one blink and they might disappear…forever." – Ellen Hopkins
21. "some people fall in love over and over again while some people can only do it once." – Ann Brashares
22. "You will forever be my always."
23. "In this crazy world, full of change and chaos, there is one thing of which I am certain, one thing which does not change: my love for you."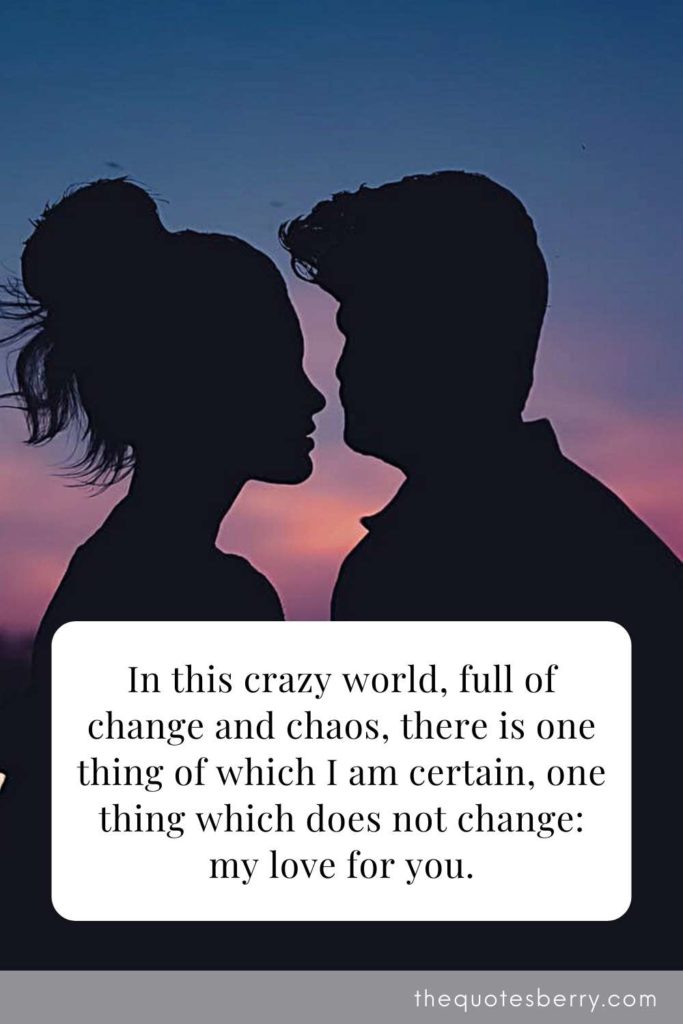 24. "Everyday I make a wish just to be with you forever"
25. "I'll never finish falling in love with you"
26. "With life as short as half taken breath, don't plant anything but love." – Rumi
27. "True love never says good-bye, and this is why true love lasts forever." – Ellen J Barrier
28. "Things feel like they'll be forever, but they aren't. Love can go away, or people can, without even meaning to. Nothing is guaranteed." – Jenny Han
29. "That's why love stories don't have endings! They don't have endings because love doesn't end." – Richard Bach
30. "You are exactly, precisely and perfectly what I waited for."
31. "I will always wait for you where the falling stars live." – Alexandra Vasiliu
32. "There used to be days that I thought I was okay, or at least that I was going to be. We'd be hanging out somewhere and everything would just fit right and I would think 'it will be okay if it can just be like this forever' but of course nothing can ever stay just how it is forever." – Nina LaCour
33. "And when you came into my life, eternity began." – Alexandra Vasiliu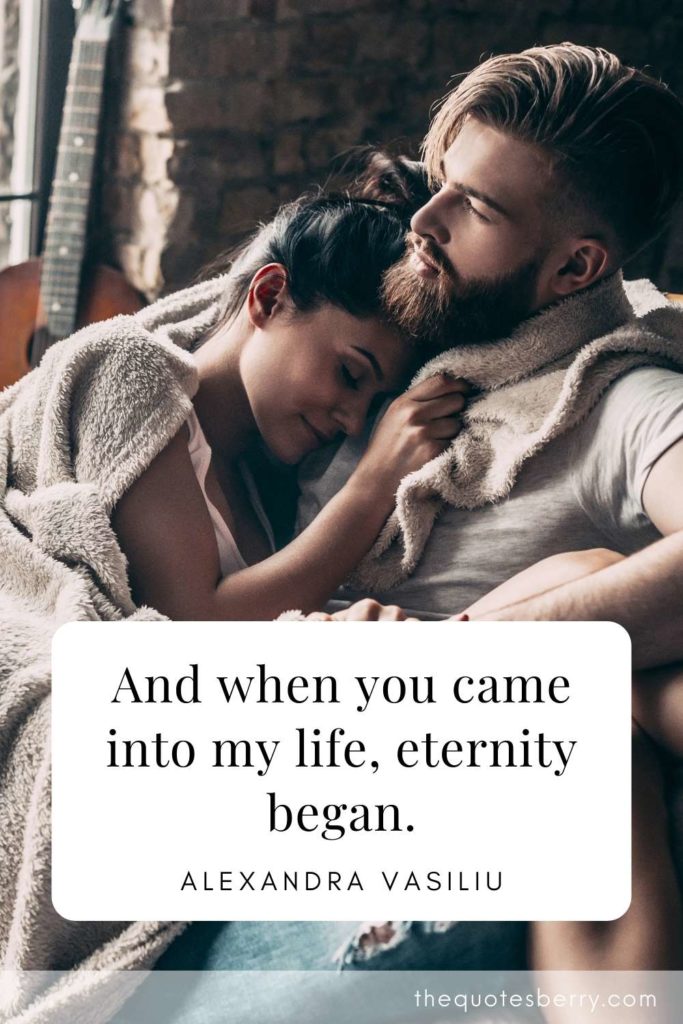 34. "Love is so short, forgetting takes forever." – Serena Grey
35. "If you gave someone your heart and they died, did they take it with them? Did you spend the rest of forever with a hole inside you that couldn't be filled?" – Jodi Picoult
36. "My daddy said, that the first time you fall in love, it changes you forever and no matter how hard you try, that feeling just never goes away." – Nicholas Sparks
37. "I never want to stop making memories with you." – Pierre Jeantly
38. "Thinking of you is apoison I drink often" – Atticus
39. "The moment you stop to think about whether you love someone, you've already stopped loving that person forever." – Carlos Ruiz Zafón
40. "When love ends, I realize that it wasn't love. For love is to be lived not remembered." – Mahmoud Darwish
41. "I really don't even know you, and yet, in my life, you are forever entangled; to my history, inextricably bound." – Sarah Ockler
42. "The best feeling in the world is being with someone who wants you as much as you want them."
43. "You think you are alive because you breathe air? Shame on you, that you are alive in such a limited way. Don't be without Love, so you won't feel dead. Die in Love and stay alive forever." – Rumi
44. "I wore your promise on my finger for one year. I'll wear your name on my heart til I die. Because you were my boy, you were my only boy forever." – Coco J. Ginger
45. "I don't know why, But I just can't feel for someone else like I felt for you."
46. "Maybe I was destined to forever fall in love with people I couldn't have. Maybe there's a whole assortment of impossible people waiting for me to find them. Waiting to make me feel the same impossibility over and over again." – Carol Rifka Brunt
47. "The best love is the kind that awakens the soul and makes us reach for more, that plants a fire in our hearts and brings peace to our minds. And that's what you've given me. That's what I'd hoped to give you forever" – Nicholas Sparks
48. "People die, I think, but your relationship with them doesn't. It continues and is ever-changing." – Jandy Nelson
49. "He is not a lover who does not love forever." – Buripides
50. "I had no illusions about love anymore. It came, it went, it left casualties or it didn't. People weren't meant to be together forever, regardless of what the songs say." – Sarah Dessen
51. "There is never a time or place for true love. It happens accidentally, in a heartbeat, in a single flashing, throbbing moment." – Sarah Dessen
52. "He insisted that stars were people so well loved, they were traced in constellations, to live forever" – Jodi Picoult
53. "I want someone who is fierce and will love me until death and knows that love is as strong as death, and be on my side forever and ever. I want someone who will destroy and be destroyed by me." – Jeanette Winterson
54. "Just because I'm not forever by your side doesn't mean that's not precisely where I want to be." – Stephanie Laurens
55. "I love you and that's the beginning and end of everything." – F. Scott Fitzgerald
56. "What are the chances you'd ever meet someone like that? he wondered. Someone you could love forever, someone who would forever love you back? And what did you do when that person was born half a world away? The math seemed impossible." – Rainbow Rowell
57. "Teach me how to forget about you the way you forgot about me."
58. "His hands are holding my cheeks, and he pulls back just to look me in the eye and his chest is heaving and he says, "I think," he says, "my heart is going to explode," and I wish, more than ever, that I knew how to capture moments like these and revisit them forever. Because this.This is everything." – Tahereh Mafi
59. "I can't even hold your hand, but I love you with a love that no one can understand."
60. "You're the best thing I have every waited for."
61. "But he had been in love once, that he knew. Once and only once, and a long time ago. And it had changed him forever. Perfect love did that to a person and this had been perfect." – Nicholas Sparks
62. "A loaf of bread, a jug of Wine and thou" – Omar Khayyam
63. "The winds that sometimes take something we love, are the same that bring us something we learn to love. Therefore we should not cry about something that was taken from us, but, yes, love what we have been given. Because what is really ours is never gone forever." – Bob Marley
64. "If there's one thing I am sure of, I am sure that you have always belinged with me." – Akif Kichloo
65. "All I want is to grow old with you."
66. "Every day I'm convinced that I can't possibly love you more… and every day I'm proven wrong" – Steve Maraboli
67. "All my heart is yours, sir: it belongs to you; and with you it would remain, were fate to exile the rest of me from your presence forever." – Charlotte Bronte
68. "There are memories that time does not erase… Forever does not make loss forgettable, only bearable." – Cassandra Clare
69. "But whatever, however, whenever this ends, I want you to know that right now I love you forever" – Andrea Gibson
70. "All I can ever ask of you is to stay. Just stay."
71. "… our forever was supposed to be longer." – Ben Maxfield
72. "You've changed me forever. And I'll never forget you." – Kiera Cass
73. "Ignore any loss of nerve, ignore any loss of self-confidence, ignore any doubt or confusion. Move on believing in love, in peace, and harmony, and in great accomplishment. Remember joy isn't a stranger to you. You are winning and you are strong. Love. Love first, love always, love forever." – Anne Rice
74. "They say there are hundreds of universes out there. I just hope I found you in every one of it."
75. "I have looked at you in millions of ways and I have loved you in each." – Haiku
76. "I'll love you endlessly."
77. "I am permanently in love with you, always and forever."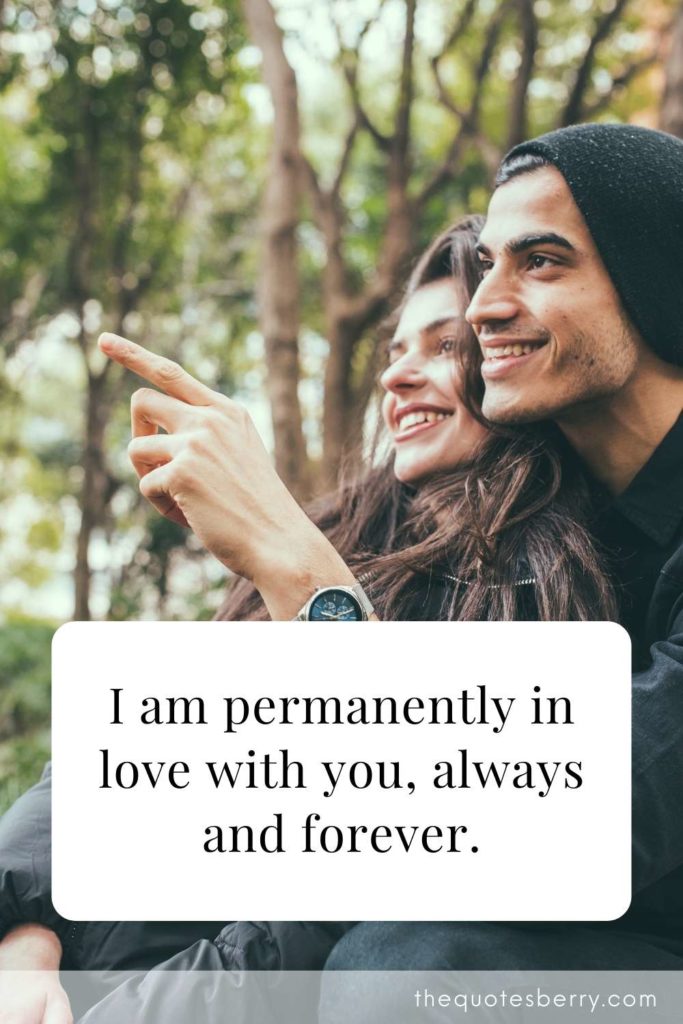 78. "If I had a single flower for every time I think about you, I could walk forever in my garden." – Claudia Adrienne Grandi
79. "And when her lips met mine, I knew that I could live to be a hundred and visit every country in the world, but nothing would ever compare to that single moment when I first kissed the girl of my dreams and knew that my love would last forever." – Nicholas Sparks
80. "When I looked into your eyes I didn't just see you, I saw my today, my tomorrow, and my future for the rest of my life…"
81. "The person who does not decide to love forever will find it very difficult to really love for even one day." – Pope John Paul II
82. "So it's not gonna be easy. It's going to be really hard; we're gonna have to work at this everyday, but I want to do that because I want you. I want all of you, forever, everyday. You and me… everyday." – Nicholas Sparks
83. "When forever becomes a place…when forever ceases to be just a word… when it ceases to be just a measurement of time…but instead becomes a place where soul mates can dance to the song in their hearts… that is a reflection of true love." – Steve Maraboli
84. "If you'd let me, I will make you laugh and love you for a lifetime."
85. "Nobody warned me that when you fall in love, you really fall in love forever." – Junot Diaz
86. "Oh lovers! be careful in those dangerous first days! once you've brought breakfast in bed you'll have to bring it forever, unless you want to be accused of lovelessness and betrayal." – Milan Kundera
87. "You look like the rest of my life." – Beau Taplin
88. "For thr rest of my life I'll be loving you…"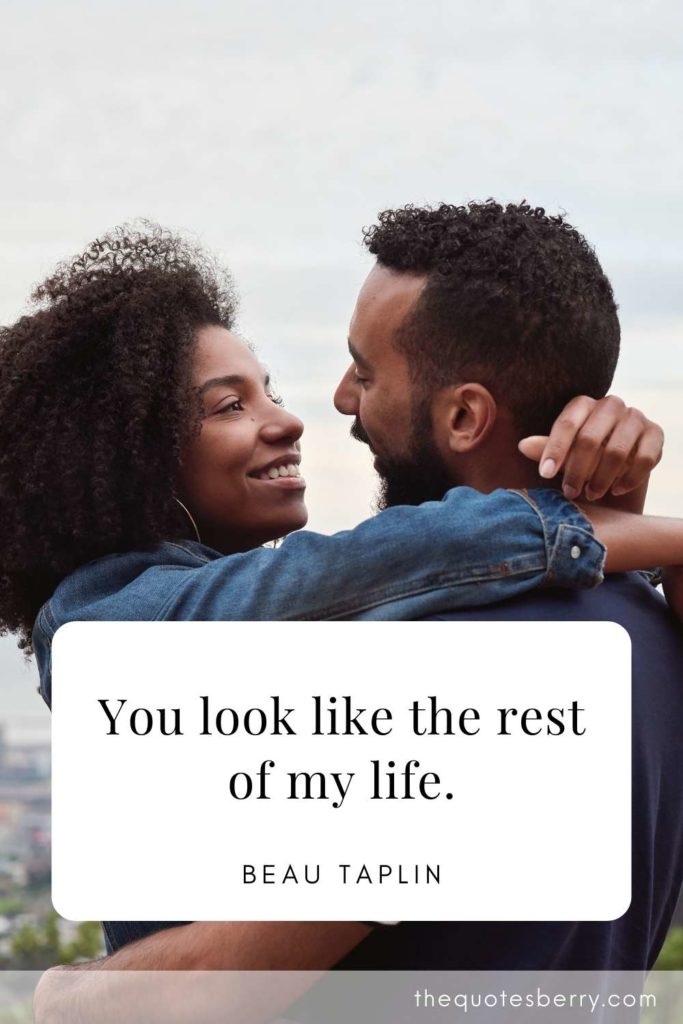 89. "If I had a flower for every time I thought of you…I could walk through my garden forever." – Alfred Tennyson
90. "in a world full of temporary things you are a perpetual feeling." – Sanober Khan
91. "Loving you forever can't be wrong. Even though you're not here, can't move on" – Lana Del Rey
92. "I have to admit, an unrequited love is so much better than a real one. I mean, it's perfect… As long as something is never even started, you never have to worry about it ending. It has endless potential." – Sarah Dessen
93. "Lovers don't finally meet somewhere. They're in each other all along." – Rumi
94. "I seem to have loved you in numberless forms, numberless times, in life after life, in age after age forever." – Rabindranath Tagore
95. "I will love you with all my heart. To have forever-never to part. This is a promise engrained in me, Take my hand and let it be." – Diana Lynn
96. "We are all searching for our forevers."
97. "Something tells me I'm going to love him forever"
98. "The moment our lips met, I knew with pure and piercing certainty that I would have waited for him forever." – Leigh Bardugo
99. "You and me forever. Please?"
100. "I'll love you until the day after forever." – Kami Garcia
101. "You are what happiness means to me. And I would rather have today with you than forever with anyone else." – Michelle Hodkin
102. "A guy and a girl can be just friends, but at one point or another, they will fall for each other…Maybe temporarily, maybe at the wrong time, maybe too late, or maybe forever" – Dave Matthews Band
103. "If you really love something, you never try to keep it the way it is forever. You have to let it be free to change." – Cassandra Clare
104. "Forevery is a long, long time, but I wouldn't mind spending it by your side. Tell me, every day, I get to wake up to that smile. I wouldn't mind it at all."
105. "The saddest thing about love, Joe, is that not only the love cannot last forever, but even the heartbreak is soon forgotten." – William Faulkner
106. "I want you today, tomorrow, next week and for the rest of my life."
We hope you enjoyed our list of quotes about forever love.