When life gets tough, it can be easy to question our faith in Jesus and turn away from the Lord. We might think that our circumstances are too overwhelming or difficult for Him to handle. But Scripture reminds us that no matter how hard things get, we can always trust God. He is with us as a loving Father, ready to carry us when we need it and steady us when we are shaken. The book of Psalms is full of promises that God will never leave us or forsake us, no matter what.
When the storm clouds gather around us, God is still there with us in the midst of it all. He can use our trials to refine and strengthen our character. He will bring us through and give us the courage to endure whatever we must face. He gives us hope and peace as we trust in Him. Here are some motivational 'Jesus, I trust in You' quotes that will strengthen your faith.
Trust in Jesus Quotes
01
"Do not let your hearts be troubled. Trust in God; trust also in me." – Jesus Christ
02
"Don't you quit. You keep walking. You keep trying. There is help and happiness ahead. Some blessings come soon, some come late, and some don't come until heaven; but for those who embrace the gospel of Jesus Christ, they come. It will be all right in the end. Trust God and believe in good things to come." – Jeffrey R. Holland
03
"We have very little faith in the Lord, very little trust. If we trusted the Lord as much as we trust a friend when we ask him to do something for us, neither we as individuals nor our whole country would suffer so much." – Elder Thaddeus of Vitovnica
04
"The one help we all need is given to us freely through the Atonement of Jesus Christ. Having faith in Jesus Christ and In His Atonement means relying completely on Him-trusting in His infinite power, intelligence, and love." – Dieter F. Uchtdorf
05
"Either we are adrift in chaos or we are individuals, created, loved, upheld and placed purposefully, exactly where we are. Can you believe that? Can you trust God for that?" – Elisabeth Elliot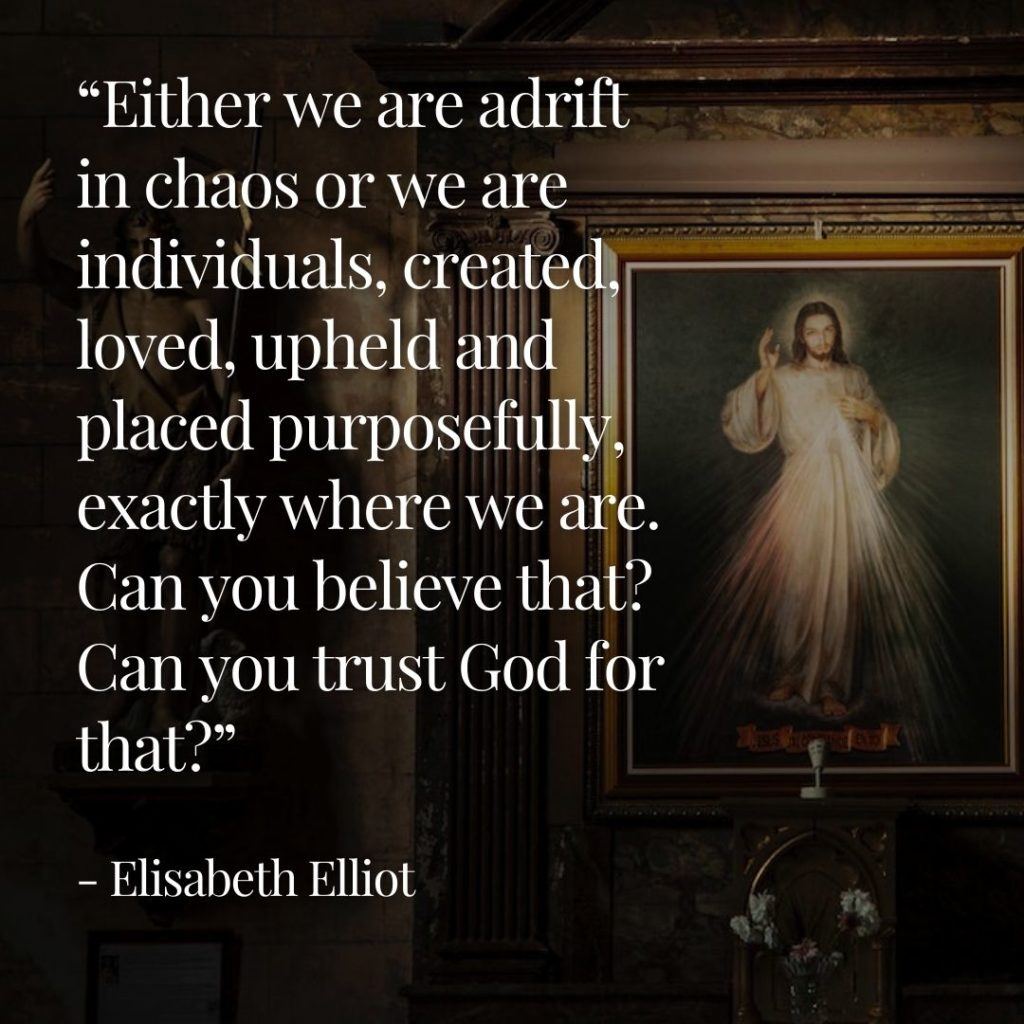 06
"Faith in the Lord is trust in the Lord. We cannot have true faith in the Lord without also having complete trust in the Lord's will and in the Lord's timing."- Dallin H. Oaks
07
"Trust God for the impossible-miracles are His department. Our job is to do our best, letting the Lord do the rest." – David Jeremiah
08
"Trust the past to the mercy of God, the present to His love, and the future to His providence." – Saint Augustine
09
"The more you trust Jesus and keep your eyes focused on Him, the more life you'll have. Trusting God brings life. Believing brings rest. So stop trying to figure everything out, and let God be God in your life." – Joyce Meyer
10
"When we have faith in the Lord Jesus Christ, we must have trust in him. We must trust him enough that we are content to accept his will, knowing that he knows what is best for us." – Dallin H. Oaks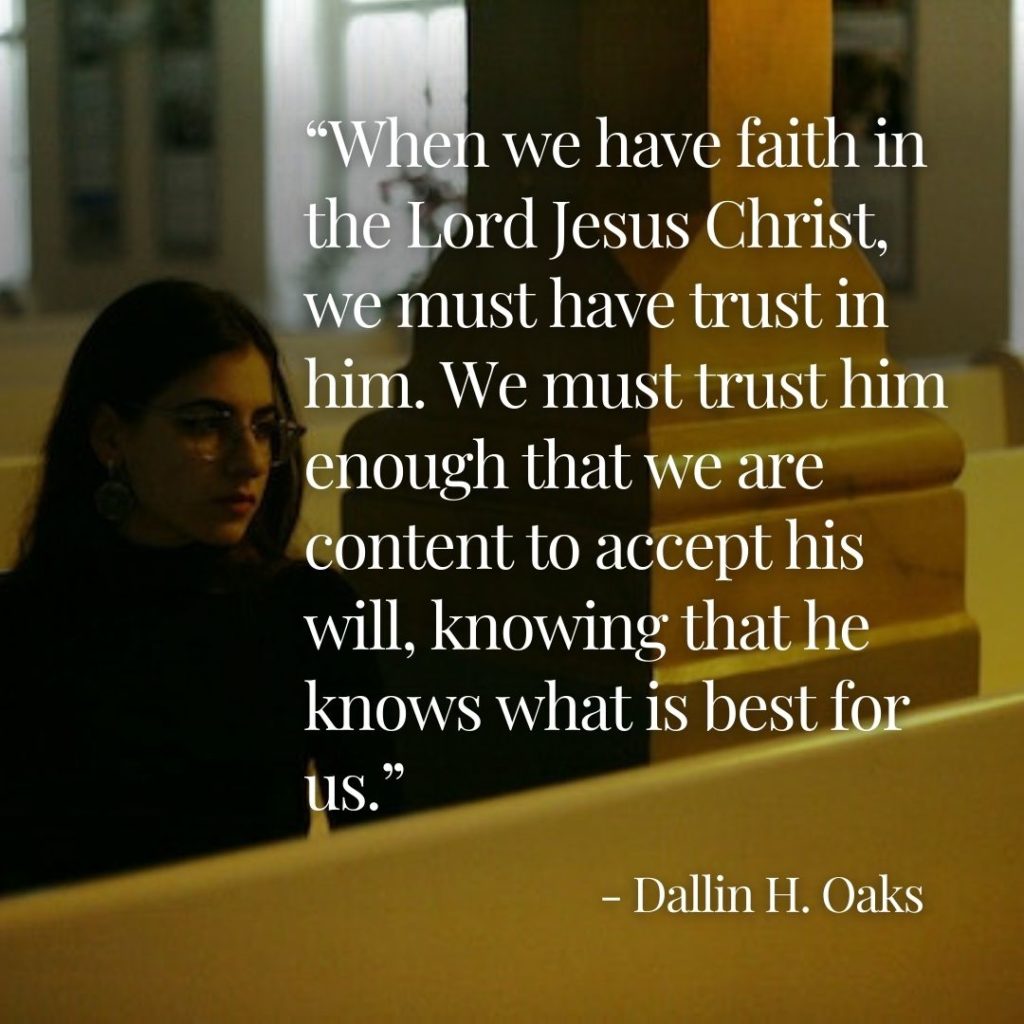 11
"You can no more trust Jesus and not intend to obey him than you could trust your doctor and your auto mechanic and not intend to follow their advice. If you don't intend to follow their advice, you simply don't trust them. Period." – Dallas Willard
12
"The moment someone chooses to trust in Jesus Christ, his sins are wiped away, and he is adopted into God's family. That individual is set apart as a child of God, with a sacred purpose." – Charles F. Stanley
13
With faith in Jesus, there's nothing we can't conquer! Take a moment of pause today to remind yourself that no obstacle is too big to overcome with Him by your side.
14
"When the world around you is shaking, trust that Jesus will be with you every step of the way. No matter what life throws your way, remember to always have faith and know that He is there for you."
15
"When life's storms come, trust in Jesus; He will see you through."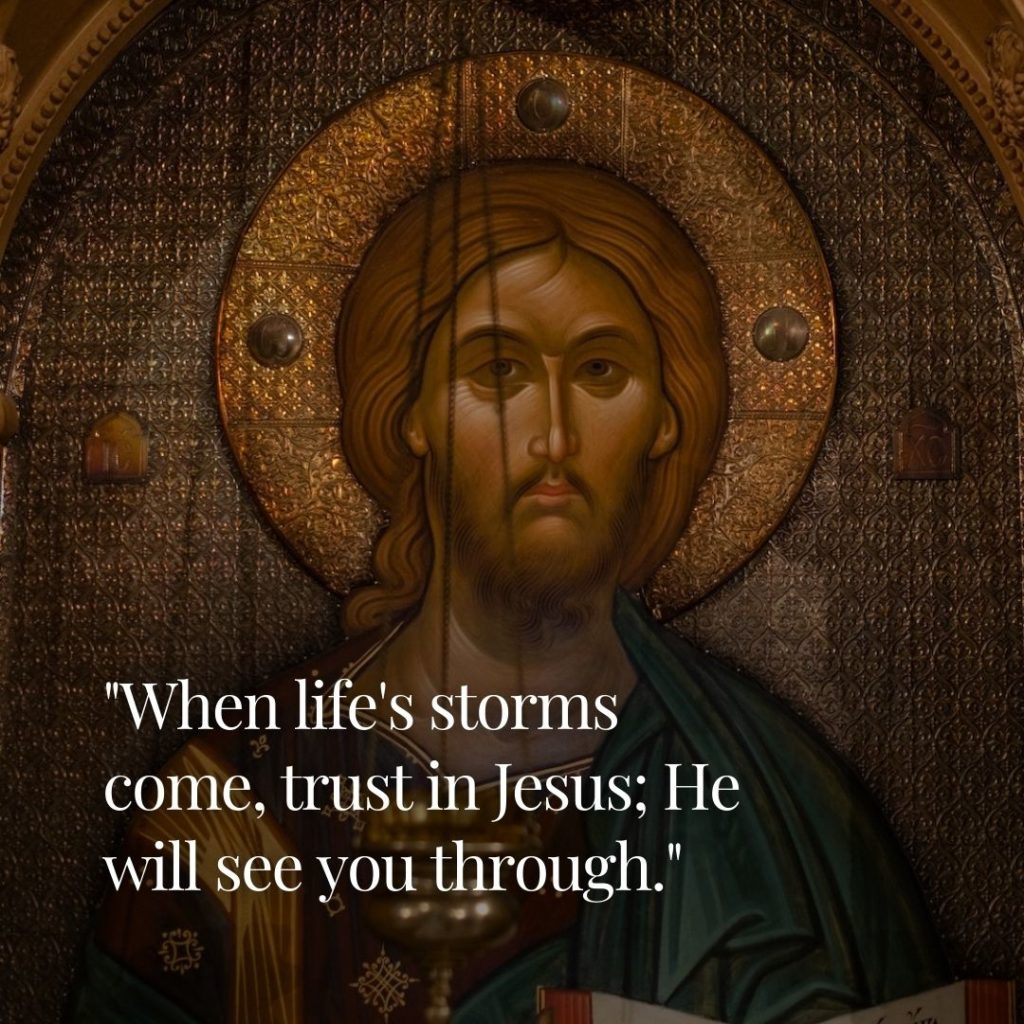 16
"Believe that anything is possible with Jesus in your life. His love and trust is the key to unlocking infinite hope and faith."
17
"Trusting in Jesus is the key to unlocking the path to inner peace. He is our constant companion, guiding us every step of the way."
18
"Where would we be without faith? Trust in Jesus and have faith in his guidance, for He is the ultimate source of strength and love!"
19
"Trusting in Jesus is like basking in the sunlight. Let the Lord's warmth and light fill your life, with nothing but trust and peace left in its wake."
20
"It's easier said than done but trust in Jesus – He'll take you places you never thought possible!"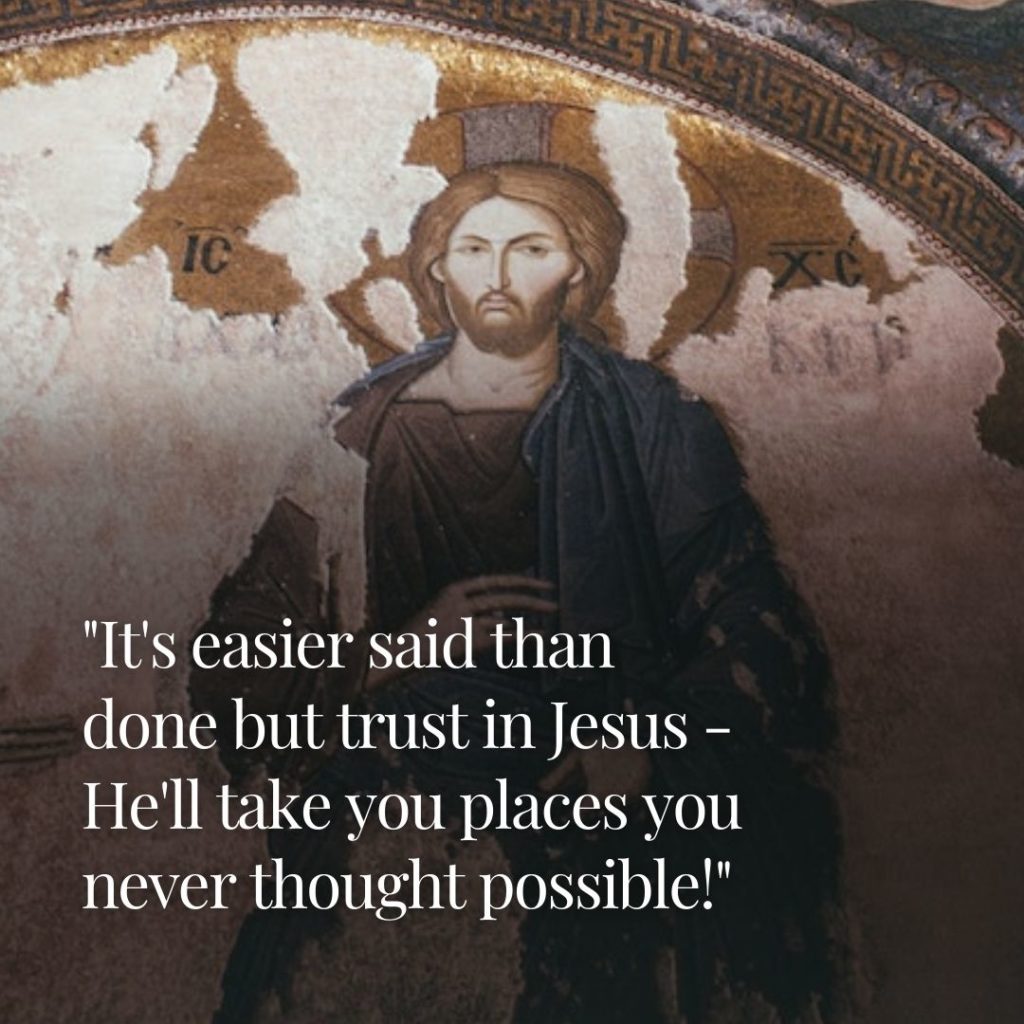 21
"No matter the struggles you face in life, if you put your trust in Jesus, He will never fail you. Keep believing and never give up!"
'Jesus, I Trust in You' Quotes
22
"Trust yourself in God's hands. Maintain your relationship to Jesus Christ by the patience of faith. 'Though He slay me, yet will I trust in Him." – Oswald Chambers
23
"When I say I trust Jesus, that is what I mean: I trust that the way of life leads through perishability, not around it." – Barbara Brown Taylor
24
"That's all I'm doing, choosing to trust Jesus even if I don't understand what or why something is happening. Jesus wants you to choose to trust Him again. He won't take that trust you place in Him lightly." – Dee Henderson
25
"I trust Jesus with all my tomorrows, knowing that He will solve the mystery of life beyond the grave." – Billy Graham
26
"Jesus, I trust in You." – Mary Faustina Kowalska
27
"In any situation, we can choose to fear the unknown or place our trust in something greater. Today, I choose to have faith in Jesus and know that He will guide my path."
28
"Jesus, I trust in You, for you are my refuge and strength."
29
"The Lord is my strength and my shield; in Him my heart trusts, and I am helped. His presence comforts me and gives me confidence; I find hope in trusting in Jesus."
30
"In times of doubt, I whisper, 'Jesus, I trust in You,' and my faith is restored."
31
"Jesus, I trust in You, for you are the source of my hope and salvation."
32
"With a humble heart, I proclaim, 'Jesus, I trust in You,' knowing that you will guide my path."
33
"Jesus, I trust in You, for you are the healer of wounds and the mender of hearts."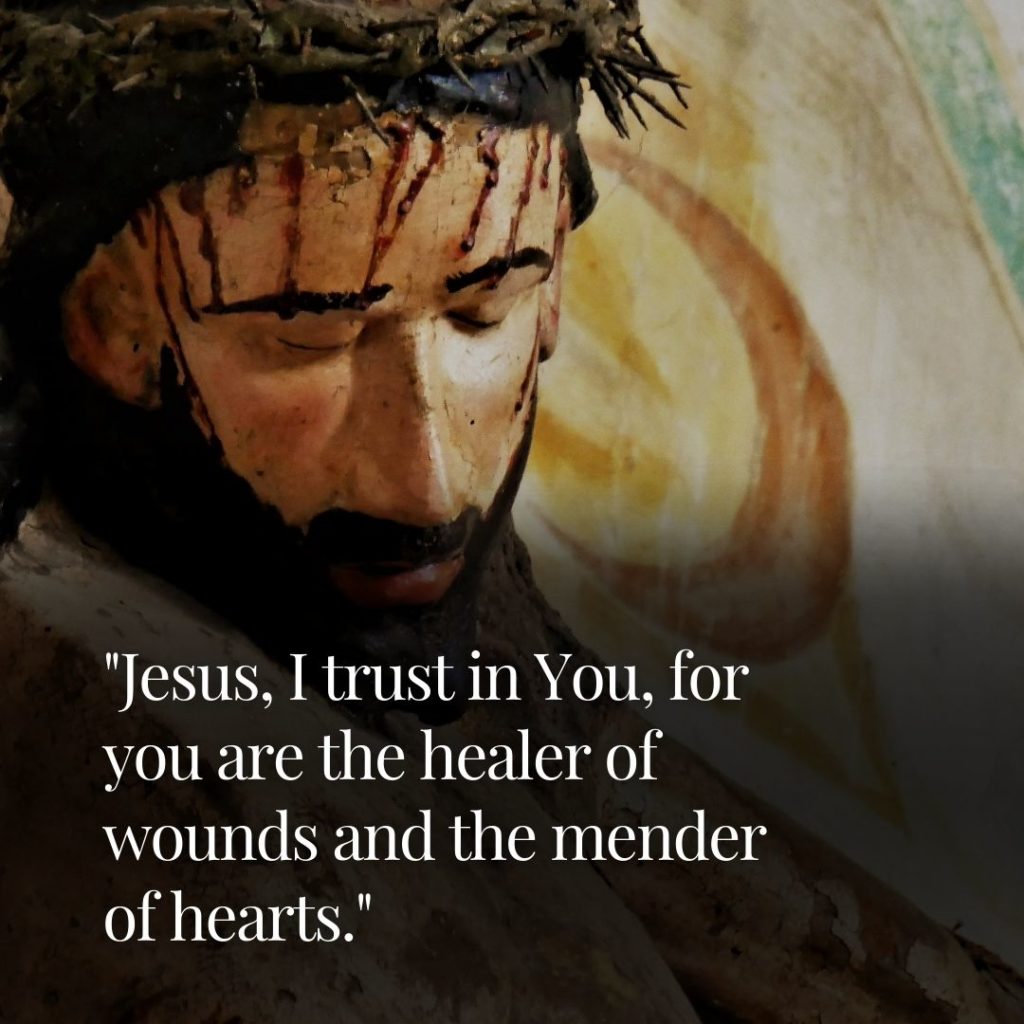 34
"Our only hope and source of strength: Jesus, we trust in You. No matter the circumstance, He is with us, carrying us through every season."
35
"Jesus, I trust in You, for you are the redeemer of my soul and the restorer of my faith."
36
"When I allow myself to put all of my trust in Jesus, I feel a sense of peace that cannot be taken away."
37
"Whatever I face in this life, I know that Jesus is by my side. Trusting in Him brings me peace and security no matter the challenge!"
38
"Hard times might come, but trusting in Jesus gives me the strength and courage I need to keep going."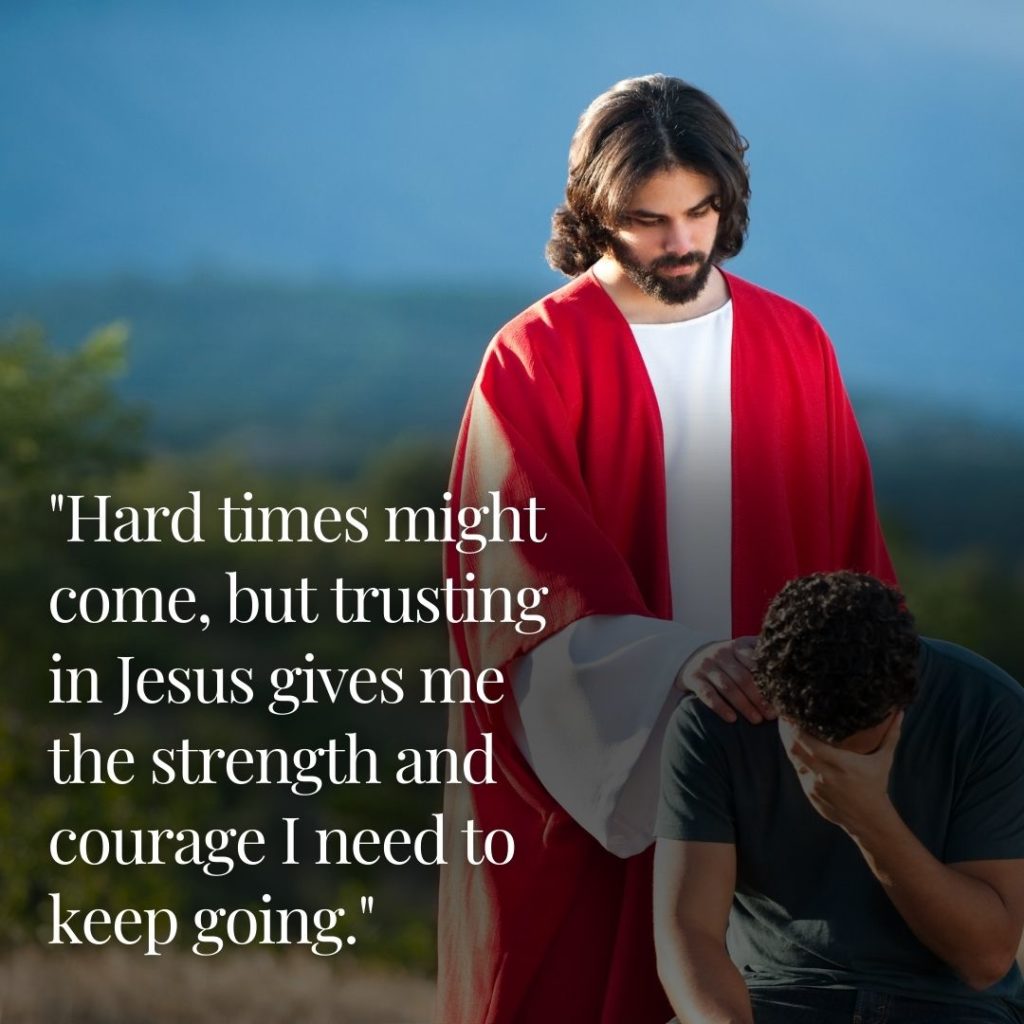 39
"Believe in yourself, but never forget to put your trust in Jesus. He will guide you and bless you on your journey of faith!"
Trust in the Lord Bible Verses
40
"Trust God from the bottom of your heart; don't try to figure out everything on your own." Proverbs 3:5 (NLT)
41
"Be strong and courageous. Do not be afraid or discouraged for the Lord your God is with you wherever you go." Joshua 1:9 (NIV)
42
"Trust in the Lord with all your heart; do not depend on your own understanding. Seek his will in all you do, and he will show you which path to take." Proverbs 3:5-6 (NLT)
43
"Give all your worries and cares to God, for he cares about you." 1 Peter 5:7 (NLT)
44
"Let go of your concerns! Then you will know that I am God. I rule the nations. I rule the earth." Psalms 46:10 (CEV)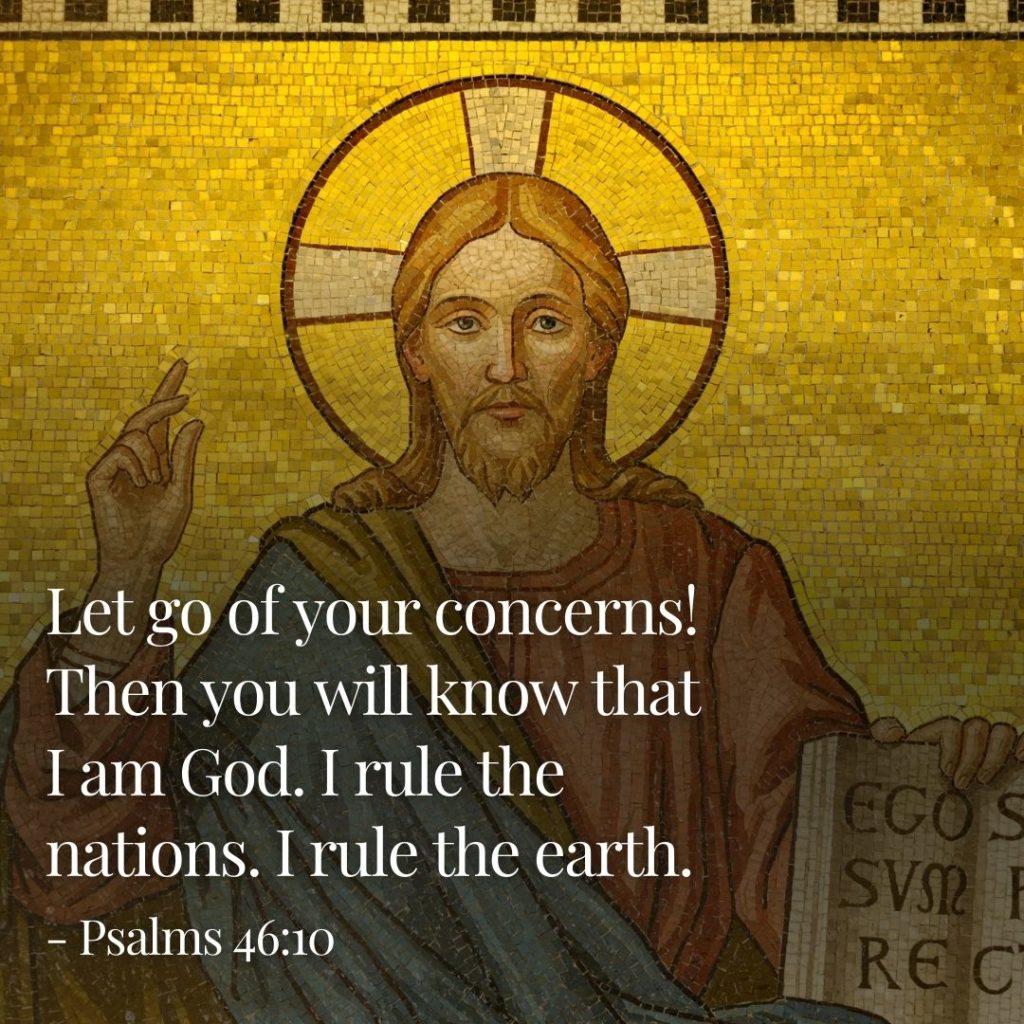 45
"It is better to take refuge in the LORD than to trust in man. It is better to take refuge in the LORD than to trust in princes." Psalm 118:8-9 (NKJV)
46
"The Lord gives his people strength; he protects those who trust in him." Psalm 28:7 (GWT)
47
"When I am afraid, I will trust in You." Psalm 56:3 (NKJV)
48
"Do not be anxious about anything; but in everything by prayer and supplication with thanksgiving let your requests be made known to God. And the peace of God which passes all understanding shall keep your hearts and minds through Christ Jesus." Philippians 4:6-7 (KJV)
49
"He who trusts in his own heart is a fool, But whoever walks wisely will be delivered." Proverbs 28:26 (NKJV)
50
"For I know the plans I have for you," declares the Lord, "plans to prosper you and not to harm you, plans to give you hope and a future." Jeremiah 29:11 (NIV)
51
"Commit your way to the LORD; trust in Him, and He will act." Psalm 37:5 (ESV)
52
"But those who trust in the Lord will find new strength. They will soar high on wings like eagles. They will run and not grow weary. They will walk and not faint." Isaiah 40:31 (NLT)
We hope you enjoyed our collection of Trust in Jesus Quotes
Related Posts
60+ Goals in Life Quotes to Keep You Motivated
65+ Inspiring Quotes About Starting a New Chapter in Life