Setting goals in life is essential for achieving success and finding fulfillment. Establishing clear objectives helps to focus our efforts and gives us direction as we move forward.
Long-term objectives can be divided into smaller, more attainable goals that enable us to chart our progress and measure our accomplishments. As we reach each milestone, it serves as a source of motivation to keep us on target and energized as we continue on our journey.
In this post, let's take a look at some motivational Goals in Life Quotes.
Goals in Life Quotes
01
"Everybody has goals, aspirations or whatever, and everybody has been at a point in their life where nobody believed in them." – Eminem
02
"If you're bored with life – you don't get up every morning with a burning desire to do things – you don't have enough goals." – Lou Holtz
03
"In between goals is a thing called life, that has to be lived and enjoyed." – Sid Caesar
04
"It must be borne in mind that the tragedy of life doesn't lie in not reaching your goal. The tragedy lies in having no goals to reach." – Benjamin E. Mays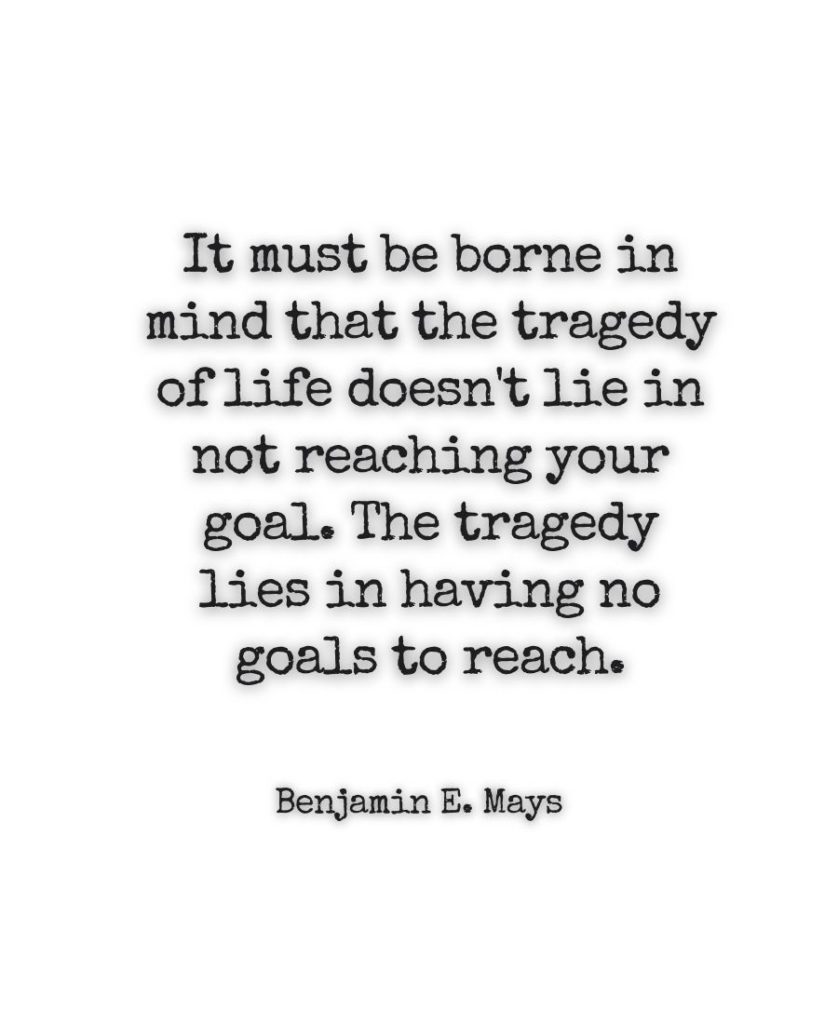 05
"Life's a balancing act. You have multiple roles and goals, and you can do it all – just not all at once." – Denise Morrison
06
"Life can be pulled by goals just as surely as it can be pushed by drives." – Viktor E. Frankl
07
"You can go slow. Allow your dreams and goals to change, but live an intentional life." – Kumail Nanjiani
08
"Successful people maintain a positive focus in life no matter what is going on around them. They stay focused on their past successes rather than their past failures, and on the next action steps they need to take to get them closer to the fulfillment of their goals rather than all the other distractions that life presents to them." – Jack Canfield
09
"You must take action now that will move you towards your goals. Develop a sense of urgency in your life." – H. Jackson Brown, Jr.
10
"Everyone has a purpose in life and a unique talent to give to others. And when we blend this unique talent with service to others, we experience the ecstasy and exultation of own spirit, which is the ultimate goal of all goals. – Kallam Anji Reddy
11
"The mystery of human existence lies not in just staying alive, but in finding something to live for." – Fyodor Dostoyevsky
12
"Sometimes you don't need a goal in life, you don't need to know the big picture. you just need to know what you're going to do next!" – Sophie Kinsella
13
"If you want to live a happy life, tie it to a goal, not to people or things." – Albert Einstein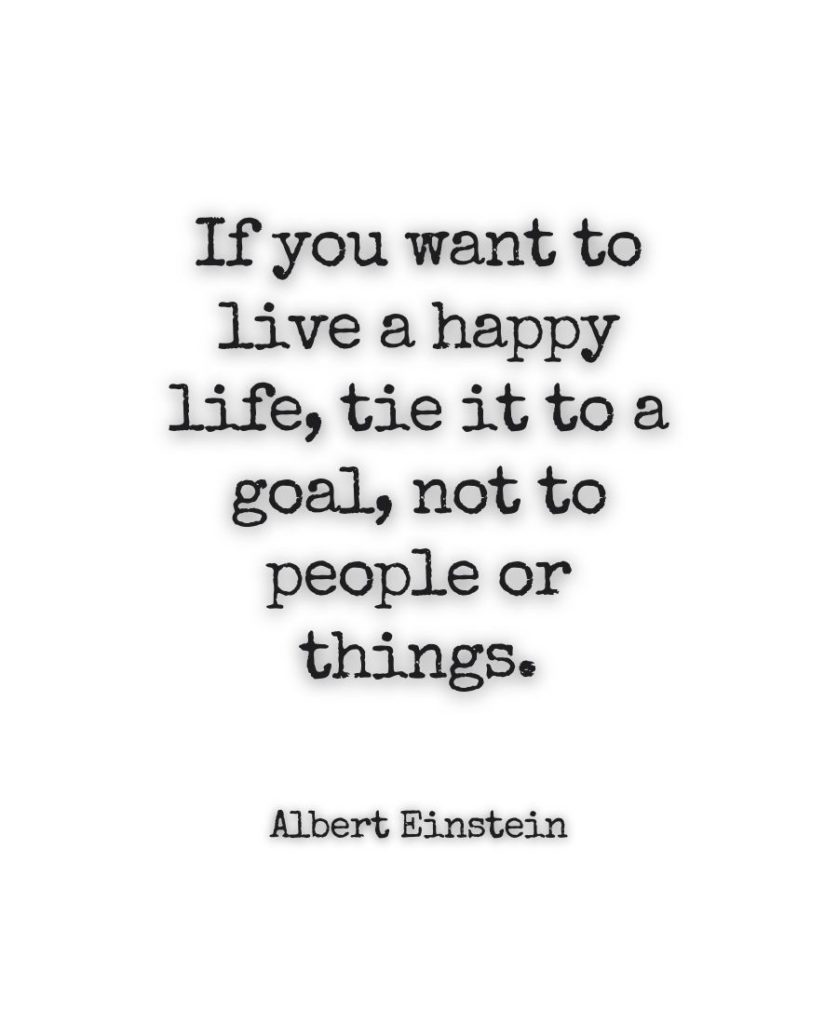 14
"Focus on your goals, not your fear.
Focus like a laser beam on your goals." – Roy T. Bennett
15
"Freedom is the only worthy goal in life. It is won by disregarding things that lie beyond our control." – Epictetus
16
"Life is meant to be lived, so don't stop dreaming and keep reaching for those goals. Believe in yourself and your dreams will come true!"
17
"Take a chance and never stop dreaming. Believe in yourself, set your goals, and take the steps to make them happen!"
18
"If you can dream it, you can do it! Set your sights on your goals and stay focused—don't let anything stand in the way of achieving success!"
19
"Dream big and don't let anyone tell you different; life is only as limited as the goals you set for yourself. Believe in yourself and take one step towards your dreams today!"
20
"Take a look at the big picture. Think big when it comes to setting your goals in life and never forget that the journey is just as important as the destination."
21
"Believe in yourself and take risks to reach your goals—you never know how far you can go until you try."
22
"Take each day as an opportunity to reach one step closer to your goals. The future you want is much closer than you think, so don't give up!"
23
"To dream of success is to set a goal of where you want to be; to wake up, take action, and achieve it is what true success is all about." – Idowu Koyenikan
24
"What you get by achieving your goals is not as important as what you become by achieving your goals." – Zig Ziglar
25
"The trouble with not having a goal is that you can spend your life running up and down the field and never score." – Bill Copeland
26
"Setting goals is the first step in turning the invisible into the visible." – Tony Robbins
27
"A goal properly set is halfway reached." – Zig Ziglar
28
"Everyone has his own specific vocation or mission in life; everyone must carry out a concrete assignment that demands fulfillment." – Viktor E. Frankl
29
"A goal without a plan is just wishful thinking." – Antoine de Saint-Exupery
30
"If you don't design your own life plan, chances are you'll fall into someone else's plan. And guess what they have planned for you? Not much." – Jim Rohn
31
"If you want to be happy, set a goal that commands your thoughts, liberates your energy and inspires your hopes." – Andrew Carnegie
32
"The greatest danger for most of us is not that our aim is too high and we miss it; but that it is too low and we reach it." – Michelangelo
33
"Obstacles are those frightful things you see when you take your eyes off your goal." – Henry Ford
34
"When it is obvious that the goals cannot be reached, don't adjust the goals, adjust the action steps." – Confucius
35
"I would encourage you to set really high goals. Set goals that, when you set them, you think they're impossible. But then every day you can work towards them, and anything is possible, so keep working hard and follow your dreams." -Katie Ledecky
36
"If you don't accept failure as a possibility, you don't set high goals, you don't branch out, you don't try – you don't take the risk." – Rosalynn Carter
37
"You have to have a dream, whether big or small. Then plan well, focus, work hard, and be very determined to achieve your goals." – Henry Sy
38
"Dream small dreams. If you make them too big, you get overwhelmed and you don't do anything. If you make small goals and accomplish them, it gives you the confidence to go on to higher goals." – John H. Johnson
39
"I think goals should never be easy, they should force you to work, even if they are uncomfortable at the time." – Michael Phelps
40
"What keeps me going is goals." – Muhammad Ali
41
"Don't worry about motivation. Motivation is fickle. It comes and goes. It is unreliable – and when you are counting on motivation to get your goals accomplished, you will likely fall short." – Jocko Willink
42
"If you set your goals ridiculously high and it's a failure, you will fail above everyone else's success." – James Cameron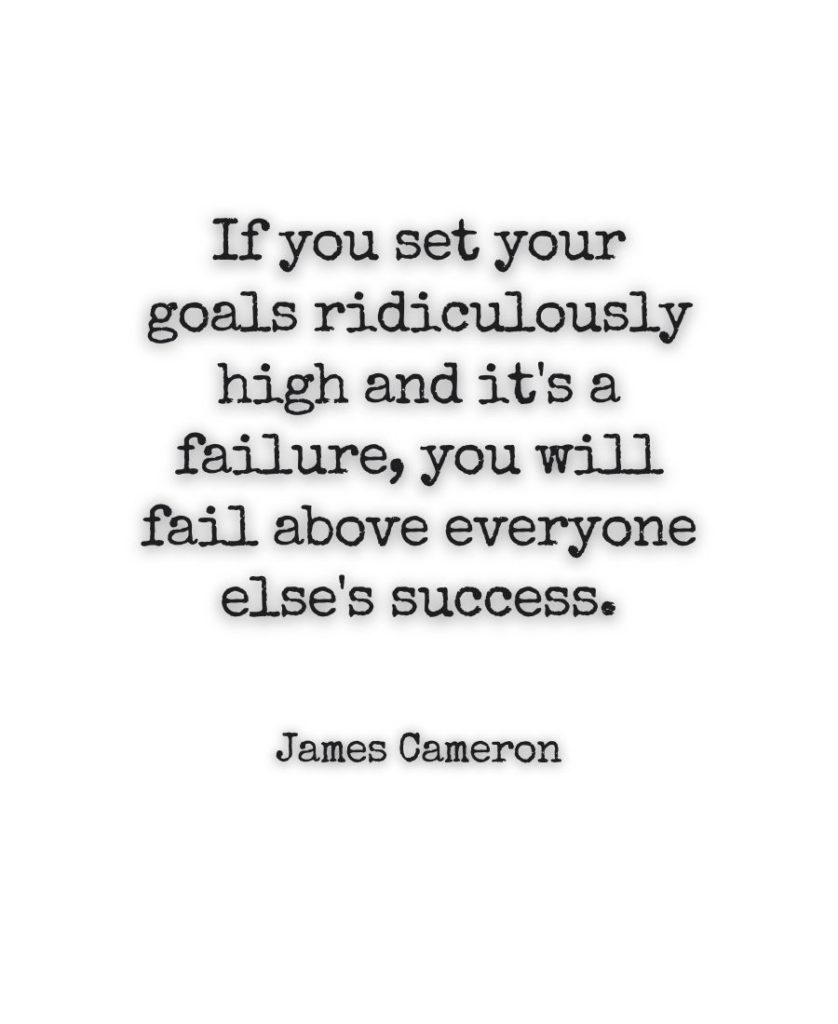 43
"Though we may have desires or bold goals, for whatever reason, most of us don't think we can achieve something beyond what we're qualified to achieve. Why, I ask, do we let reality interfere with our dreams?" – Simon Sinek
44
"If you want to accomplish the goals of your life, you have to begin with the spirit." – Oprah Winfrey
Quotes About Goals and Dreams
45
"If you have a dream, don't just sit there. Gather courage to believe that you can succeed and leave no stone unturned to make it a reality." – Dr Roopleen
46
"Dream your own dreams, achieve your own goals. Your journey is your own and unique." – Roy T. Bennett
47
"Set your sights high and never stop striving for excellence. Everyone has dreams, but it's up to you to make them a reality!"
48
"Success doesn't come from dreaming, it comes from setting goals and taking action. Make today count by working towards the life you want!"
49
"Reach high, for stars lie hidden in you. Dream deep, for every dream precedes the goal. – Rabindranath Tagore
50
"You are never too old to set another goal, or to dream a new dream." – C. S. Lewis
51
"To dream of success is to set a goal of where you want to be; to wake up, take action, and achieve it is what true success is all about." – Idowu Koyenikan
52
"Your complaints, your drama, your victim mentality, your whining, your blaming, and all of your excuses have NEVER gotten you even a single step closer to your goals or dreams. Let go of your nonsense. Let go of the delusion that you DESERVE better and go EARN it! Today is a new day!" – Steve Maraboli
53
"Your complaints, your drama, your victim mentality, your whining, your blaming, and all of your excuses have NEVER gotten you even a single step closer to your goals or dreams. Let go of your nonsense. Let go of the delusion that you DESERVE better and go EARN it! Today is a new day!" – Steve Maraboli
54
"For glory lit, and life alive, for goals unreached and aims to strive. All men must try, the wind did see. It is the test, it is the dream." – Brandon Sanderson
55
"You're closer than you were yesterday, keep going." – Unknown
56
"The future belongs to those who believe in the beauty of their dreams."— Eleanor Roosevelt
57
"Shoot for the moon. Even if you miss, you'll land among the stars." – Les Brown
58
"There are big dreams and goals inside all of us, waiting to be unleashed. Take the first step today towards turning your dreams into a reality!"
59
"Take a leap of faith and never let go of your dreams – they can take you further than you ever imagined!"
60
"The only limits to reaching your goals and dreams in life are the boundaries of your own imagination – let yours run wild and see where it takes you!"
61
"Don't let anyone tell you that your goals and dreams are out of reach – with a little hard work and dedication, anything is possible!
62
"You are only limited by the size of your dreams. Find the courage to pursue whatever goals and dreams you have in life. Dare to be great!"
We hope you enjoyed our collection go 'Goals in Life' Quotes. Share it with your friends, family, or colleagues who you think need that extra motivation at this point.
Related Posts
55+ Motivational Light at the End of the Tunnel Quotes
55+ New Week Quotes For Your Dose of Monday Motivation