Flowers are a universal symbol of life and beauty. They can express joy, sorrow, love and hope – all universally understood emotions. The language of flowers has been used throughout history to convey emotions without words. Ancient literature is full of references to the symbolic meanings associated with different types of flowers. Here are some deep quotes and Instagram captions about flowers and life.
Flowers and Life Quotes and Instagram Captions
01
"The flower that blooms in adversity is the rarest and most beautiful of all." – Walt Disney Company
02
"If you feel lost, disappointed, hesitant, or weak, return to yourself, to who you are, here and now and when you get there, you will discover yourself, like a lotus flower in full bloom, even in a muddy pond, beautiful and strong." – Masaru Emoto
03
"Keep love in your heart. A life without it is like a sunless garden when the flowers are dead. The consciousness of loving and being loved brings a warmth and a richness to life that nothing else can bring." – Oscar Wilde
04
"If we could see the miracle of a single flower clearly our whole life would change. " – Buddha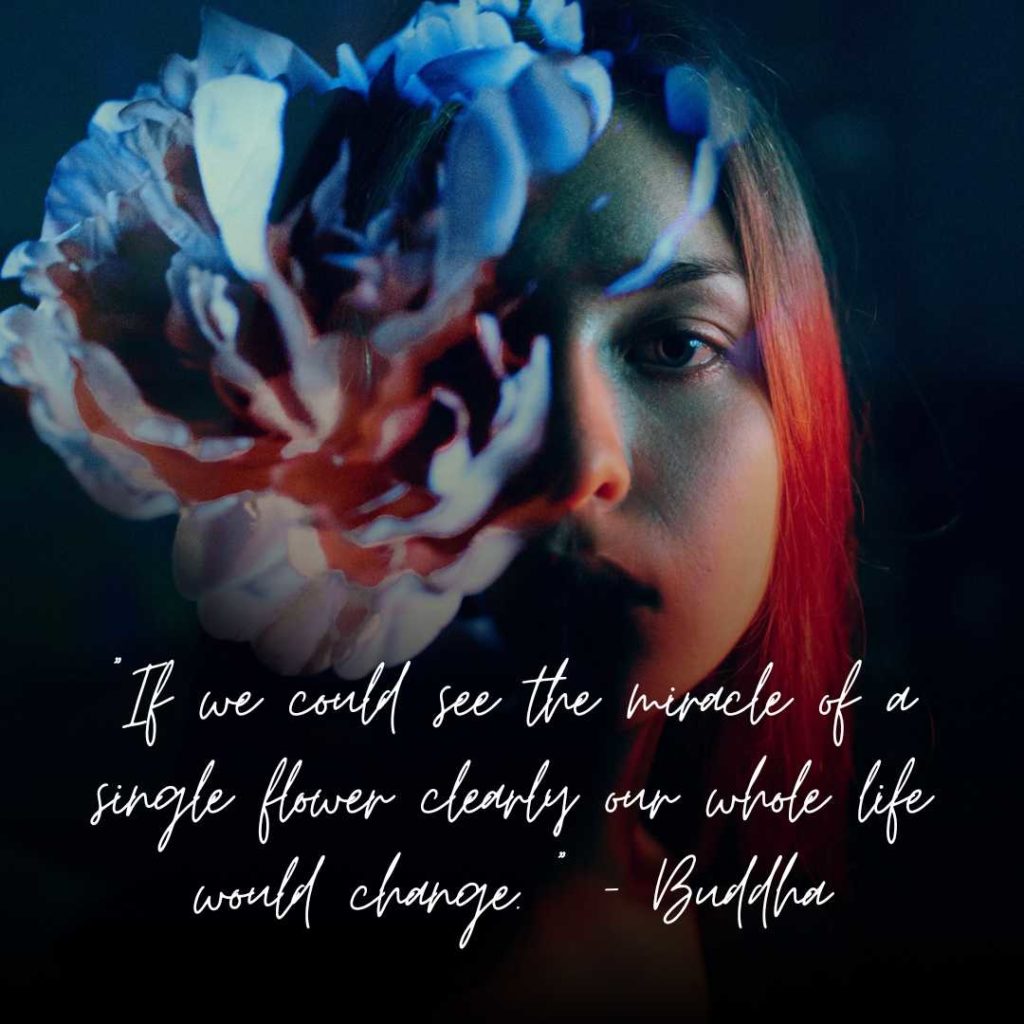 05
"Life is painful. It has thorns, like the stem of a rose. Culture and art are the roses that bloom on the stem. The flower is yourself, your humanity. Art is the liberation of the humanity inside yourself." – Daisaku Ikeda
06
"Oh threats of Hell and Hopes of Paradise!
One thing at least is certain – This Life flies;
One thing is certain and the rest is Lies –
The Flower that once has blown forever dies."
– Omar Khayyam
07
"You're frustrated because you keep waiting for the blooming of flowers of which you have yet to sow the seeds." – Steve Maraboli
08
"The flower bloomed and faded. The sun rose and sank. The lover loved and went. And what the poets said in rhyme, the young translated into practice." – Virginia Woolf
09
"One loses, as one grows older, something of the lightness of one's dreams; one begins to take life up in both hands, and to care more for the fruit than the flower, and that is no great loss perhaps." – W.B. Yeats
10
"And… I think that's what life is all about, actually, about children and flowers." – Audrey Hepburn
11
"This life of ours…human life is like a flower gloriously blooming in a meadow: along comes a goat, eats it up—no more flower." – Anton Chekhov
12
"Anyone can pluck a flower…true strength is knowing how to give it life." – Aprilynne Pike
13
"I like to see flowers growing, but when they are gathered, they cease to please. I look on them as things rootless and perishable; their likeness to life makes me sad. I never offer flowers to those I love; I never wish to receive them from hands dear to me." – Charlotte Brontë
14
"A flower bloomed already wilting. Beginning its life with an early ending." – RJ Gonzales
15
"A world of grief and pain
Flowers bloom
Even then" – Kobayashi Issa
16
"When admiring other people's gardens, don't forget to tend to your own flowers." – Sanober Khan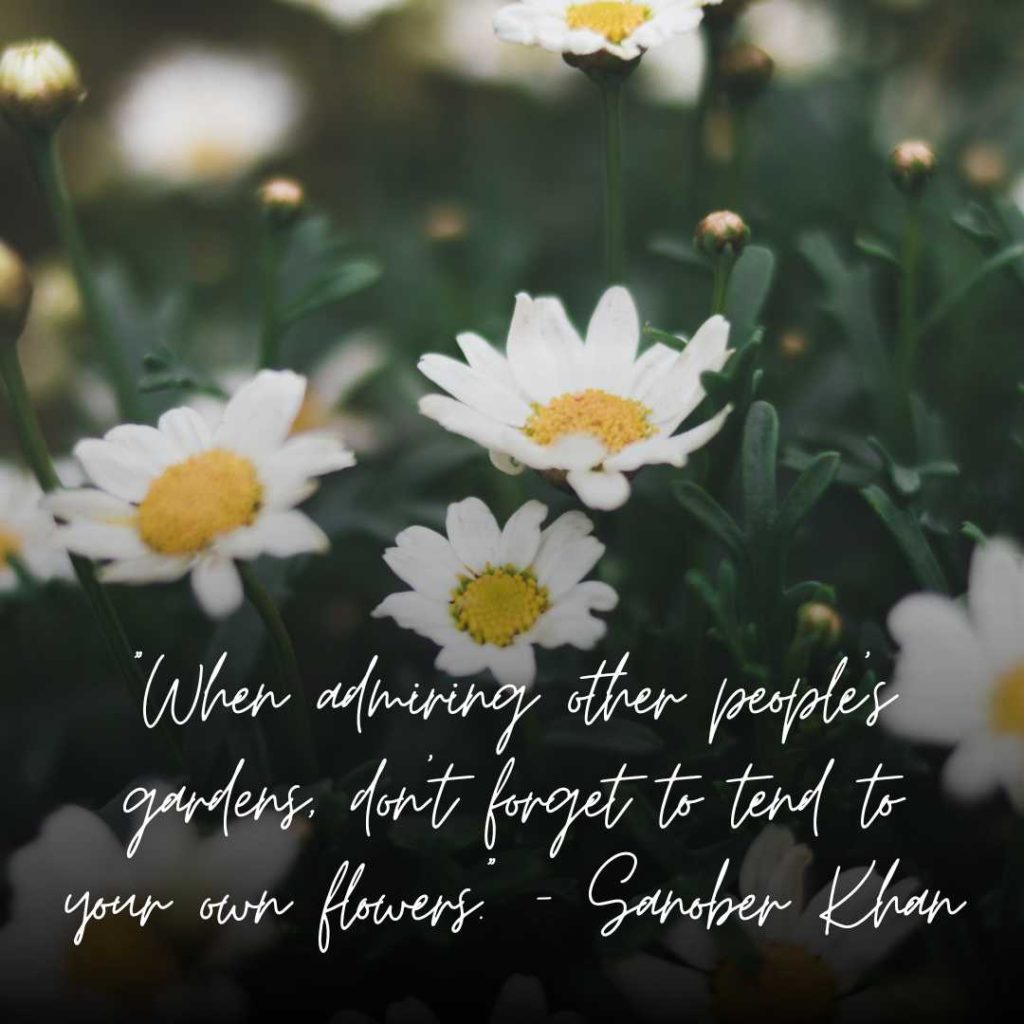 17
"A rose does not answer its enemies with words, but with beauty." – Matshona Dhliwayo
18
Flowers are a bright, cheery reminder of all that is good in life. They make us feel better and help us to make us smile.
19
Live beautifully and grow like flowers.
20
When you're not worried about life's little problems, it's time to love the things that mean the most like your desired life, flowers, and fragrance……
21
Good things like a morning coffee, an evening walk or a happy smile, and a pantry full of flowers are what make life most beautiful
22
The beauty of a flower is that it can be in bloom anywhere, at any time like the life you desire for
23
Let the sun and the rain come through your life, let the flowers bloom…
24
It's the little things in life that matter: a good flower, a smile, and a hug.
25
May your life be full of joy, laughter and flowers.
26
Floral bouquet from the heart.
27
We're all in this together. – every life, every flower, every breeze in your hair.
28
When the weather turns cold and windy, keep your body – and your heart – warm by buying yourself a bouquet of flowers.
29
A bouquet of flowers is the perfect way to make someone smile.
30
It's the little things: Flowers, dinner, and laughter.
31
When life is full of sunshine and flowers, it's the small things that matter most.
32
Sometimes, it's the little things in life that make us smile like a flower. That's what we're all about.
33
Flowers brighten up the room, take our breath away and make us feel happy. That's why we send so many of them into our lives every year!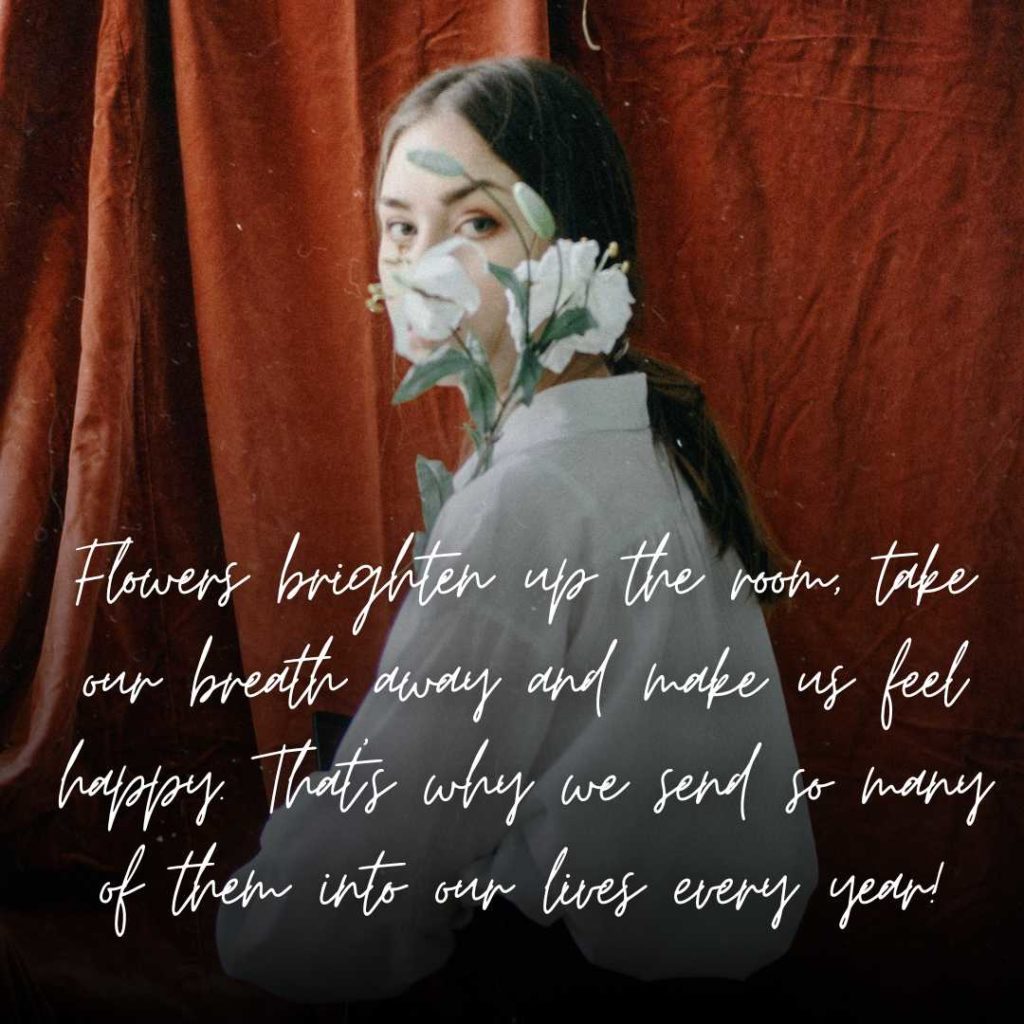 34
It's the smallest gesture that can have the biggest impact on our lives like a pantry of flowers.
35
Live like flowers. Live like the world is your garden and the universe is your leaf. Live like your negativity is watching over you, and it won't make a move unless you let it.
36
Live like flowers. Live freely and touch the world.
37
You don't need to compromise your style for comfort. Live like flowers.
38
Live like flowers, Grow like weeds, and bloom in the spring.
39
Don't let what other people say distract you from your goals. You're a beautiful flower and your petal is falling off, but you are still lovely.
40
The flowers bloom when they are ready, so live like flowers and bloom where you are.
41
Live where you are now. Bloom there.
42
Be the breeze. The flower that stays in bloom. Life is better when you're able to enjoy each day at the moment and be fully aware of all the wonderful things it brings.
43
Whether you're in a high-rise apartment or a tiny studio, find what makes you happy and bloom where you are and lead the life you desire for.
44
The world can be a little cut-throat. Don't let it get you down, you're a beautiful little flower. Don't forget it.
45
Set yourself free by changing your perspective and seeing your own power. Be an inspiration to those around you. Open your mind and heart to something beautiful like a full-bloomed flower.
46
See you tonight. We're about to live like flowers.
47
Live like a flower that's always in bloom, as you mature and grow through life.
48
I wish I could live like flowers. Waking up with the sun and leading a beautiful content life.
49
Life is like flowers. Grow your own in all seasons of life. As life will be so much different if you live like a flower that blooms for itself.
50
Let the beauty of life bloom like a flower that can bloom even in the difficult times.
51
Don't let the outside world get you down. You're a beautiful flower, don't forget that.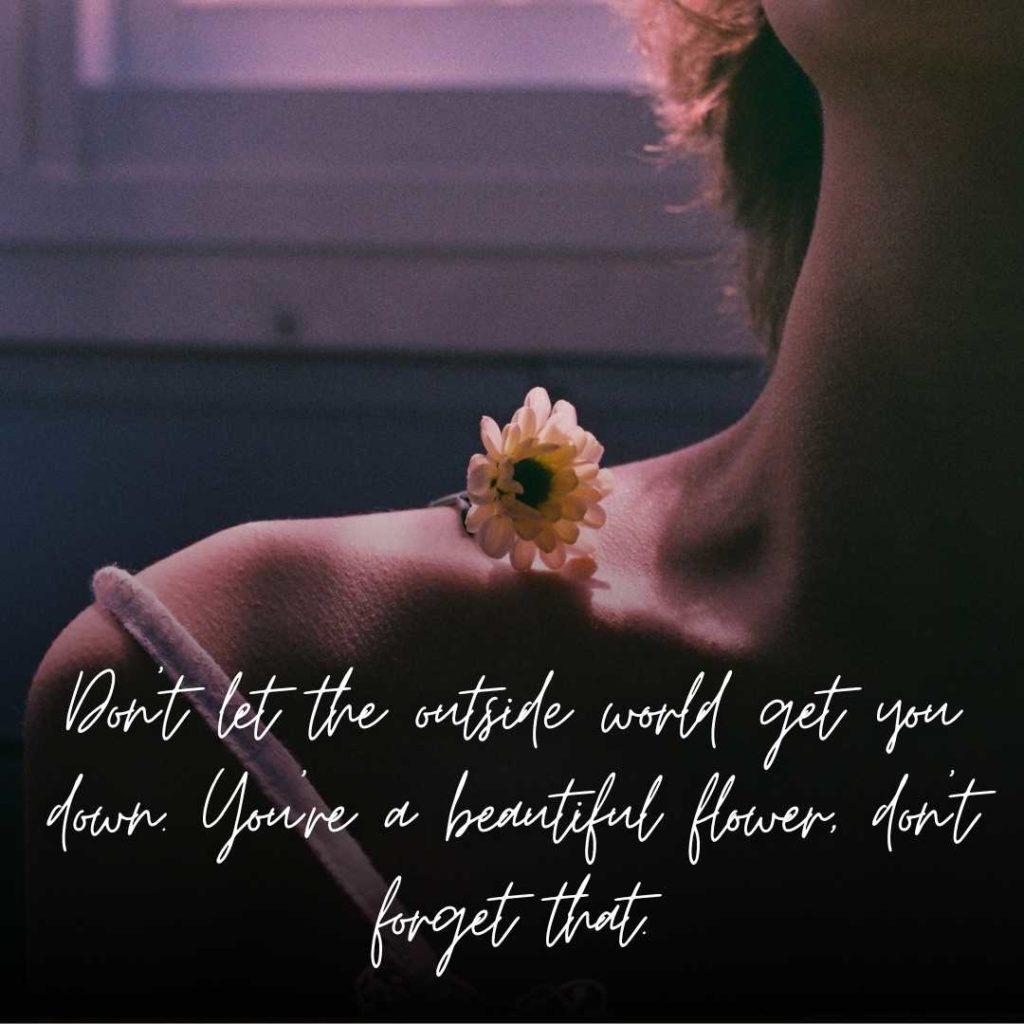 52
If you're ever feeling down, don't forget that you are a beautiful person like a blooming flower. It gets better.
53
There's more to us than just our physical appearance. We all have feelings and thoughts, good times, and bad. We cope in different ways – some of us are quiet, and others talk a lot. Just remember, you're beautiful inside and out like a flower about to bloom.
54
Life is full of moments that make you smile like a flower.
55
The flower has a way of making everything brighter in life, especially during tough times.
56
There's something about flowers that makes us feel so alive.
57
Not only do flowers make the world a prettier place, but they also make us feel better when we're down.
58
A flower is a gift and flowers are for everyone.
59
Flowers are the new quotation marks of our life.
60
Our blooms are always on the verge of becoming something even more beautiful.
61
The flowers are unique because they're alive. They blossom, change colours, and create patterns. It pushes itself to the limits of what flowers can be and how they bloom like we should be doing with our life.
62
How did it take you so long to realize that flowers are reason enough to get out of bed and conquer your dreams?
63
We can't wait to see your colourful blooms.
64
Fall in love with the little things again like a blooming flower and life.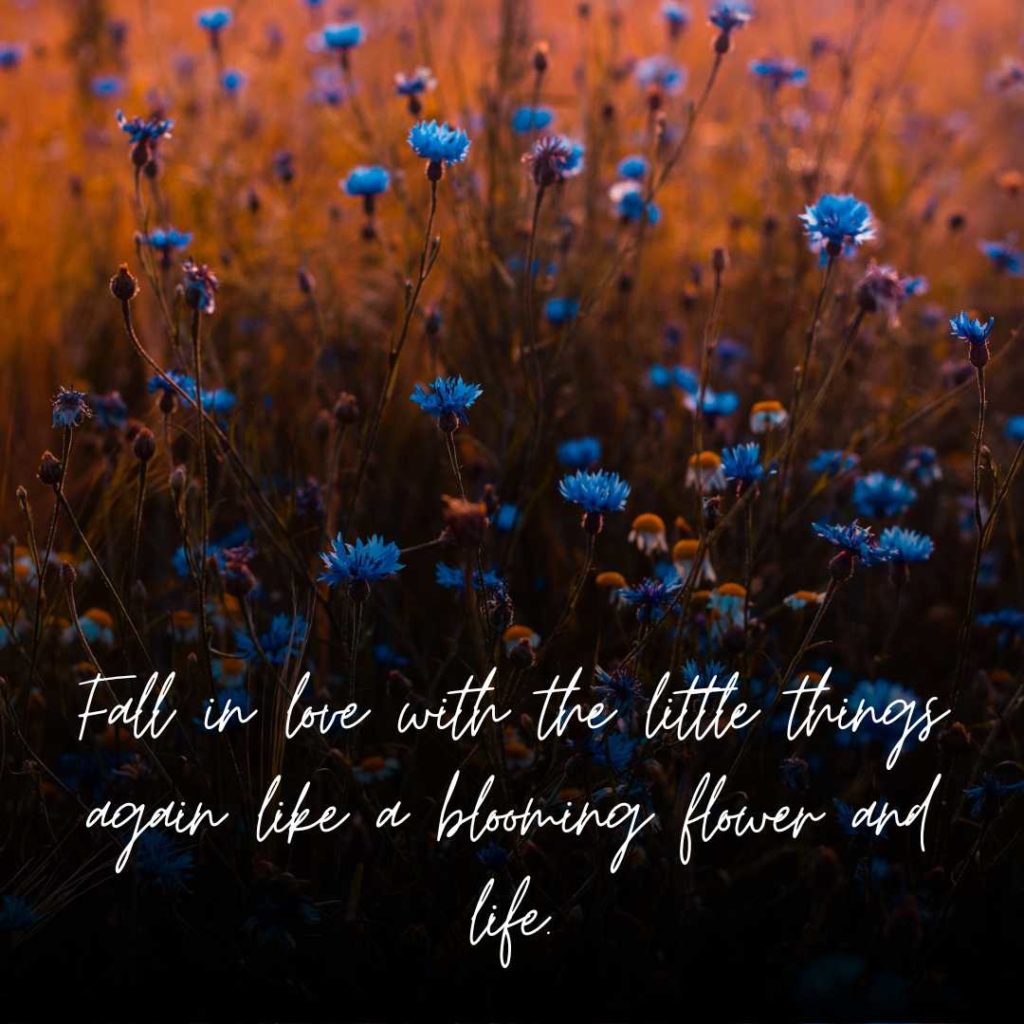 65
"The calla lilies are in bloom again. Such a strange flower—suitable to any occasion. I carried them on my wedding day, and now I place them here in memory of something that has died." – Katherine Hepburn
66
"If roses tried to be sunflowers, they would lose their beauty; and if sunflowers tried to be roses, they would lose their strength." – Matshona Dhliwayo
67
"Like flowers in a storm, life is full of goodbyes" – Masuji Ibuse
68
"Every flower blooms at its own pace." – Suzy Kassem
69
"Like freshly cut roses,
I place life in a vase…
of love." – Kamand Kojouri
70
"These seeds will always be tulips, even if at the moment you cannot tell them apart from other flowers. They will never turn into roses or sunflowers, no matter how much they might desire to. And if they try to deny their own existence, they will live life bitter and die." – Paulo Coelho
71
"Freedom has its life in the hearts, the actions, the spirit of men and so it must be daily earned and refreshed – else like a flower cut from its life-giving roots, it will wither and die." – Dwight D. Eisenhower
We hope you enjoyed our collection of flowers and life quotes and Instagram captions.
Related Posts
40+ Dried Flowers Quotes That Will Make You Appreciate Life
120+ Rain and Flowers Instagram Captions To Share Your Mood