When you wake up feeling gray, it's easy to think that the world is just one big storm cloud. But if you take a step back and look for the rainbow, you'll find that there is always something beautiful to appreciate. For me, rainbows are a constant source of motivation. They remind me that even on the gloomiest of days, there is still something bright and wonderful to chase after. So when you're feeling down, remember to look for your own personal rainbow. It might just be the pick-me-up you need to get moving again. In this post, we have compiled some interesting rainbow quotes which will motivate you in life.
Motivational Rainbow Quotes
1. "Try to be a rainbow in someone's cloud." – Maya Angelou
2. "The soul would have no rainbow, had the eyes no tears." – John Vance Cheney
3. "You'll never find a rainbow if you're looking down." – Charlie Chaplin
4. "Dare to love yourself as if you were a rainbow with gold at both ends." – Aberjhani
5. "If you want to see a rainbow you have to learn to see the rain." – Paulo Coelho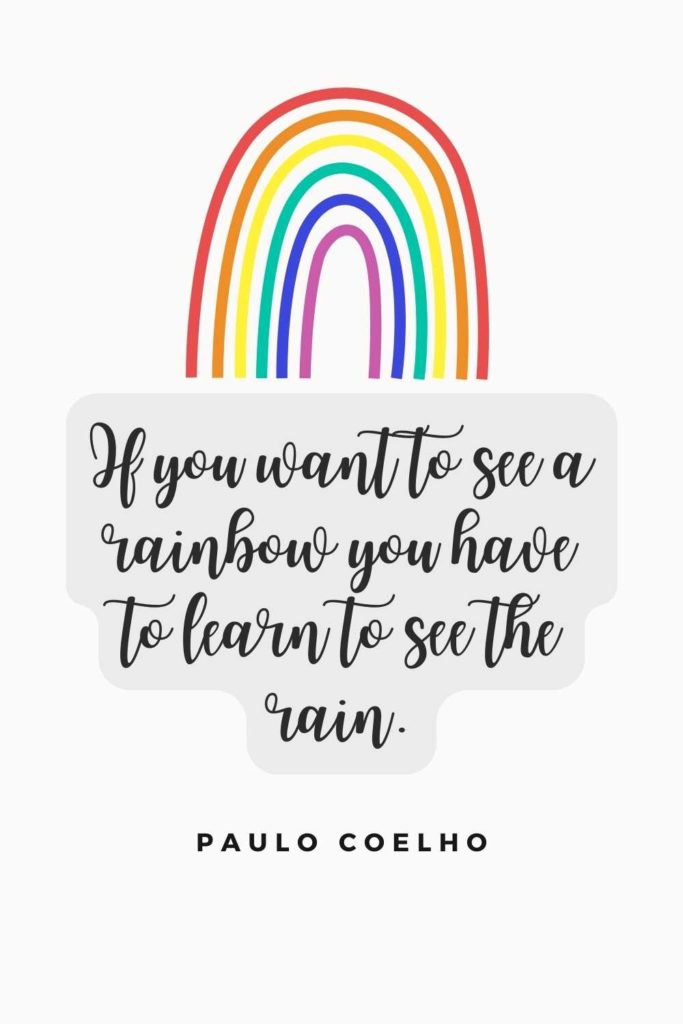 6. "After a hurricane, comes a rainbow." – Katy Perry
7. "There can be no rainbow without a cloud and a storm." – John H Vincent
8. "If you want to enjoy the rainbow, be prepared to endure the storm." – Warren W Wiersbe
9. "Rainbows remind us that even after the darkest clouds, and the fiercest winds, there is still beauty." – Katrina Mayer
10. "When it rains look for rainbows, when it's dark look for stars."
11. "An optimist sees rainbows when there is rain." – Debasish Mridha
12. "If you only chase the pot of gold, you'll miss the beauty of the rainbow along the way." – Jamie Worthington
13. "Be everything that you are unapologetically, most of you will find out that you are not just one color, you are a Rainbow." – Mridula Singh
14. "The way I see it, if you want the rainbow, you gotta put up with the rain." – Dolly Parton
15. "Life throws challenges and every challenge comes with rainbows and lights to conquer it." – Amit Ray.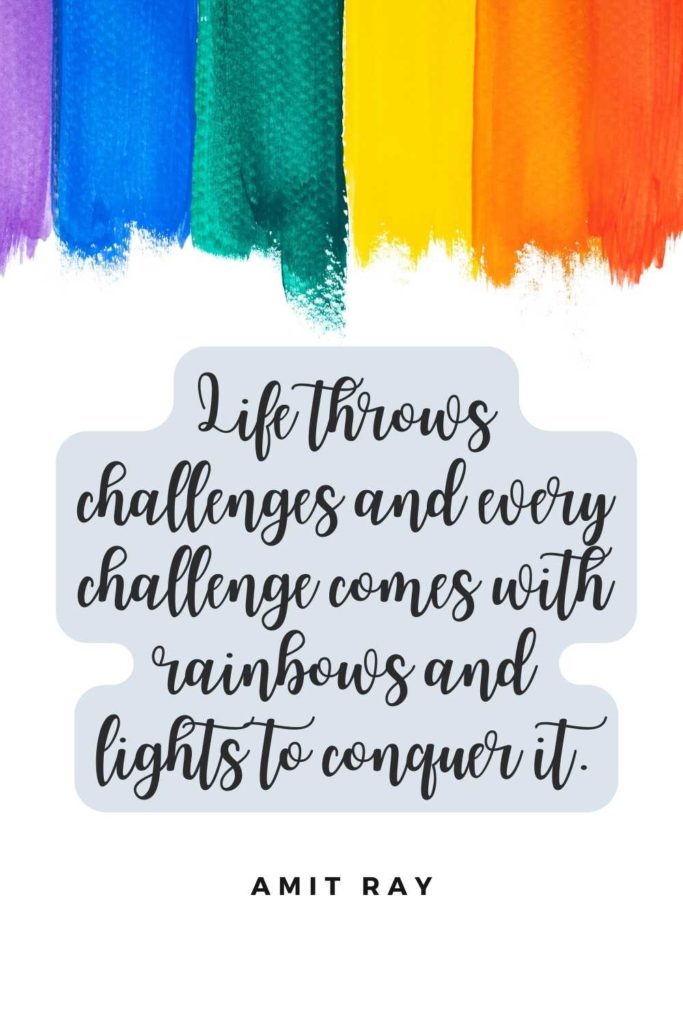 16. "Be thou the rainbow in the storms of life. The evening beam that smiles the clouds away, and tints tomorrow with prophetic ray." – Lord Byron
17. "And when it rains on your parade, look up rather than down. Without the rain, there would be no rainbow." – Gilbert K. Chesterton
18. "If the world's a veil of tears, Smile till rainbows span it." – Lucy Larcom
19. "There is no pot of gold at the end of the rainbow." – Karen Black
20. "Somewhere over the rainbow, skies are blue, and the dreams that you dare to dream really do come true." – E.Y. Harburg
21. "It takes sunshine and rain to make a rainbow. There would be no rainbows without sunshine and rain." – Roy T. Bennett
22. "Dare to love yourself, as if you were a rainbow with gold at both ends."
– Aberjhani
23. "Rainbows are made of small raindrops. Happy lives are made from acts of kindness." – Amit Ray
24. "Shine your soul with the same egoless humility as the rainbow
and no matter where you go in this world or the next, love will find you, attend you, and bless you." – Aberjhani
25. "Don't wait for a rainbow to come into your life. Smile and create one of your own." – Anthony T. Hincks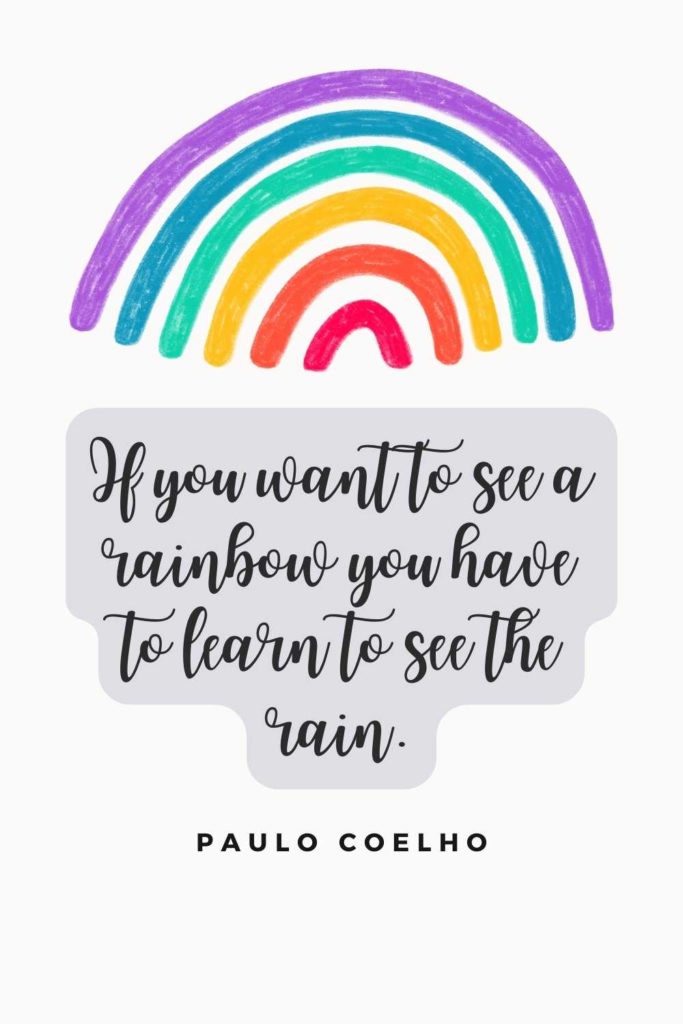 26. "Life is about dancing in the rain while the sun sings its music and the rainbows deliver hope" – Mimi Novic, Brilliance of Dawn
27. "There will always be darkness. There will always be more rain after the storm has ceased. But we need to search for the rainbow between those moments." – K. Weikel
28. "When a friend is going through a difficult stormy time in their life, try to be the rainbow that makes them smile." – R.J. Intindola
29. "Don't seek to be happy; let everyone else chase after that rainbow.
Seek to be kind, and you'll find the rainbow follows you." – Richelle E. Goodrich
30. "God shares his rainbows with everyone. So why don't you share a smile for someone else today." – Anthony T. Hincks
31. "Life experience is like a rainbow. It has all the colors -some we love, some we don't love as much, but seen altogether it's beautiful. Just as some experiences we love and some we don't love so much. But, seen altogether, life is beautiful." – Gillian Duce
32. "If your dream is at the end of a rainbow you'll never reach it." – Richie Norton
33. "You may complain that rain has stained your plans but you cannot restrain the rain; rain is water and water is life. None appreciates rainbow and sunshine better than he on whose parade it has rained." – Vincent Okay Nwachukwu
34. "Like the rainbow after the rain, joy will reveal itself after sorrow" – Rupi Kaur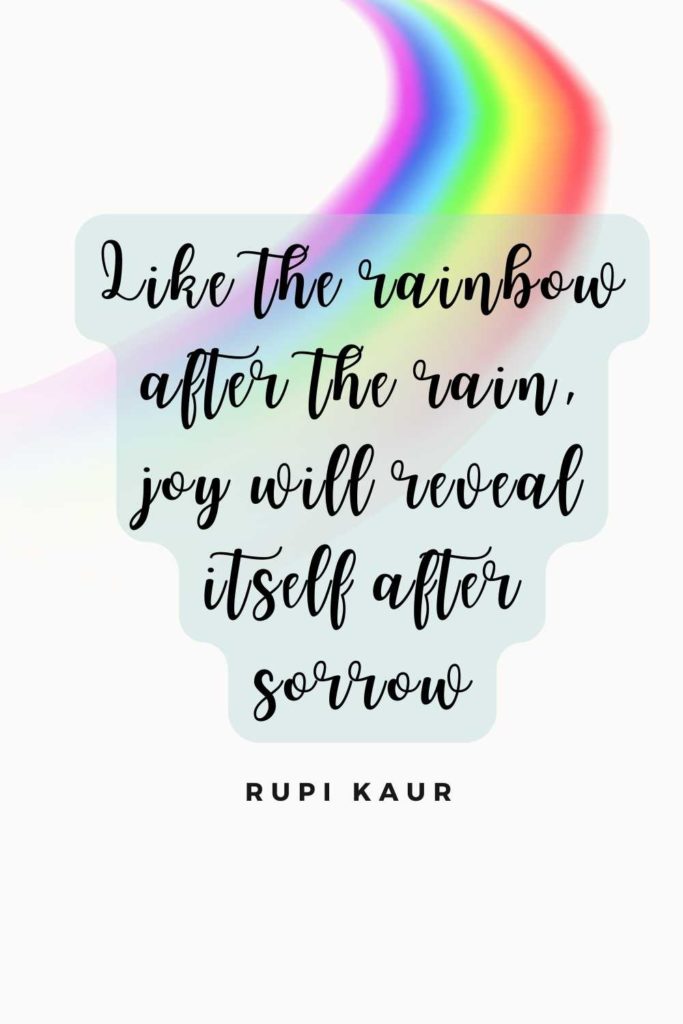 35. "Storm? Shine your light and make a rainbow." – Richie Norton
36. "We colour the world, not with the darkness of our pasts, but with the rainbow of our hope." – Jenim Dibie
37. "Rainbows are a symbol of hope, love, and joy. They're like little messages from above!"
38. "There comes a point in your life when you realize your hardest times are your best times, too—you will see the rainbow of your life." – Roy Bennett
39. "Rainbow of happiness is the byproduct of your inner sunshine, after the rain of sorrows." – Vikrmn
40. "After the storm, when the tears have run dry and my eyes choose to open, I will look for your rainbow of hope." – Richelle E. Goodrich
41. "If you cannot see the rainbow because your face is down, don't argue that no rainbow is up there. Lift up your passion and take your dreams off the ground!" – Israelmore Ayivor
42. "Don't turn around. Don't look back. Keep moving forward. Keep pushing. The pot of gold is at the end of the rainbow, not the beginning" – Ziad K. Abdelnour
43. "Rainbows are a beautiful reminder that there is a light at the end of every tunnel."
We hope you enjoyed our collection of motivational rainbow quotes.
Recent Posts
110+ Refreshing Oasis Captions for Instagram Photos
17 Beautiful Sunset and Beach Quotes & Instagram Captions