When you see a double rainbow, it's a sign that something amazing is about to happen. It could be the universe's way of telling you that good things are on the horizon, or it could be a sign that you're about to have a life-changing experience. Either way, it's definitely a positive omen! Perhaps you don't believe in such things, even then you are witnessing one of the rarest beauties of nature! Take it as a reminder to enjoy life. In this post, we have compiled some amazing double rainbows quotes and Instagram captions.
Double Rainbow Quotes
1. "In my ordinary world you appeared like a double rainbow." – Tavneet Kaur
2. "Love can form a double rainbow connecting two hearts." – Tom Baker
3. "How do I explain that having the chance to take a breather midlife and evaluate everything is rarer than a double rainbow?" – Lauren Weisberger
4. "The double rainbow is like love: it's a beautiful, uplifting thing that's hard to get and even harder to hold on to."
5. "A double rainbow is a sign that the sun is shining on both sides of you. A double rainbow is a sign that the world is in love."
6. "A double rainbow is like two people who love each other."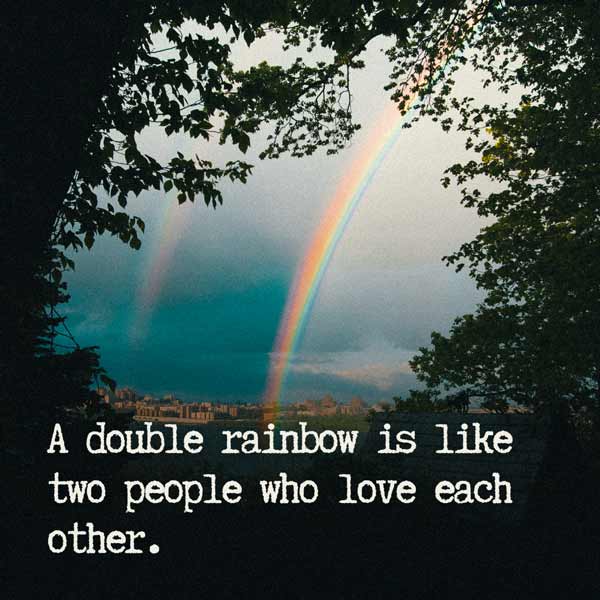 7. "A double rainbow is a beautiful sight to behold, but it's also a reminder of our capacity for love and forgiveness"
8. "When all I ever wanted in my grey life was some faded colors of hope, you came in. And it was as if a double rainbow entered into my life."
9. "There are some people, like a double rainbow, they're so special & so rare. But they will never be in your life forever, they come, they take your breath away and before you know it, they are gone."
10. "Double rainbow is just nature showing off."
11. "Not everyone is blessed to witness a double rainbow in life. So when you see one, take it as a sign from universe to live to your fullest."
12. "Oh, that's how life is darling! Sometimes it's double rainbows and sometimes it's just another dark rainy day."
13. "When life gives you double rainbows, don't focus on the rain."
14. "One rainbow is good. Two rainbows are great."
Double Rainbow Instagram Captions
14. Double the colors, double the fun! 🌈 #nature
15. You know what they say, when you see a double rainbow it means that new adventures await!
16. My life is a double rainbow of awesomeness! #blessed
17. I'm not sure what's more magical, the double rainbow or the fact that I caught it on camera! #nofilter
18. Dreaming of double rainbows and sunny skies ☁️🌈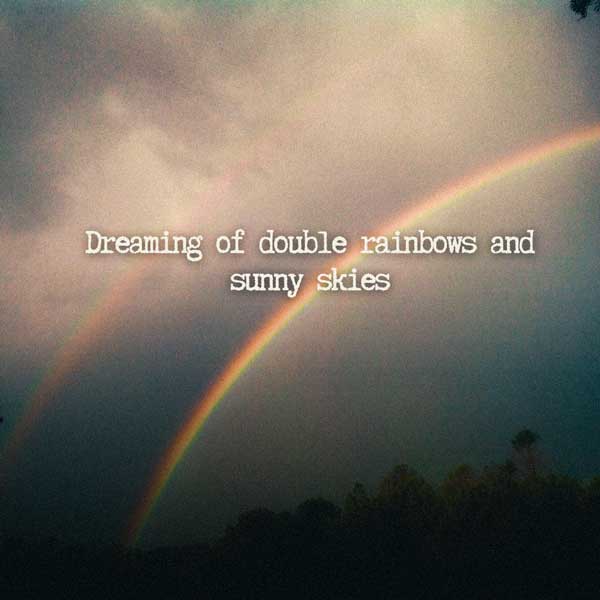 19. When you spot a double rainbow and know that good things are coming your way 🌈
20. A rainbow is a sign of hope. But a double rainbow? That's two Rainbows and twice the hope! 🌈❤️
21. When you realize your life is a double rainbow 🌈🌈 #blessed
22. Chasing double rainbows all day long! #loverainbows #whichwaydoesthe rainbowgo
23. A double rainbow means good luck is coming your way 👀🌈
24. A magical moment 😍 #double rainbow #unicornvibes
We hope you have enjoyed our collection of double rainbow quotes and Instagram captions.
Related Posts
40+ Motivational Rainbow Quotes to Help You Reach Your Goals
20+ Reading Under The Tree Quotes and Captions