Are you holding on to relationships that have outlived their usefulness? Do you find it hard to let go of friends from your past, even though they're no longer a part of your life? If so, you're not alone. But eventually, you have to learn to let go and move on. Here are some quotes about letting go of old friends and moving on.
Quotes About Letting Go of Old Friends And Moving On
1. "Accept yourself, love yourself, and keep moving forward. If you want to fly, you have to give up what weighs you down." — Roy T. Bennett
2. "If you love somebody, let them go, for if they return, they were always yours. If they don't, they never were." — Kahlil Gibran
3. "The truth is, unless you let go, unless you forgive yourself, unless you forgive the situation, unless you realize that the situation is over, you cannot move forward." — Steve Maraboli
4. "If you want to be happy, do not dwell in the past, do not worry about the future, focus on living fully in the present." — Roy T. Bennett
5. "No matter how much suffering you went through, you never wanted to let go of those memories." — Haruki Murakami
6. "Letting go means to come to the realization that some people are a part of your history, but not a part of your destiny." — Steve Maraboli
7. "We must be willing to let go of the life we planned so as to have the life that is waiting for us." — Joseph Campbell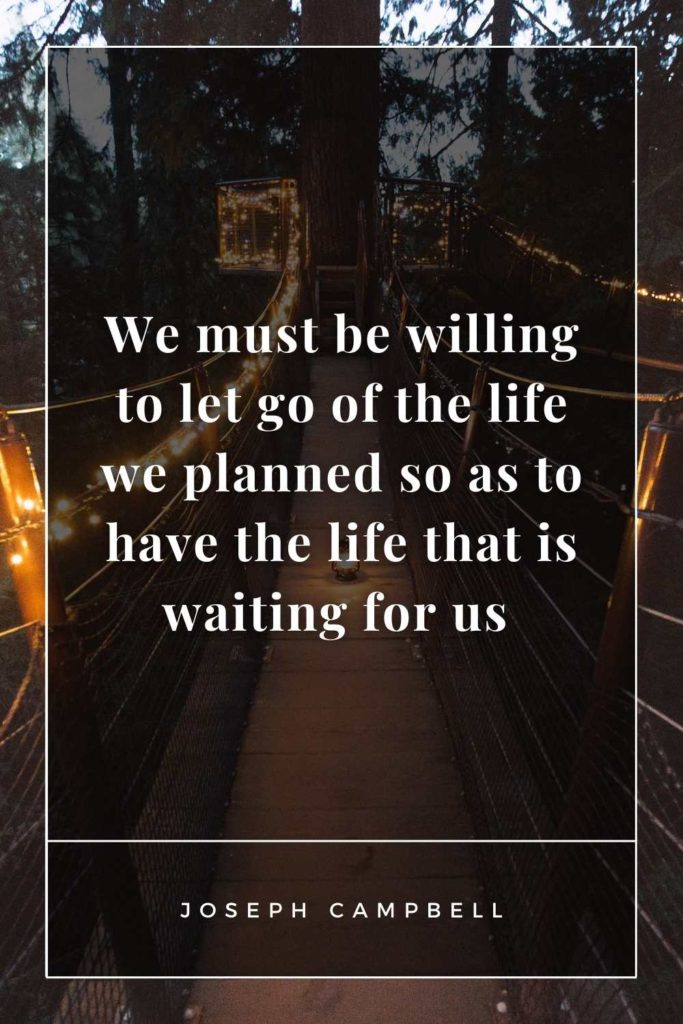 8. "Letting go doesn't mean that you don't care about someone anymore. It's just realizing that the only person you really have control over is yourself." — Deborah Reber
9. "Was it hard?" I ask. Letting go?" Not as hard as holding on to something that wasn't real." — Lisa Schroeder
10. "You will find that it is necessary to let things go; simply for the reason that they are heavy. So let them go, let go of them. I tie no weights to my ankles." — C. JoyBell C.
11. "We need, in love, to practice only this: letting each other go. For holding on comes easily; we do not need to learn it." — Rainer Maria Rilke
12. "Cry. Forgive. Learn. Move on. Let your tears water the seeds of your future happiness." — Steve Maraboli
13. "Time doesn't heal emotional pain, you need to learn how to let go." — Roy T. Bennett
14. "Memories, even your most precious ones, fade surprisingly quickly. But I don't go along with that. The memories I value most, I don't ever see them fading." — Kazuo Ishiguro
15. "I say let the world go to hell, but I should always have my tea." — Fyodor Dostoevsky
16. "In the end these things matter most: How well did you love? How fully did you live? How deeply did you let go?" — Jack Kornfield
17. "Sometimes love means letting go when you want to hold on tighter." — Melissa Marr
18. "Incredible change happens in your life when you decide to take control of what you do have power over instead of craving control over what you don't." — Steve Maraboli
19. "I guess that's what saying good-bye is always like–like jumping off an edge. The worst part is making the choice to do it. Once you're in the air, there's nothing you can do but let go." — Lauren Oliver
20. "There's a bluebird in my heart that wants to get out but I'm too tough for him ,I say, stay in there, I'm not going to let anybody see you." — Charles Bukowski
21. "Happiness always looks small while you hold it in your hands, but let it go, and you learn at once how big and precious it is." — Maxim Gorky
22. "Ghosts don't haunt us. That's not how it works. They're present among us because we won't let go of them." — Sue Grafton
23. "Some people believe holding on and hanging in there are signs of great strength. However, there are times when it takes much more strength to know when to let go and then do it." — Ann Landers
24. "Ho! Ho! Ho! To the bottle I go To heal my heart and drown my woe Rain may fall, and wind may blow And many miles be still to go But under a tall tree will I lie And let the clouds go sailing by" — J.R.R. Tolkien
25. "Once you realize you deserve a bright future, letting go of your dark past is the best choice you will ever make." — Roy T. Bennett
26. "Last night I lost the world, and gained the universe." — C. JoyBell C.
27. "The only person who can pull me down is myself, and I'm not going to let myself pull me down anymore." — C. JoyBell C.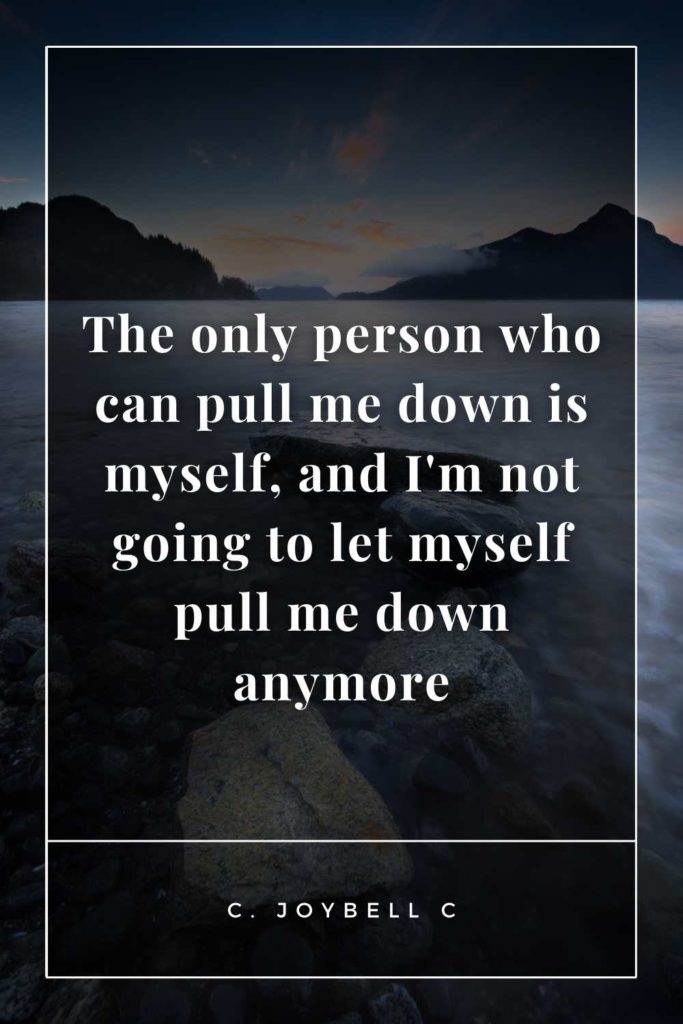 28. "If you spend your time hoping someone will suffer the consequences for what they did to your heart, then you're allowing them to hurt you a second time in your mind." — Shannon L. Alder
29. "Sometimes the hardest part isn't letting go but rather learning to start over." — Nicole Sobon
30. "Do not let arrogance go to your head and despair to your heart; do not let compliments go to your head and criticisms to your heart; do not let success go to your head and failure to your heart." — Roy T. Bennett
31. "So many people enter and leave your life! Hundreds of thousands of people! You have to keep the door open so they can come in! But it also means you have to let them go!" — Jonathan Safran Foer
32. "There ain't no way you can hold onto something that wants to go, you understand? You can only love what you got while you got it." — Kate DiCamillo
33. "Learning to let go should be learned before learning to get. Life should be touched, not strangled. You've got to relax, let it happen at times, and at others move forward with it." — Ray Bradbury
34. "Wherever you will go, I will let you down, But this lullaby goes on." — Sarah Dessen
35. "I let go. Lost in oblivion. Dark and silent and complete. I found freedom. Losing all hope was freedom." — Chuck Palahniuk
36. "You must learn to let go. Release the stress. You were never in control anyway." — Steve Maraboli
37. "If you truly want to be respected by people you love, you must prove to them that you can survive without them." — Michael Bassey Johnson
38. "I'm sorry for my inability to let unimportant things go, for my inability to hold on to the important things." — Jonathan Safran Foer
39. "I know that the whole point—the only point—is to find the things that matter, and hold on to them, and fight for them, and refuse to let them go." — Lauren Oliver
40. "Letting go gives us freedom, and freedom is the only condition for happiness. If, in our heart, we still cling to anything – anger, anxiety, or possessions – we cannot be free." — Thich Nhat Hanh
41. "One ought to hold on to one's heart; for if one lets it go, one soon loses control of the head too." — Friedrich Nietzsche
42. "Everything I've ever let go of has claw marks on it." — David Foster Wallace
43. "This is love: to fly toward a secret sky, to cause a hundred veils to fall each moment. First to let go of life. Finally, to take a step without feet." — Rumi
44. "Some of us think holding on makes us strong but sometimes it is letting go" — Herman Hesse
45. "There is love in holding and there is love in letting go." — Elizabeth Berg
46. "Every woman that finally figured out her worth, has picked up her suitcases of pride and boarded a flight to freedom, which landed in the valley of change." — Shannon L. Alder
47. "People have a hard time letting go of their suffering. Out of a fear of the unknown, they prefer suffering that is familiar." — Thich Nhat Hanh
48. "There will always be more questions. Every answer leads to more questions. The only way to survive is to let some of them go." — David Levithan
49. "There are times in life when people must know when not to let go. Balloons are designed to teach small children this." — Terry Pratchett
50. "Don't let go too soon, but don't hold on too long." — Mitch Albom
51. "It's important in life to conclude things properly. Only then can you let go. Otherwise you are left with words you should have said but never did, and your heart is heavy with remorse." — Yann Martel
52. "It is important that we forgive ourselves for making mistakes. We need to learn from our errors and move on." — Steve Maraboli
53. "Renew, release, let go. Yesterday's gone. There's nothing you can do to bring it back. You can't "should've" — Steve Maraboli
54. "Sooner or later we've all got to let go of our past." — Dan Brown
55. "I just wanted to tell you that I understand if you go. It's okay if you have to leave us. It's okay if you want to stop fighting." — Gayle Forman
56. "Sometimes letting things go is an act of far greater power than defending or hanging on." — Eckhart Tolle
57. "Sometimes it takes a heartbreak to shake us awake & help us see we are worth so much more than we're settling for." — Mandy Hale
58. "Some things exist in our lives for but a brief moment. And we must let them go on to light another sky." — Renee Ahdieh
59. "I have tried to let you go and I cannot. I cannot stop thinking of you. I cannot stop dreaming about you." — Erin Morgenstern
60. "What a terrible mistake to let go of something wonderful for something real." — Miranda July
61. "If you didn't love him, this never would have happened. But you did. And accepting that love and everything that followed it is part of letting it go." — Sarah Dessen
62. "In the end you can't always choose what to keep. You can only choose how you let it go." — Ally Condie
63. "Breathe. Let go. And remind yourself that this very moment is the only one you know you have for sure. " — Oprah Winfrey
64. "When you loved someone and had to let them go, there will always be that small part of yourself that whispers, "What was it that you wanted and why didn't you fight for it?" — Shannon L. Alder
65. "Even on my weakest days I get a little bit stronger" — Sara Evans
66. "If you love something so much let it go. If it comes back it was meant to be; if it doesn't it never was" — Albert Schweitzer
67. "Letting go. Everyone talks about it like it's the easiest thing. Unfurl your fingers one by one until your hand is open." — Gayle Forman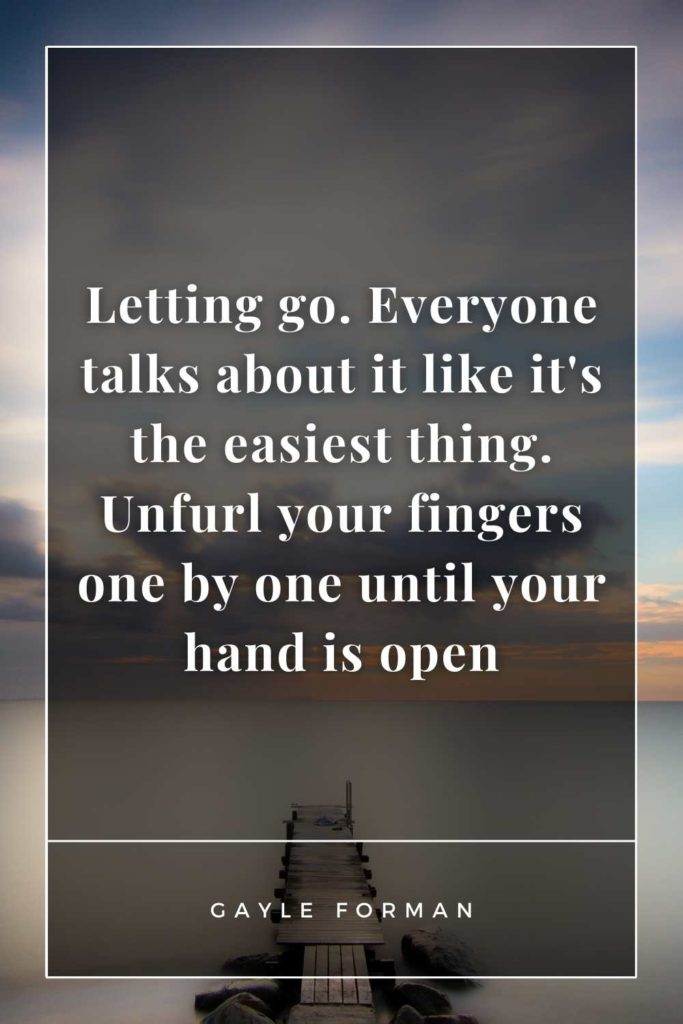 68. "At some point, you gotta let go, and sit still, and allow contentment to come to you." — Elizabeth Gilbert
69. "Giving up doesn't always mean your weak sometimes your just strong enough to let go" — taylor swift
70. "We took away your art because we thought it would reveal your souls. Or to put it more finely, we did it to prove you had souls at all." — Kazuo Ishiguro
71. "When you find love, you take it. You grab it with both hands and you do everything in your power not to let it go. You can't just walk away from it and expect it to linger until you're ready for it." — Colleen Hoover
72. "So I placed my heart under lock and key To take some time, and take care of me But I turn around and you're standing here" — Deborah Cox
73. "I demolish my bridges behind me…then there is no choice but to move forward" — Fridtjof Nansen
74. "The day I understood everything, was the day I stopped trying to figure everything out. The day I knew peace was the day I let everything go." — C. JoyBell C.
75. "Let us go forth with fear and courage and rage to save the world." — Grace Paley
76. "When the karma of a relationship is done, only love remains. It's safe. Let go." — Elizabeth Gilbert
77. "The beautiful journey of today can only begin when we learn to let go of yesterday." — Steve Maraboli
78. "We gained control of many things. But we had to let go of others." — Lois Lowry
79. "It's okay. Everything's going to be okay. You can let go of the sword." "I can't. I can't leave him alone. I have to protect him." "You have." — Richelle Mead
80. "You asked why I couldn't forgive you," Nick said, very quietly, and I jumped a little. "It was because you were the love of my life, Harper. And you didn't want to be. That's hard to let go." — Kristan Higgins
That wraps up our list of Quotes on Letting Go of Old Friends, Memories & Past. Hope you enjoyed reading it.