Many of us have found ourselves blindsided by love. We think we know what we're getting into, only to find that the feelings and emotions involved are much more powerful than imagined. It can be a shock to our system and make us feel vulnerable, unprepared and scared. But when it's the right kind of love, it can also be an incredibly beautiful and fulfilling experience. In this post, we share some amazing quotes about blindsided by love and love happening unexpectedly.
Blindsided By Love Quotes
01
"Love is like an avalanche, where you never know when it's going to hit you." – Unknown
02
"The course of true love never did run smooth." – William Shakespeare
03
"Love sees no faults." – Thomas Fuller
04
"People in blind love throw away common sense, conscience and comedy from the life." – Amit Kalantri
05
"Just as love blinds us to imperfections in others, it magnifies those we see in ourselves. But if this is true, then the opposite must also be the case. We can take comfort in the fact that our faults will be invisible to those who love us. The success or failure of any relationship depends not just on how we feel about each other, but on how we make each other feel about ourselves." – Tonya Hurley
06
"Until the heart can see the future of the person you fall in love with, love will always be blind" – James Hauenstein
07
"Love is not blind but it leads to blindness." – Auliq Ice
08
"The expected is just the beginning. The unexpected is what changes our lives." – Grey's Anatomy
09
"Love could also blind, just as anger and hatred and fear did" – Milla Vane, A Heart of Blood and Ashes
10
"She wasn't exactly sure when it happened. Or even when it started. All she knew for sure was that right here and now, she was falling hard and she could only pray that he was feeling the same way. – Nicholas Sparks
11
"Falling in love with him was completely unexpected. When you only see someone as a friend, you don't expect anything else. There was definitely a moment when something quite magical happened and we both agree that it transformed our relationship. – Helena Bonham Carter
12
"To be blindsided by love is the most wonderful thing in the world."
13
"The most beautiful kind of love is the one that takes you by surprise."
14
"Hope for love, pray for love, wish for love, but don't put your life on hold waiting for love."
15
"Love doesn't hit you like a bolt out of the blue. It creeps up on you unnoticed until suddenly, there it is."
16
"You can't prepare yourself for love, but if you're lucky enough to find it-you should hold on tight and never let go."
17
"It's so easy to be taken by surprise by love; like a novice sailor caught by an unexpected squall."
18
"Love is a whirlwind, it could leave you breathless and blindsided at times but no matter what, don't regret it. It will surprise you with feelings that make your soul come alive again."
19
"Love doesn't come with warning signs, but it comes with the greatest adventure of a lifetime."
20
"When love comes unexpectedly, sometimes all you can do is surrender and accept the beauty that has come into your life unannounced to cherish it forevermore."
21
"Love is a punch to the heart, and it can catch us by surprise."
22
"The most beautiful thing to experience is being blindsided by love."
23
"You never know when someone will come into your life who will turn everything upside down…in a good way!"
24
"Love will come as a surprise and graciously knock on your door when you least expect it."
Love is Blind Quotes
25
"Love is blind, and lovers cannot see." – Christopher Marlowe
26
"Love is blind." – William Shakespeare
27
"Hate misleads, fear distorts and love blinds." – Tim Lebbon
28
"Love is being stupid together." – Paul Valery
29
"Not only is love blind, it's a little hard of hearing." – Brian P Cleary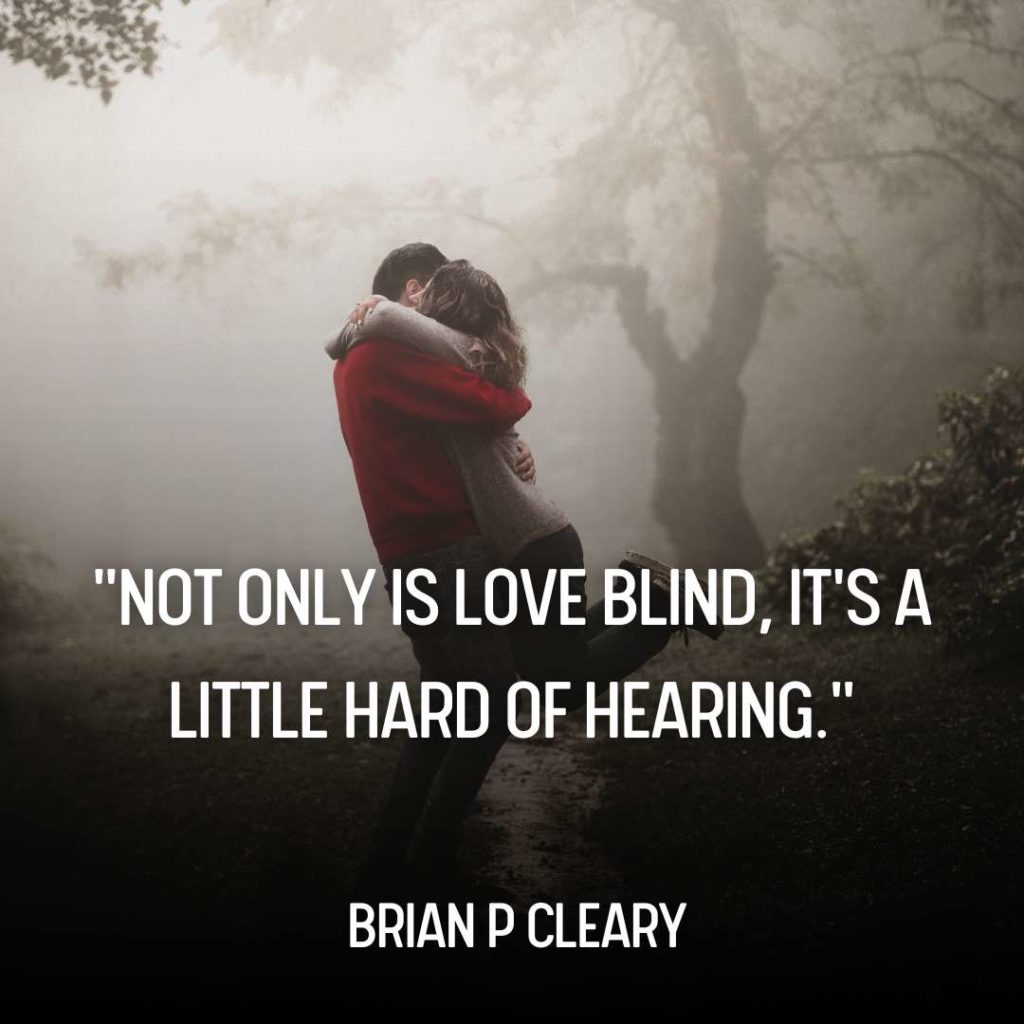 30
"Love blinds us to faults, but hatred blinds us to virtues." – Ibn Ezra
31
"Sometimes love blinds us, other times it let's us see." – Paulo Coelho
32
"Love is never blind; it always sees more than enough".
33
"Love is blind, but friendship closes its eyes."
34
"The best and most beautiful things in the world cannot be seen or even touched – they must be felt with the heart."
35
"Love is blind, but marriage restores its sight."
36
"Love is blind and it will take over your mind. What will you do when you're not able to see?"
37
"To love someone blindly can lead you to a place you never intended to be."
38
"It takes someone truly special to prove that love is indeed blind."
39
"We love blindly instead of realistically."
40
"Love may be blind but jealousy has 20-20 vision"
Unexpected Love Quotes
41
"Love can achieve unexpected majesty in the rocky soil of misfortune." – Tony Snow
42
"Love is always unexpected." – Jude Morgan
43
"Sometimes, love comes unexpectedly out of nowhere, hitting us like a bolt of lightning."
44
"When we least expect it, love finds its way in and changes our entire world."
45
"Love often comes in unexpected packages, and when it does; be brave enough to open your heart to accept it."
46
"Sometimes we find love in the most unexpected places at the most unexpected moments."
47
"When it comes to love, expect the unexpected, you never know what will happen!"
48
"Love can sneak up on you when you least expect it and hit you hard like a runaway train."
49
"Love is the sudden window that opens in your heart and soul, awakening feelings unexpectedly."
50
"No one ever warned me that my life would change so drastically by falling in love; before I knew it, my world had been filled with more love than I ever could have imagined possible."
51
"Love isn't something you plan for; it just happens and takes you captive."
52
"Sometimes, two hearts just collide in an unexpected way and fall into a perfect love story."
53
"Surrendering to love means allowing yourself to get taken by surprise and be swept off your feet in the most unexpected way."
Related Posts
80+ Romantic Weather Quotes and Instagram Captions
60 Never Force Relationship Quotes That Will Make You Think