Life changing moments can be powerful and inspiring. They can open our eyes to new paths, experiences, and perspectives that we never knew existed. To help you be inspired by life changing moments, here are some quotes to reflect on.
Life Changing Moments Quotes
01
"Bottom line is, even if you see 'em coming, you're not ready for the big moments. No one asks for their life to change, not really. But it does. So what are we, helpless? Puppets? No. The big moments are gonna come. You can't help that. It's what you do afterwards that counts. That's when you find out who you are." – Joss Whedon
02
"Once you've lived a little you will find that whatever you send out into the world comes back to you in one way or another. It may be today, tomorrow, or years from now, but it happens; usually when you least expect it, usually in a form that's pretty different from the original. Those coincidental moments that change your life seem random at the time but I don't think they are. At least that's how it's worked out in my life. And I know I'm not the only one." – Slash
03
"Sometimes in life, a sudden situation, a moment in time, alters your whole life, forever changes the road ahead." – Ahmad Ardalan
04
"They say that there are moments that open up your life as a walnut cracked, that change your point of view so that you never look at things the same way again." – Jodi Picoult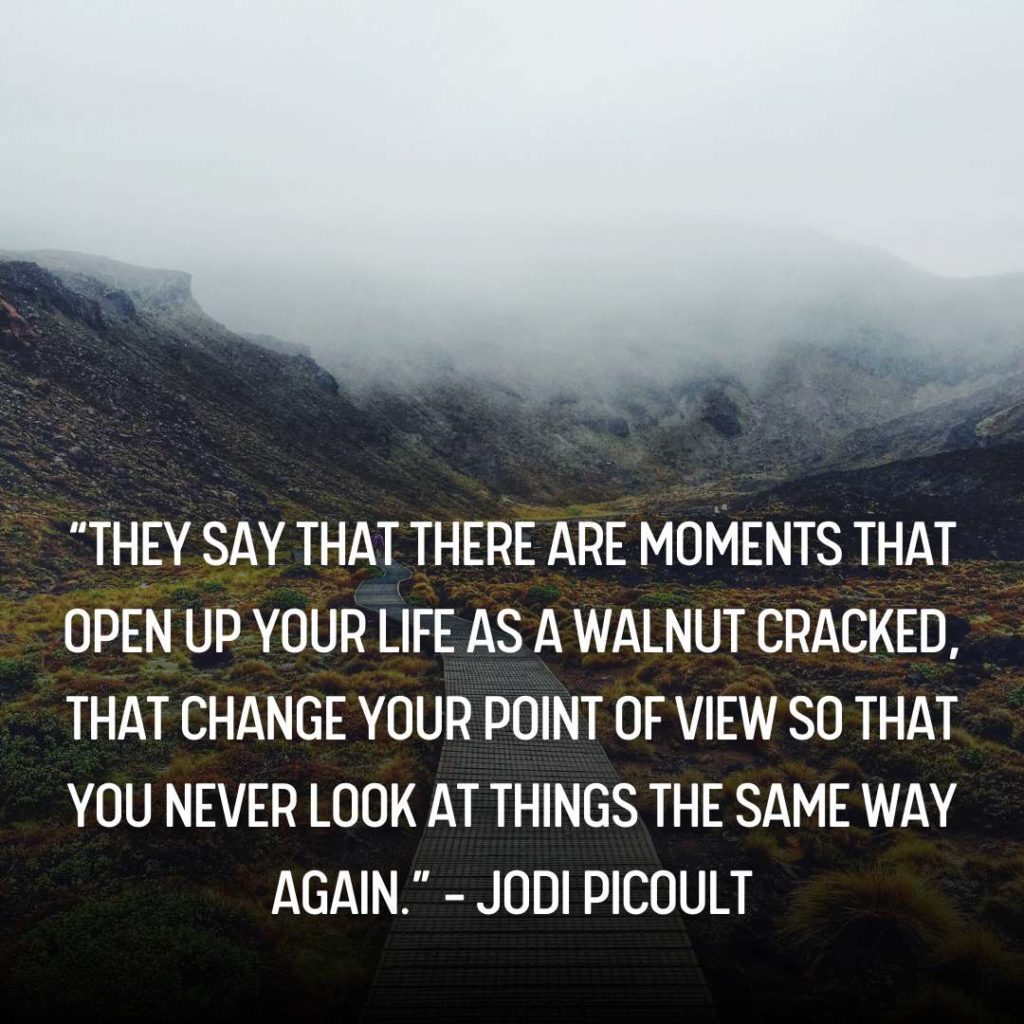 05
"The moments that change your life are the ones that happen suddenly, like the one where you die." – Terry Pratchett
06
"There are moments in every girls life that are bigger than we know at the time. when you look back, you say that was one of those life-changing fork in the road moments and I didn't see it coming and then there are the moments that you know are big that whatever you do next there will be an impact. Your life could go one of two directions, DO or DIE." – Jenny Han
07
"All I remembered clearly was that one moment, that one simple word that would change my life forever. "Yes."" – Julie Kagawa
08
"Life is a collection of a million, billion moments, tiny little moments and choices, like a handful of luminous, glowing pearls. It takes so much time, and so much work and those beads and moments are so small, and so much less fabulous and dramatic than the movies." – Shauna Niequist
09
"Life is a series of moments and moments are always changing, just like thoughts, negative and positive. And though it may be human nature to dwell, like many natural things it's senseless, senseless to allow a single thought to inhabit a mind because thoughts are like guests or fair-weather friends. As soon as they arrive, they can leave, and even the ones that take a long time to emerge fully can disappear in an instant. Moments are precious; sometimes they linger and other times they're fleeting, and yet so much could be done in them; you could change a mind, you could save a life and you could even fall in love." – Cecelia Ahern
10
"Mom always liked to say that we hardly ever know the decisions we make that change our lives, mostly because they are little ones. You took this bus instead of that one and ended up meeting your soul mate, that kind of thing. But there was no doubt in my mind that this was one of those life-changing moments." – Rachel Hawkins
11
"I wanted my life to start – but in those rare moments when it seemed like something might actually change, panic shot through me." – Curtis Sittenfeld
12
"There are some moments in life that are like pivots around which your existence turns—small intuitive flashes, when you know you have done something correct for a change, when you think you are on the right track. I watched a pale dawn streak the cliffs with Day-glo and realized this was one of them. It was a moment of pure, uncomplicated confidence—and lasted about ten seconds." – Robyn Davidson
13
"Some things in life only happen once, the memories of them lasting forever. They're moments that alter you, turning you into a person you never thought you'd become, but someone you were always destined to be. There's no magical rewind button in life, no take backs or do-over's to fix things you wish you could change." – J.M. Darhower
14
"Used to know a boy, a boy I loved with my whole heart, who lived for a single moment. Who told me that a single moment could change the world. It could change someone's life. That one moment could make someone's life, in that brief second, infinitely better or infinitely worse." – Tillie Cole
15
"There are moments that change everything, mired in the mass of more ordinary time like insects caught in amber. Without them, life would be a tame, predictable thing. But with them, ah. With them, life does as it will, like lightning, like the wind that blows across the castle battlements, and none may stop it, and none may tell it "no"." – Seanan McGuire
16
"There are moments in life that change us irreparably. Sometimes those moments are grand and dramatic, tragic or beautiful in their intensity. Sometimes those moments are quiet and small like footsteps fading behind a closed door. The subtlety of those moments can sometimes camouflage their impact and sometimes the impact is felt profoundly, but the quietness of the moment is lost on everyone else around you adding loneliness to the equation." – Samantha Young
17
Gratitude bestows reverence, allowing us to encounter everyday epiphanies, those transcendent moments of awe that change forever how we experience life and the world." – Sarah Ban Breathnach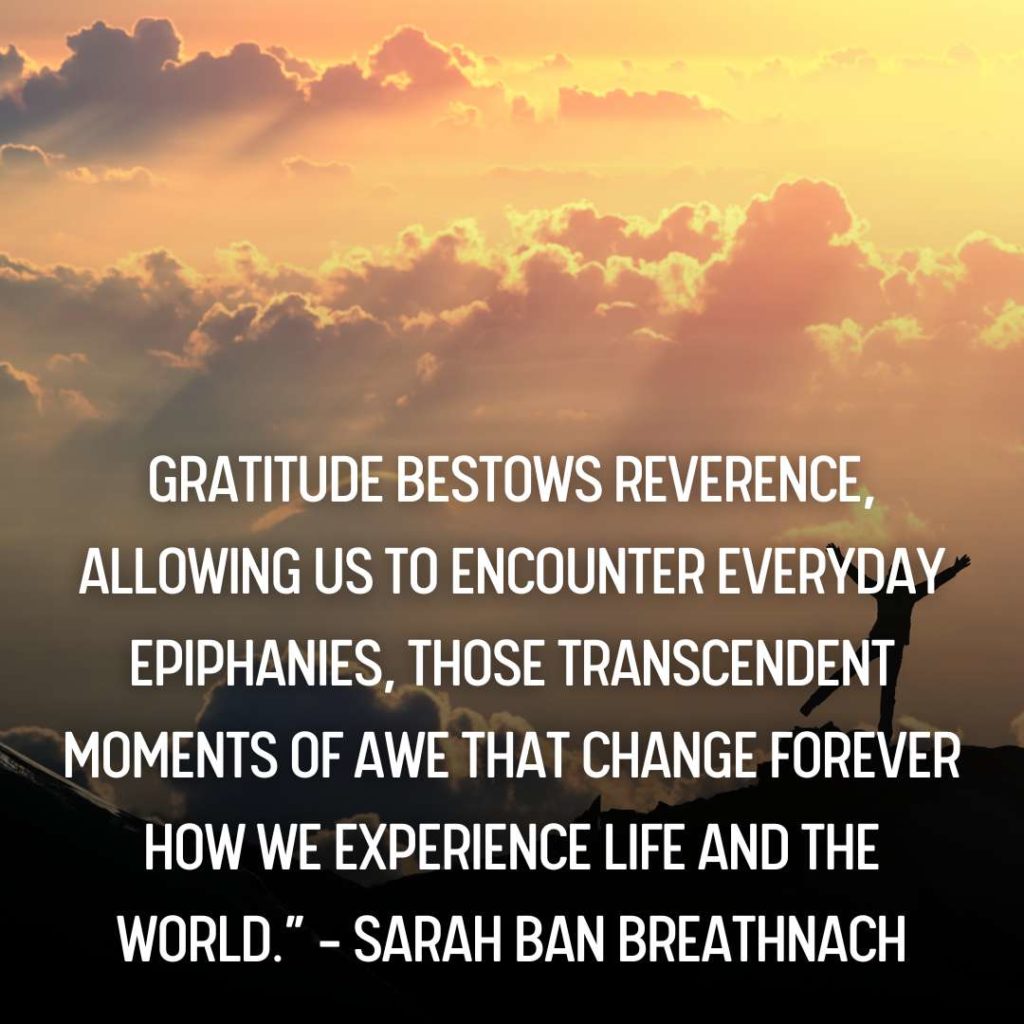 18
"When one door of happiness closes, another opens; but often we look so long at the closed door that we do not see the one which has been opened for us." – Helen Keller
19
"Every moment is a fresh beginning." – T.S. Eliot
20
"When life hands you lemons, make lemonade!" – Dale Carnegie
21
"Life is full of sudden, dramatic moments that cause everything to pause for a brief period of time – these moments can often propel us into completely new and uncharted paths."
22
"Those moments when the backdrop of our lives changes completely, those big moments that shape us and split us open, exposing our hearts."
23
"Life is a series of moments. Some moments change your life forever."
24
"Each moment of life is a step on the path; if we miss one, we will never get it back."
25
"Life changing moments are never as dramatic or showy as they seem afterwards. Most of them are quiet points of decision or realization, made in the course of our usual daily activities."
26
"Sometimes it's the small moments that create the biggest changes in our lives."
27
"Life is full of defining moments. Make sure you recognize them and make the most of them."
28
"We don't always understand why certain life-changing moments happen, but there's always a hidden lesson in them, if we just stay open to the possibilities."
29
"The moments that make life worth living are the moments when we forget the past, appreciate the present, and look forward to the future."
30
"Life-changing moments come in ways you don't expect. All you can do is try to remain open and prepare yourself for a journey you didn't plan on taking."
31
"Life is full of moments of joy, discovery and extraordinary wonder-moments that can change everything in an instant."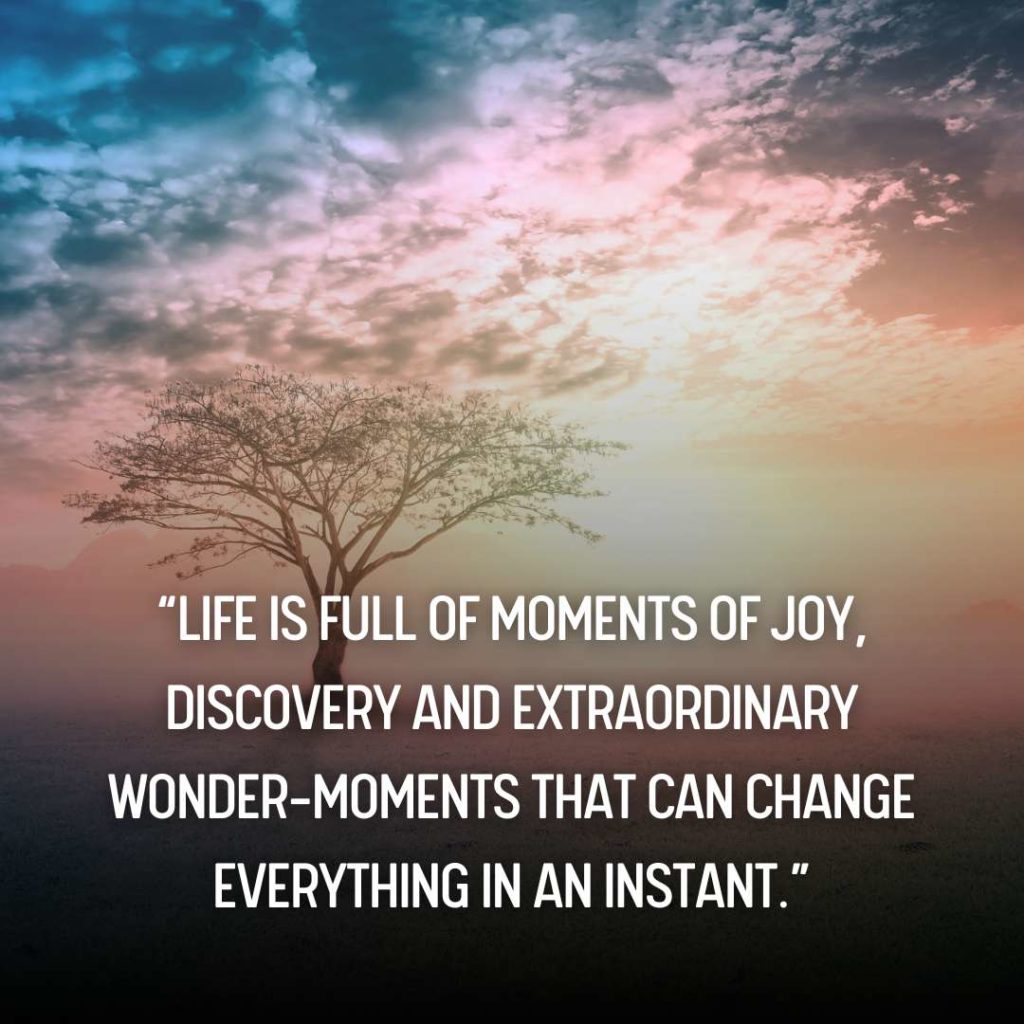 32
"It's the simple things in life that are often the most profound, and they may come along only once in a lifetime."
33
"Life is defined by moments. It's in the moments of our lives that we show up and make decisions, ones that either open or close our lives to the world around us."
34
"Life is made up of only a few moments, but those moments are the building blocks of a lifetime."
35
"It's these small moments that make up our lives…little sparks of joy, sadness, happiness, frustration, and anger that have lasting effects on our daily lives. It's those moments when things shift inside us, whether we recognize it or not, that forever shape who we become."
36
"Small moments often have the potential of having lasting power over us if we allow ourselves to soak it in completely and embrace every nuance with enthusiasm and appreciation for its presence."
By reflecting on life changing moment quotes such as these, we can be motivated and inspired to make changes that will positively impact our lives. It is important to remember that in order to achieve success and make meaningful changes, we must have the courage to take risks and challenge ourselves. So use these quotes as a source of inspiration to achieve your goals and live a life full of fulfillment!
We hope you enjoyed our compilation of life changing moments quotes.
Related Posts
20+ Everyone Comes in Your Life for a Reason Quotes
10+ The Best Things in Life Are People We Love Quotes