There are many reasons why knitting is a great hobby. It can help to relieve stress, it is a great way to meet new people and make friends, and it can also be very therapeutic. Knitting can also be a great way to make money, as there are many people who are willing to pay good money for handmade items. If you are looking for a hobby that will keep you busy and help you relax, then knitting is definitely worth considering. It is also a great way to show your creative side, as there are endless possibilities when it comes to designing and creating new projects. Here are some great Knitting Instagram captions and quotes for inspiration.
Knitting Instagram Captions
1. Crafting something beautiful, one stitch at a time. #knitting
2. Applying some of grandma's techniques to my newest knitting project. Love spending time keeping her traditions alive! #knitstgram
3. A day without knitting is like a day without sunshine! #yarnaddict
4. Trying out my new hobby! So far so good! #knitting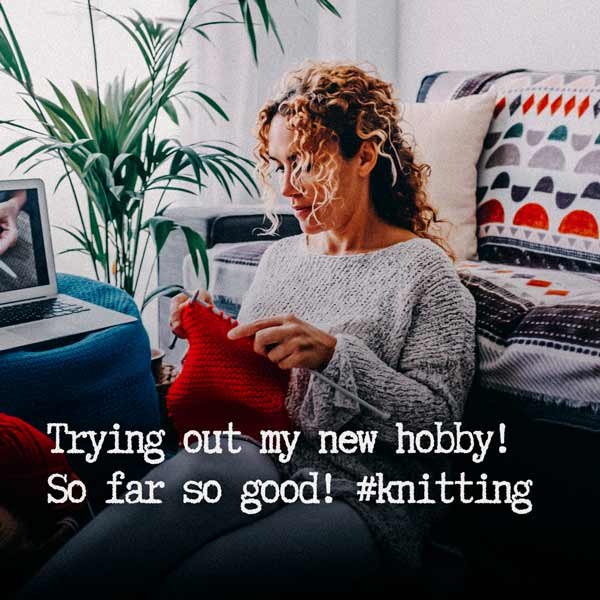 5. I'm not a Grandma yet, but I can knit like one!
6. I'm a firm believer that yarn, like wine, gets better with age. #knittersofinstagram #yarnstagram
7. I'm not a crafty person, but I can knit a mean scarf! #proudmoment
8. My grandmas always said that knitting is therapeutic. I think she was onto something. #sweaterweather #crafty
9. I'm keeping my fingers busy and my mind at ease with some cozy knitting this winter!
10. Knitted with love, just like this cozy sweater I made for my bestie! #warmth #friends
11. Crafting some cozy magic with my favorite winter project #knitting #sweaterweather 🧶❄️
12. I'm spending my weekend holed up indoors with my favorite knitting project. #cozy #winterdays
13. Life is too short to not knit happiness into every stitch #yarnlove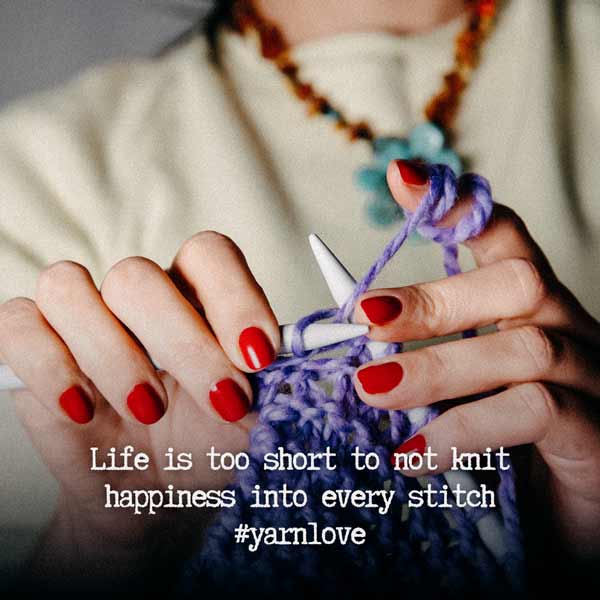 14. Some people says knitting is for old ladies but I like to think of it as a way to relax and unwind #yarnlife🧶
15. I'm not a knitting grandma, I'm a cool mom who Knits!
16. There's nothing like a warm, cozy knitting project on a cold winter day ❄️
17. If there's one hobby that's always in style, it's knitting! #yarnlove #knitstagram
18. Knitting is my newest hobby and I'm loving it! I'm so excited to start making all sorts of cozy winter gear!
19. I used to think knitting was dull, but now I'm hooked! #yarnaddict
20. Some might say I'm a bit obsessed with knitting… and they would be right. #yarn addictions
21. My favorite hobby is turning yarn into something beautiful 🧶❤️
22. Stitch by stitch, I'm easing into a better mindset. #selfcare #knitting
23. Someone once told me that knitting is the new yoga. I'm not sure if that's true, but I know it relaxes me in a way that nothing else can.
24. I'm really starting to love this knitting thing. It's so therapeutic. Plus, I get to make really cute things! #likeaboss
25. Taking my knitting skills to the next level. Now I can make my own hats, scarves, and blankets!
26. I love spending my evenings knitting with my cat purring on my lap. #content
27. The best things in life are handmade with love ❤️ #knitting #handmade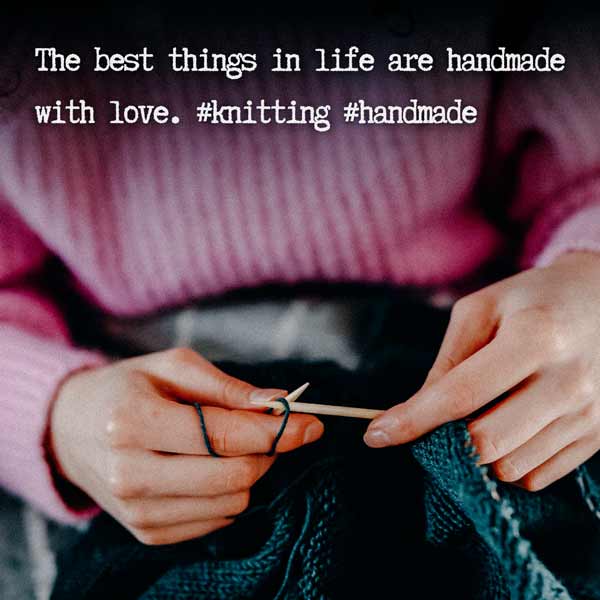 28. Crafting my own happiness one stitch at a time 🧶❤️
29. Crafting cozy moments with my favorite yarn 🧶
30. I'm a professional knitting instructor, and I love sharing my passion with others!
31. I'm a lover of all things knit 🧶 Yarn, needles, and everything in between!
32. Knitting is my favorite way to relax and unwind. When I'm done with a project, I feel accomplished and proud. It's a great hobby for all ages!
33. Making magic with my needles 🧙‍♀️
34. Grandma's been teaching me how to knit and I'm loving it! So therapeutic. #knitstagram
35. "I love knitting because it's so calming and I can make whatever I want." – Unknown
Knitting Quotes
36. "I love the way knitting brings people together." – Debbie Macomber
37. "Properly practiced, knitting soothes the troubled spirit, and it doesn't hurt the untroubled spirit, either." – Elizabeth Zimmerman
38. "Women like to sit down with trouble – as if it were knitting." – Ellen Glasgow
39. "I spend too much time on the Internet. But I do love knitting. Actually, I do more knitting when I'm working." – Amanda Seyfried
40. "Amazing what the application of a knitting needle could do for one's manners." – Lauren Willig
41. "There's one little room in my house which is filled with all my clutter and bits and pieces. My sewing machine is up there, and all my knitting stuff. Its a place where I can go to relax and unwind. I don't get to spend a lot of time up there, but at least I know its there." – Julia Roberts
42. "I took up knitting from time to time as a relaxation, but I always put it down again before going out to buy a rocking chair." – Beatrice Lillie
43. "A knitter only appears to be knitting yarn. Also being knitted are winks, mischief, sighs, fragrant possibilities, wild dreams." – Dr. SunWolf
44. "Knitting is very conducive to thought. It is nice to knit a while, put down the needles, write a while, then take up the sock again." – Dorothy Day
45. "There's great value to knitting or digging up your garden or chopping up vegetables for soup, because you're taking some time away from turning the pages, answering your emails, talking to people on the phone, and you're letting your brain process whatever is stuck up in there. – Chellie Pingree
46. "My other creative outlet is knitting; aside from being fun, it is my antidote to the film business: I have full creative control, there is no development process, and I can self-finance." – Linda Goldstein Knowlton
Other Posts
20+ Reading Under The Tree Quotes and Captions
45+ Mowing The Lawn Quotes & Instagram Captions