Being alone doesn't have to be a negative experience. In fact, it can often be truly liberating! Taking time for yourself and cherishing your own company can bring you new perspectives, help you form creative ideas, and give you the power to follow through with whatever path in life that you choose. Here's a collection quotes about enjoying your own company.
Enjoy Your Own Company Quotes
01
"Solitude. The very sound of this word is full of thoughtfulness, wisdom, hidden strength, and inner power. Solitude is a state of being alone without being lonely, it is about enjoying your own company." – Anna LeMind
02
"Whenever I'm with other people, part of me shrinks a little. Only when I am alone can I fully enjoy my own company." – Alan Bradley
03
"I'm… accustomed to being alone. There are times when alone is the best place to be. I enjoy my own company." – Sara Naveed
04
"Me, myself, and I enjoy our own company immensely." – R. Alan Woods
05
"If you can't be alone and enjoy your own company, don't expect anybody else to enjoy your company either." – Dr. Eddie M. Connor Jr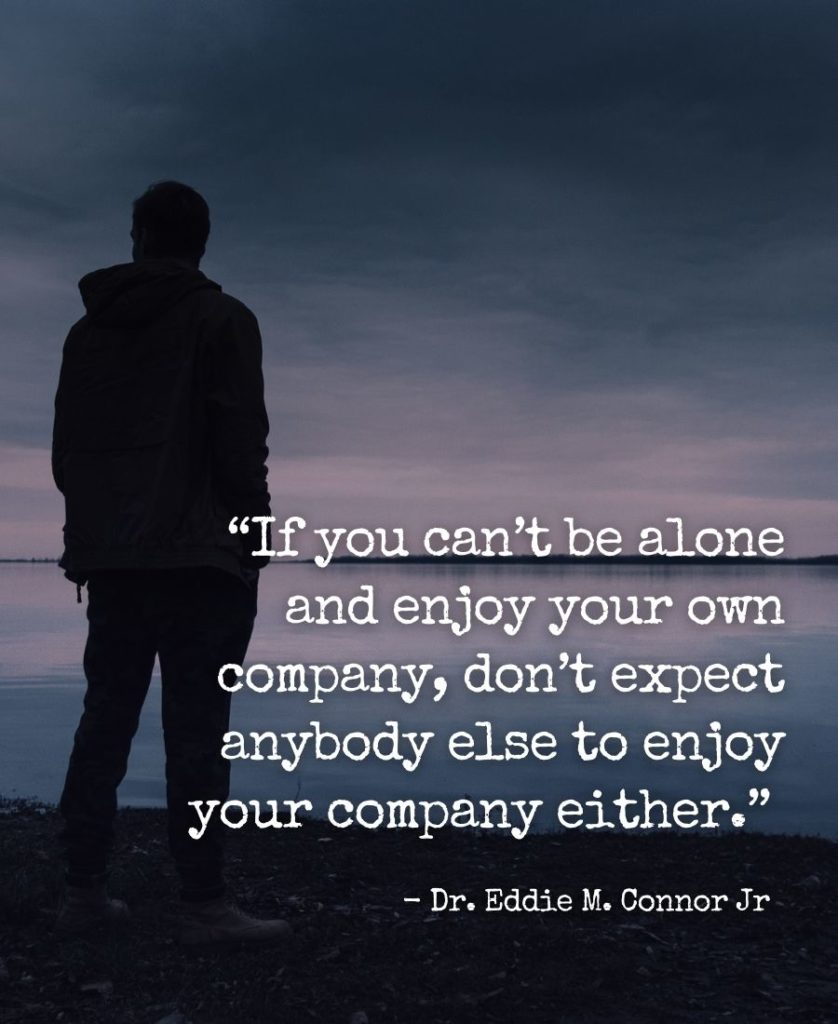 06
"I, unlike the vast majority of people, do not find solitude intolerable. As a matter of fact, I enjoy solitude, so much so that there is no dead or living person whose company I preferred, would have preferred, or prefer over my own." – Mokokoma Mokhonoana
07
"If you're lonely when you're alone, you're in bad company." – Jean-Paul Sartre
08
"Fall in love
with your solitude" – Rupi Kaur
09
"In order to be open to creativity, one must have the capacity for constructive use of solitude. One must overcome the fear of being alone." – Rollo May
10
"The most important relationship in your life is the relationship you have with yourself. Because no matter what happens, you will always be with yourself." – Diane Von Furstenberg
11
"Knowing yourself is the beginning of all wisdom." – Aristotle
12
"The quieter you become, the more you can hear." – Ram Dass
13
"The greatest thing in the world is to know how to belong to oneself." – Michel de Montaigne
14
"The best part about being alone is that you really don't have to answer to anybody. You do what you want." – Justin Timberlake
15
"Solitude is where one discovers one is not alone." – Marty Rubin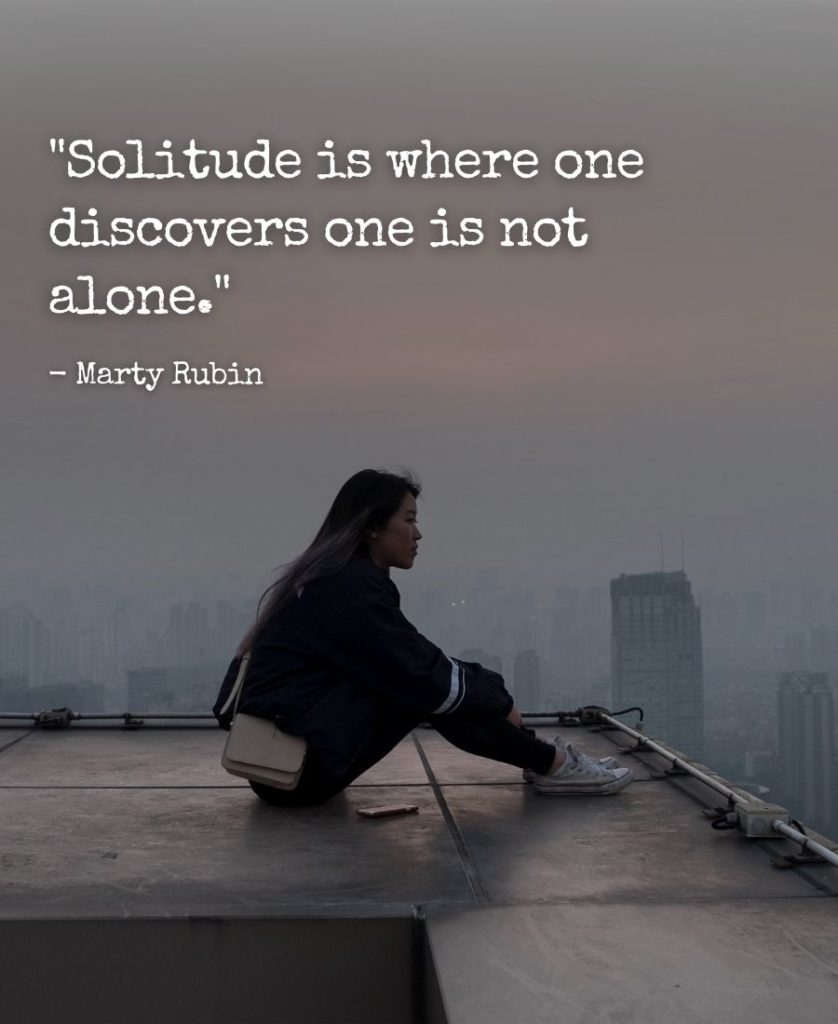 16
"I think it's very healthy, to spend time alone. You need to know how to be alone and not defined by another person" – Oscar Wilde
Learn To Enjoy Your Own Company Quotes
17
"You won't be important to other people all the time, and that's why you have to be important to yourself. Learn to enjoy your own company. Take care of yourself." – Vex King
18
"Knowing you can enjoy your own company is a vital precursor to being able to enjoy other people's company without feelings of panic or neediness. And valuing your own company precedes believing that you can matter to other people in much the same way they matter to you." – Stephanie Dowrick
19
"At a stage in my life where I am slowly learning to enjoy my own company. Keeping my circle small and stop entertaining unnecessary things that can't grow my mind." – Hopal Green
20
Learn to enjoy your own company. You are the one person you can count on living with for the rest of your life." – Quinn Arthurs
21
"Until we learn to be comfortable alone—and more than that, to enjoy our own company—we are not really ready to live a bold and passionate life." – Matthew Kelly
22
"Take a hard look at what you fill your days with and find ways to slow down. Find time to be quiet, to hear less noise, and to enjoy your own company." – Meg Meeker
23
"You are enough just as you are. You don't need to prove anything to anyone."
24
"When you learn how to be alone, you become comfortable in your own skin and open up possibilities of self-discovery and growth." – Bryant McGill
25
"A man can be himself only so long as he is alone; and if he does not love solitude, he will not love freedom; for it is only when he is alone that he is really free." – Arthur Schopenhauer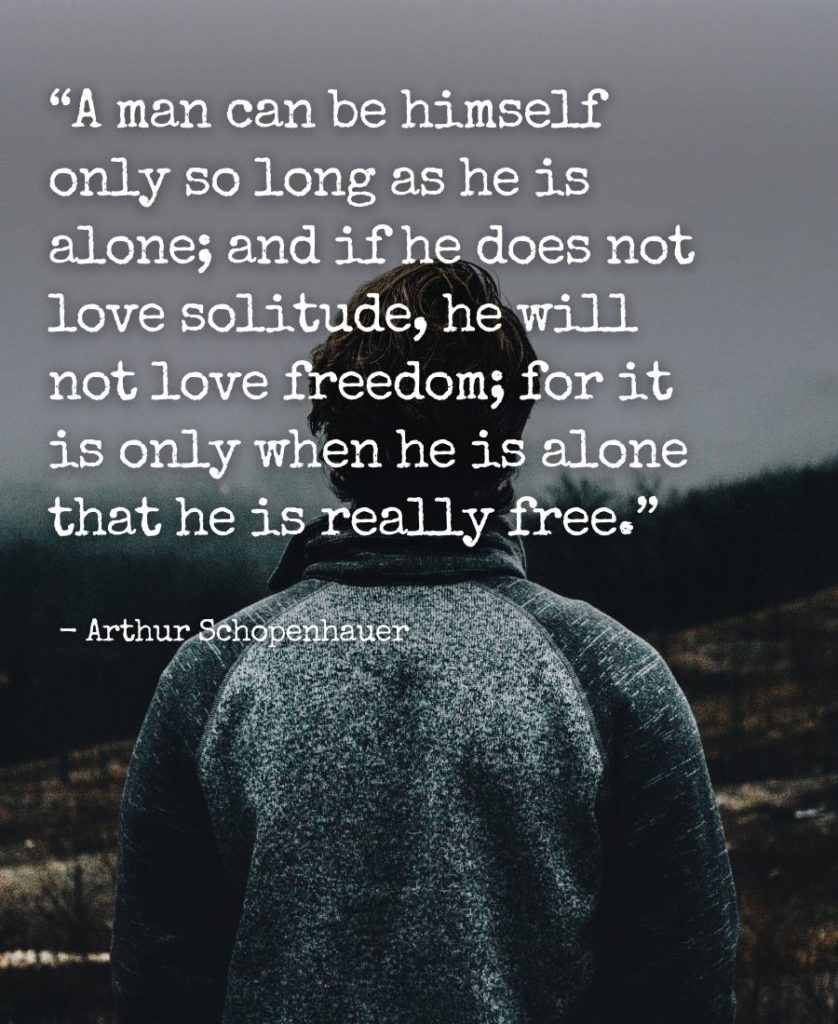 26
"The greatest thing in the world is to know how to belong to oneself." – Michel de Montaigne
27
"Embrace your solitude and love it. Endure the pain it causes, and try to sing out with it. For those near to you are distant…" – Rainer Maria Rilke
28
"Cherish your solitude. Take trains by yourself to places you have never been. Sleep out alone under the stars. Learn how to drive a stick shift. Go so far away that you stop being afraid of not coming back. Say no when you don't want to do something. Say yes if your instincts are strong, even if everyone around you disagrees. Decide whether you want to be liked or admired. Decide if fitting in is more important than finding out what you're doing here. Believe in kissing."
– Eve Ensler
29
"Learn your way around loneliness. Make a map of it. Sit with it, for once in your life. Welcome to the human experience" – Elizabeth Gilbert
30
"If you want to be happy, learn to be alone without being lonely. Learn that being alone does not mean being unhappy. The world is full of plenty of interesting and enjoyable things to do and people who can enrich your life" – Michael Josephson
31
"We must learn to be comfortable in our own skin so that regardless if we have someone or not, we will still know how to truly enjoy life and be happy with ourselves first." – Edmond Mbiaka
32
"It's so important to take time for yourself and find out who you are and what you love doing without anyone else influencing those decisions or opinions." – Cara Delevingne
33
"The greatest pleasure when I am alone is to clearly enjoy my own company." – Marcus Aurelius
34
"Sometimes it takes spending time alone for us to realize how amazing we are and that everything we need is already inside of us!"
35
"True happiness comes from knowing yourself, accepting yourself, and loving yourself unconditionally." – Deborah Day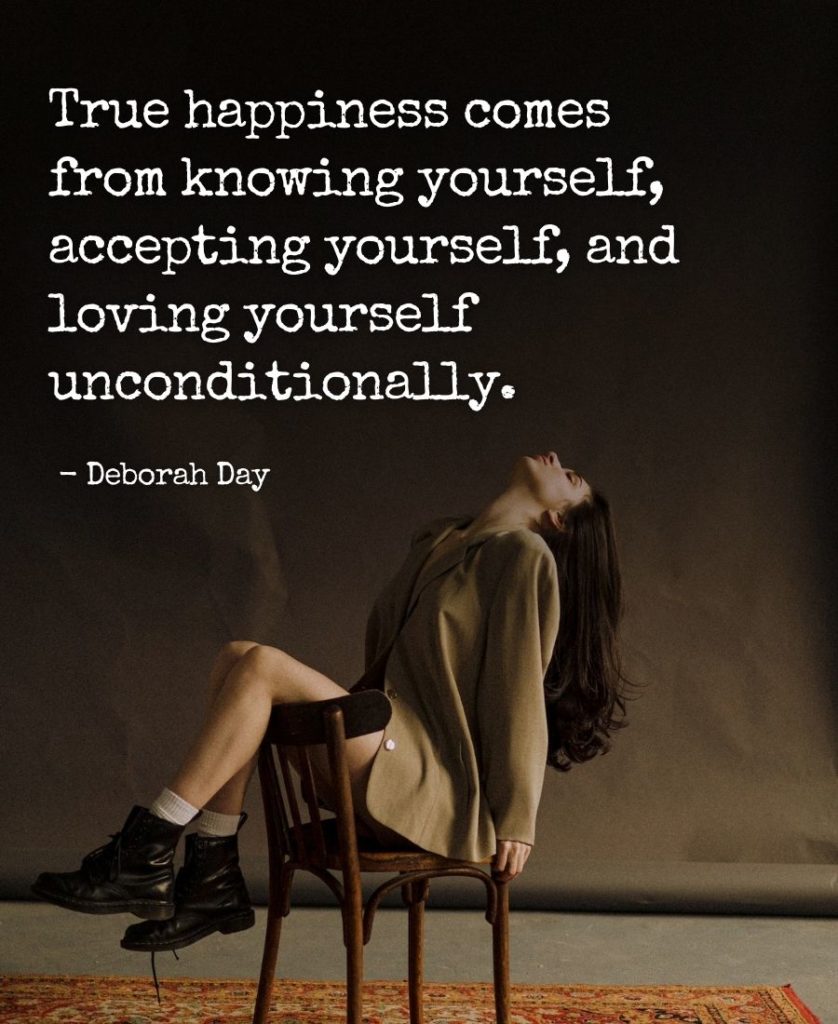 When You Enjoy Your Own Company Quotes
36
"Only a fraction of sane people enjoy their own company. The rest endure it."- Mokokoma Mokhonoana
37
"I enjoyed my own company enough that I didn't feel the need to socialize with people who exhausted me." – Jess Lourey
38
"I am alone, but never lonely. I don't know if I could ever be lonely, because I love being alone. I think when you've truly mastered the skill of enjoying your own company, happiness just comes." – Dawn O'Porter
39
"The first proof of a stable mind is its ability to stay in one place and enjoy its own company" – David Fideler
40
"Realize that everything comes down to being comfortable in your own skin. That's when life truly begins." – Steveaboli
41
"I care for myself. The more solitary, the more friendless, the more unsustained I am, the more I will respect myself." – Charlotte Brontë
42
"Loneliness adds beauty to life. It puts a special burn on sunsets and makes night air smell better." – Henry Rollins
43
"being alone never felt right. sometimes it felt good, but it never felt right." – Charles Bukowski
44
"I was a man who thrived on solitude; without it I was like another man without food or water. Each day without solitude weakened me. I took no pride in my solitude; but I was dependent on it. The darkness of the room was like sunlight to me." – Charles Bukowski
45
"The more powerful and original a mind, the more it will incline towards the religion of solitude." – Aldous Huxley
46
"Solitude matters, and for some people, it's the air they breathe" – Susan Cain
47
"The greatest adventure is the one that begins within." – Eckhart Tolle
48
"In solitude, the mind gains strength and learns to lean upon itself." – Laurence Sterne
49
"The more time you spend alone, the more opportunities you have to learn about yourself and be honest with who you are" – Rachel Hawthorne
50
"We must become so alone, so utterly alone, that we withdraw into our innermost self. It is a way of bitter suffering. But then our solitude is overcome, we are no longer alone, for we find that our innermost self is the spirit, that it is God, the indivisible" – Hermann Hesse
51
"When you have nothing but your own company, you learn how truly powerful your thoughts are." – Suzy Kassem
52
"It is only when we are alone that we realize who we really are, what our true strength and capability might be." – Jean-Jacques Rousseau
53
"The more powerful the lone person, the more they understand and embrace their solitude, instead of feeling lonely or isolated." – Steven Aitchison
Enjoy Your Own Company Quotes For Instagram
54
"I'm just a girl enjoying her own company with a cup of coffee and a muffin, incognito-ing like a baller." – Jana Aston
55
"Being alone doesn't mean lonely – it means having the freedom to enjoy your own company. Embrace the peace and quiet, and discover the joys of self-love. Treat yourself to movie marathons, bubble baths and your favourite cup of tea. After all, the best company you could ever have is yourself.💕 #selflove #enjoyyourowncompany #metime #happiness #peace"
56
"Solitude is the best companion, and the art of enjoying one's company is a precious gift. Take a moment to be with yourself and discover the beauty within. #EnjoyYourOwnCompany #SelfDiscovery #MeTime"
57
"Be your own company, and you'll never be alone. Embrace your independence and discover the beauty in solitude. Treat yourself to a day of self-care, a good book, or just some quiet time to reflect. Remember, you are enough and you deserve to enjoy your own company." #selflove #enjoyyourowncompany #solitude #mindfulness
58
"Being your own best company is a superpower. So pour yourself a glass of wine, put on your favorite music, and enjoy the peace that comes with being perfectly content in your own company 🍷🎶😌 #selflove #enjoyyourself #me-time #metime #happiness #peacefulmindset #mindfulness #gratefulheart"
59
"Fall in love with your own company and you'll never feel lonely again. Take time to pamper yourself, explore new things and appreciate the amazing person you truly are. #selflove #enjoyyourcompany #happiness"
60
"Sometimes the best company you can have is your own. Embrace the stillness, find peace within, and enjoy the beauty of just being with yourself. #selflove #enjoyyourowncompany #solitude #mindfulness"
61
"Find yourself someone who enjoys your company as much as you do. Spoiler alert: It's you. 🌟 Embrace your solitude and cherish the moments you have with yourself. #enjoyyourowncompany #selflove #solitude"
62
"Life is a dance, and sometimes the best moves come from dancing solo. Enjoy your own company, learn to love yourself, and watch as the world falls in love with the amazing person you are." #SelfLove #EnjoyYourOwnCompany #EmbraceYourself
63
"Sometimes the best company you can have is yourself. Take a deep breath, relax and enjoy your own company, there's no better feeling than being comfortable in your own skin. 💛 #selflove #enjoyyourcompany #mentalhealthawareness"
How To Enjoy Your Own Company
Enjoying your own company can not only give you a sense of belonging but also provide greater clarity in life as well as restoring creativity, focus, self-awareness, joy and relaxation. Here are some key methods for how to enjoy your own company amidst everchanging social situations. Whether it is at home in these times of physical distancing or any other season; arm yourself with these tips and find refuge within the comfort of solace.
Make time for yourself – even if it's just 10 minutes a day, plan to do something that will make you feel good and relaxed
Learn to be comfortable with silence – learn to embrace moments of peace and solitude without feeling alone 
Create your own space – take the time to decorate your room or house in a way that is calming and relaxing 
Find hobbies that don't require social interaction – such as painting, drawing, or journaling 
Take up an individual physical activity like running or yoga 
Challenge yourself – set goals for yourself and try to reach them; this will give you a sense of accomplishment and purpose.
Related Posts
55+ Alone and Happy Girl Quotes for Inspiration
75+ Inspiring Quotes About Not Needing Anyone