There are many reasons why investing in real estate is important. For one, real estate is a physical asset that can appreciate in value over time. In addition, real estate can provide a steady stream of rental income, which can help offset the costs of ownership and improve your overall financial position. Finally, owning real estate can offer certain tax advantages, such as the ability to deduct mortgage interest and property taxes. In this post, let's explore some real estate quotes for social media.
"You don't have to be too bright to get into real estate." says David Lichtenstein. Let's take a look at some quotes which will help you grow your real estate ambitions.
Real Estate Quotes for Social Media
"Real estate investing, even on a very small scale, remains a tried and true means of building an individual's cash flow and wealth." – Robert Kiyosaki
"You don't have to be too bright to get into real estate." – David Lichtenstein
"I always felt very secure and very safe with real estate. Real estate always appreciates." Ivana Trump
"Golf courses sell real estate and that's why they're built." – Ed McMahon
"I was into real estate. I was always an entrepreneur." – Bill Rancic
"The wise young man or wage earner of today invests his money in real estate." – Andrew Carnegie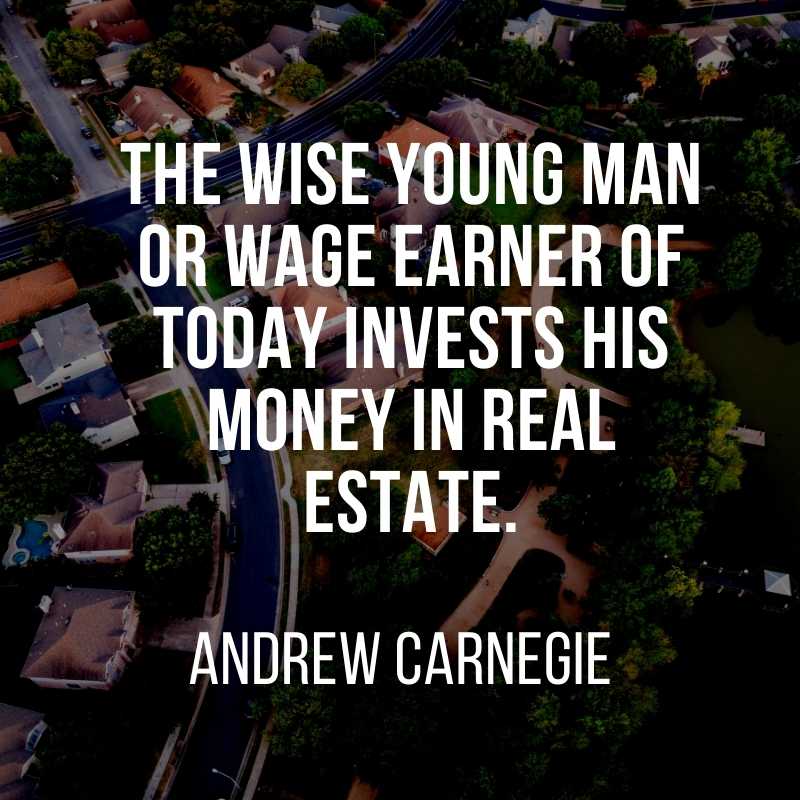 "I believe that in years to come, historians will see the beginning of the 21st century as the 'golden age' of real estate." – David Lereah
"Ninety percent of all millionaires become so through owning real estate." – Andrew Carnegie
"Find out where the people are going and buy the land before they get there." – William Penn Adair
"Now, one thing I tell everyone is learn about real estate. Repeat after me: real estate provides the highest returns, the greatest values and the least risk." – Armstrong Williams
"I want to be a successful landlord. I like real estate." – 2 Chainz
"He is not a full man who does not own a piece of land." – Hebrew Proverb
"But land is land, and it's safer than the stocks and bonds of Wall Street swindlers." – Eugene O'neill
"Real estate cannot be lost or stolen, nor can it be carried away. Purchased with common sense, paid for in full, and managed with reasonable care, it is about the safest investment in the world." – Franklin D Roosevelt
"Don't wait to buy real estate, buy real estate and wait." – T Harv Eker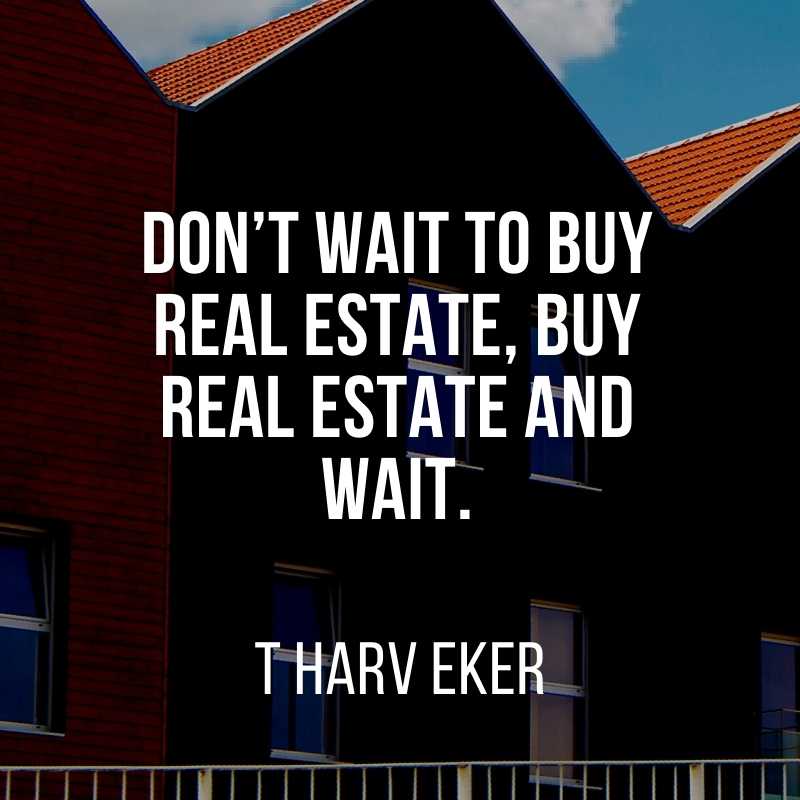 "In real estate, you make 10% of your money because you're a genius and 90% because you catch a great wave." – Jeff Greene
"Real estate sales was perfect training for the experience to go into public life because you learn to accept rejection, learn to meet new people, learn to work with people and find common ground. That's the way you sell houses… that's also the way you win over constituency." – Johnny Isakson
"There will never be a nuclear war; there's too much real estate involved." – Frank Zappa
"Real estate is the best investment in the world because it is the only thing they're not making any more." – Will Rogers
"Well, real estate is always good, as far as I'm concerned." – Donald Trump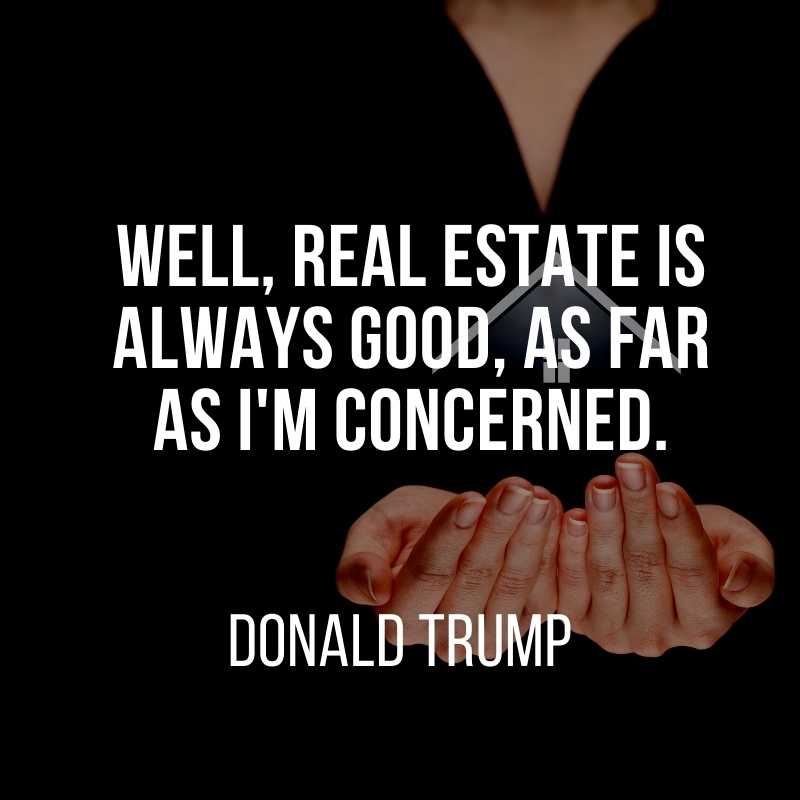 "Owning a home is a keystone to wealth." – Sure Orman
"There have been few things in my life which have had a more genial effect on my mind than the possession of a piece of land." – Harriet Martineau
"Real estate is at the core of almost every business, and it's certainly at the core of most people's wealth. In order to build your wealth and improve your business smarts, you need to know about real estate." – Donald Trump
"I've been in real estate for my whole life, I've been trying to sharpshoot the market with my investments, I'm never right. all you need to do is get near the bottom. That's good enough." – Barbara Corcoran
"I've always wanted to be the biggest real estate man to come down the pike." – Leona Helmsley
"Successful people in real estate are nicest people you can know." – Wendy Alexander
"In the real estate business you learn more about people, and you learn more about community issues, you learn more about life, you learn more about the impact of government, probably than any other profession that I know of." – Johnny Isakson
"The problem with real estate is that it's local. You have to understand the local market." – Robert Kiyosaki
"When markets go down, opportunities go up for smart real estate investors. I would much rather play the downturn than the upturn." – Harry S Dent
"A great property manager is key to success in real estate." – Robert Kiyosaki
A beach house isn't just real estate. It's a state of mind." – Douglas Adams
"It's tangible, it's solid, it's beautiful. It's artistic, from my standpoint, and I just love real estate." – Donald Trump
"Making love to a woman is like buying real estate: location, location, location." – Carol Leifer
"Real estate is the closest thing to the proverbial pot of gold." – Ada Louise Huxtable
"If I am going to get in a cab to go home, and I see a sign for an open house, I will go in. I like real estate because I am the boss." – Lorraine Bracco
"Real estate is an imperishable asset, ever increasing in value. It is the most solid security that human ingenuity has devised." – Orison Swett Marden
"The best investment on earth is earth." – Louis Glickman
"Investing in real estate is not a get-rich-quick scheme and it can take decades before you see any serious return on your investment. But if you're patient and willing to hang in there for the long haul, real estate is a solid investment that will always be in demand." – Barbara Corcoran
"There are a lot of things that go into creating a successful real estate investment, but perhaps the most important is finding the right location. It's all about demographics: things like population growth, employment rates, median household incomes, and transportation." – Joel Greene
"Treat your house as an investment, not as a home." – Ken McElroy
"A home is not an investment; it's a place to live." – Robert Kiyosaki
"The key to success in real estate investing is buying properties at the right price. The lower you can get your purchase price, the greater your chances of success will be." – John T Boyd Jr.
"You don't make a lot of money in real estate by buying property; you make your money when you buy it right." – Bruce Johnstone
Real Estate Captions for Instagram
real estate investing is all about capitalizing on opportunities 🏡
Buying a property is a big investment, but it's worth it when you see your portfolio grow! #realestateinvesting
House hack your way to financial freedom! #realestateinvesting
Ready to invest in your future? I can help! #realestate #investing
I'm a real estate investor, and I'm loving it! #realestate
Don't sleep on real estate investing! It's a great way to build your future. #moneymaker
The perfect starter home for any real estate investor! #location #location #location
Ready to roll up my sleeves and get dirty in this #realestate market!
Ready to invest in my future and buy my first rental property! #realestate #investors
I'm all about turning properties into my jackpot$! #realestateinvestor
Real estate investing isn't all about the money. It's about making your dream home a reality.
Bought my first investment property in #city! Time to start building my real estate empire.
Ready to invest in my future and build my empire one house at a time! # mondaymotivation
Hope you liked our real estate quotes for social media compilation. Check out more posts on money & business.