It's not just about looks. It's about a person's personality, values, and how they treat you. If you're only focused on someone's physical appearance, you're missing out on all of the other great things that make them who they are. Chasing after a pretty face can lead to disappointment and heartache if you're not careful. Keep your eye on the prize and don't let yourself get too caught up in physical appearances. There's so much more to life than what meets the eye! Here are some don't look for a pretty face quotes.
Don't Look For a Pretty Face Quotes
01
"Don't look for a pretty face it will turn old one day. Don't look for a soft skin, it will wrinkle one day. But look for a loyal heart that will miss you everyday and love you forever."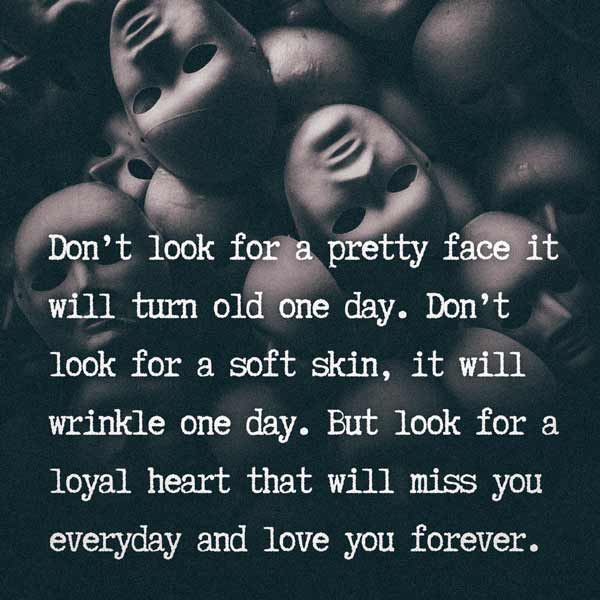 ---
02
"Some people, no matter how old they get, never lose their beauty – they merely move it from their faces into their hearts." – Martin Buxbaum
---
03
"I don't want some pretty face to tell me pretty lies, all I want is someone to believe." – Billy Joel
---
04
"I don't need a perfect person. I just need someone who shows they care, someone who's there for me when I need them, and someone who loves me."
---
05
"A pretty face doesn't mean a pretty heart."
---
06
"A pretty face is nothing if you have an ugly heart."
---
07
"Consider it a lesson for the future. Pretty words and pretty faces don't equal pretty souls." – Ana Huang
---
08
"A pretty face, don't make a pretty heart." – Robert Palmer
---
09
"I don't want somebody who's perfect; I want somebody who is real."
---
10
"A pretty face can capture my attention but only a beautiful mind can hold it." – Immortal Technique
---
11
"A pretty face gets old, a nice body will change but a good person will always be a good individual."
---
12
"A pretty face may be enough to catch a man, but it takes character and good nature to hold him." – Thomas More, Utopia
---
13
"The beauty of the human soul Is not the pretty face. It's found within the heart and hands Of those who look — and stay." – Laura Greenwald,
---
14
"An ugly personality destroys a pretty face."
---
15
"Beauty isn't about having a pretty face it's about having a pretty mind, a pretty heart, and a pretty soul." – Drake
---
16
"I'm not looking for a pretty face. I'm looking for someone who's real, who's honest, and who loves me for who I am."
We hope you enjoyed our collection quotes about chasing pretty faces.
Related Posts